PUBLISHED
January 22, 2023


KARACHI:

It was one of their catchy YouTube captions first caught my attention: Ghar mein maujood juicer machine se bazaar jaisi coffee banayein, Fish ka saalan banayein fish fry bhool jayein, Bartan chamkaanay wala sabun ghar mein banayein, bauhat kam gharon mein aisi kheer banti hai, Kaun kehta hai ke naan khatai bana mushkil hai?
Who are these people and why are they making tall claims? A touch on my smartphone screen took me inside the world of Baba Foods RRC, only to realise that the claims the captions made were as true as the host Chef Rizwan's earnestness. It wasn't long before I became hooked to his finger licking recipes and his natural, straightforward style, and unique diction peppered with Punjabi that comes across as refreshingly distinct from the pretentious style TV chefs usually sport.
When Rizwan Rafaqat, whose one million viewers know him as Chef Rizwan, sold samosas at a stall to make a living, he never really thought that one day he would become a star chef. Born and brought up in suburban Multan, the 45-year-old's name is now synonymous with Baba Foods RRC, his YouTube cooking channel that his son started for him in 2019.
In just four years after beginning their journey on YouTube, their cooking channel on TikTok has been awarded the most growing food channel for 2022, and Chef Rizwan the 'top food creator' having one million followers on his TikTok account. Would it then be wrong to say that he has finally cooked up a storm, even though nothing was handed to him on a plate, so it probably boils down to hard work? Enough deliberate puns, read on to find out how a son made a star out of his dad.
Behind every successful man is his son?
Chef Rizwan's eldest son, 22-year-old Ramish has played a significant role in creating the star in his dad, as it was the young man's brainchild that has changed his family's life from days of struggling to pay rent in the past to owning their house and several cars today.
"We always called him Papa," says Ramish. "But given his personality and down-to-earth nature, we thought that on YouTube, 'Baba' would instantly connect with the audiences."
In 2018, Rafaqat moved with his family to Narowal because of some financial issues. "Previously, we lived near Muzaffargarh and Baba had a small samosa stall, which was popular in the area," says Ramish.
From paying a house rent of Rs 5000 to 8000 in Multan, to paying Rs 25,000 to 30,000 in Narowal was a big change for Rafaqat and his family. "Baba sold samosas since I was a child, but in Narowal, a samosa shop was not enough to manage our new expenses," says Ramish. "So we decided that everyone in the family had to play our part to make things work."
Ramish was in his second year of college at the time, but started working in a pizza shop, while Rafaqat took up a job at a dhaba. After completing his intermediate, Ramish decided to pursue content creation.
Soon after their move to Narowal, Rafaqat's wife needed surgery and was hospitalised. The medical expenses and ensuing financial crunch meant that they had to be even more frugal. Instead of getting food from outside, Ramish who has acquired culinary genes from his dad, decided to cook at home while his mother was unwell. While viewing cooking videos on YouTube, it hit him that his father and he could team up too, to make their own cooking videos. And then there was no turning back.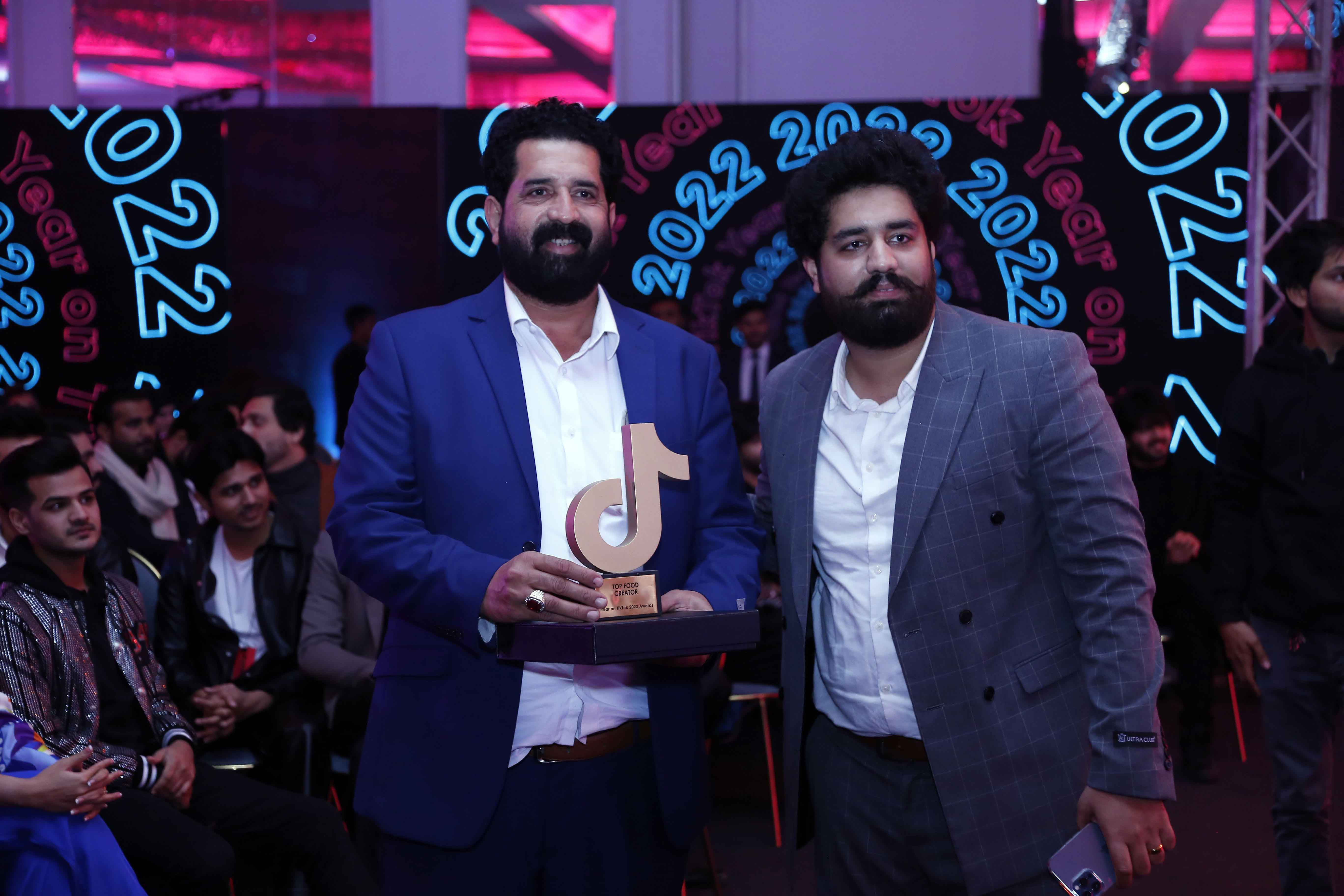 Interestingly, when Ramish discussed his idea with Rafaqat, he met with disapproval. It took some months of persistent convincing and cajoling through his mother to get Rafaqat to give Ramish's idea a go.
"I always felt that I was a little bit creative," says Ramish. "I knew that if I worked on my plan, I could actually get something going for us. So when Baba got an order for making 10kg koftas at his dhaba, we recorded on my Oppo F5, which was probably a Rs10,000-Rs15,000 mobile phone."
Rafaqat took a loan from the owner of his dhaba to buy a mic and a tripod to shoot the video. "It costed around Rs 2000 but at that time we didn't even have that much money to shoot videos," recalls Ramish. "I edited on my phone and posted it with a creative caption, because I had learnt about search engine optimisation and attractive thumbnails. The response was amazing and our first video got 1000 views in the first four days."
Their edge over others
After the amazing response to their first video, they decided to focus their channel on commercial cooking as opposed to home cooking which everyone was doing. Since it was during the pandemic, people had lost jobs and were looking for ways to make a living, the idea behind the channel was to help people set up a food business.
"Nobody in the subcontinent was teaching commercial cooking for large quantities," says Ramish. "Everyone was teaching home cooking and basic food skills."
Taking popular street food to audiences, the father-son duo always kept a natural and local vibe in their videos so that their target audience could easily understand and learn, and in turn it would eventually help their channel grow.
"Even though the first video was done, we still felt that it was a long journey ahead, and one that required hard work and consistency," says Ramish elaborating that they learnt about monetisation rules much later, how 1,000 views don't do that much, so at least a target of 1,000 subscribers had to be chased. "I think it was the right time and the right idea so it clicked with people, as at that time no one had yet come up with commercial cooking hacks, tips and tricks that Baba was teaching through his videos."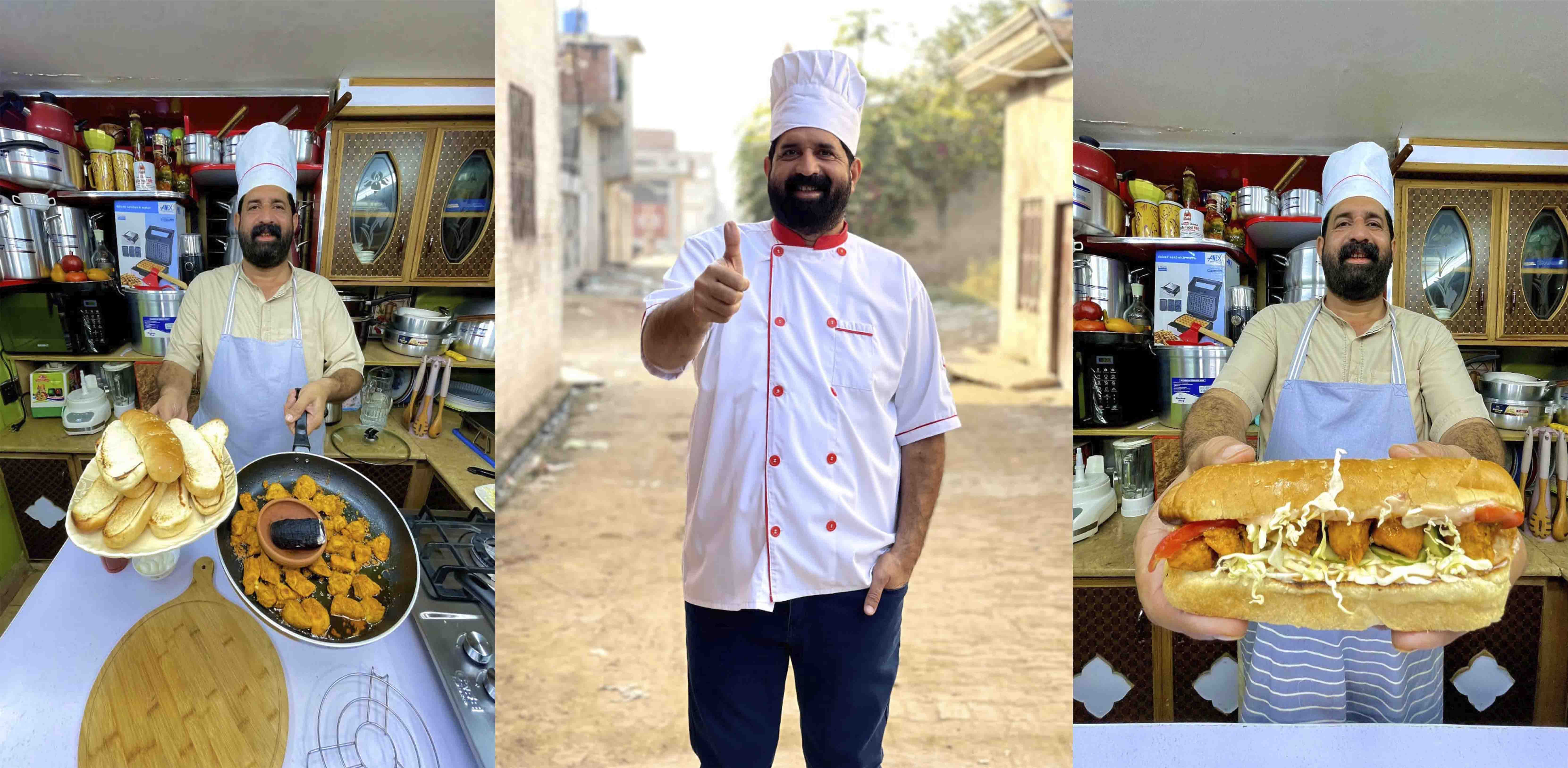 Bagging more platforms
With consistently good content, their YouTube channel grew and presently has 3.7 million subscribers. "We knew that with time, change and adaptation is necessary," says Ramish. "We joined TikTok as its reach has increased in the last two years and since the digital world is shifting towards short videos, we didn't want to lose our audience to other platforms."
Creating and uploading content for specific target audiences of various platforms keeps Ramish on his toes. "We make a video, edit it for each specific platform according to the maximum time limit," he explains. "The challenge is to capture everything, not miss a step and still have a perfectly timed video that people will understand and like on Facebook, TikTok and YouTube."
Gradually, Ramish invested in better phones, mics, lights and tripods to improve his content. "I bought a laptop to edit videos and at that time it would take 5-6 hours to render one video," he says smiling, calling himself a one-man army because he doesn't have a recording crew. "But now that I know what is best and also have the funds to buy equipment, I have bought a faster laptop with graphic cards and the task has become easier for me."
As Baba Foods RRC started getting recognition, the father and son left their jobs, and turned their home kitchen into a makeshift studio, with their mother also teamed up with them to add her own culinary expertise.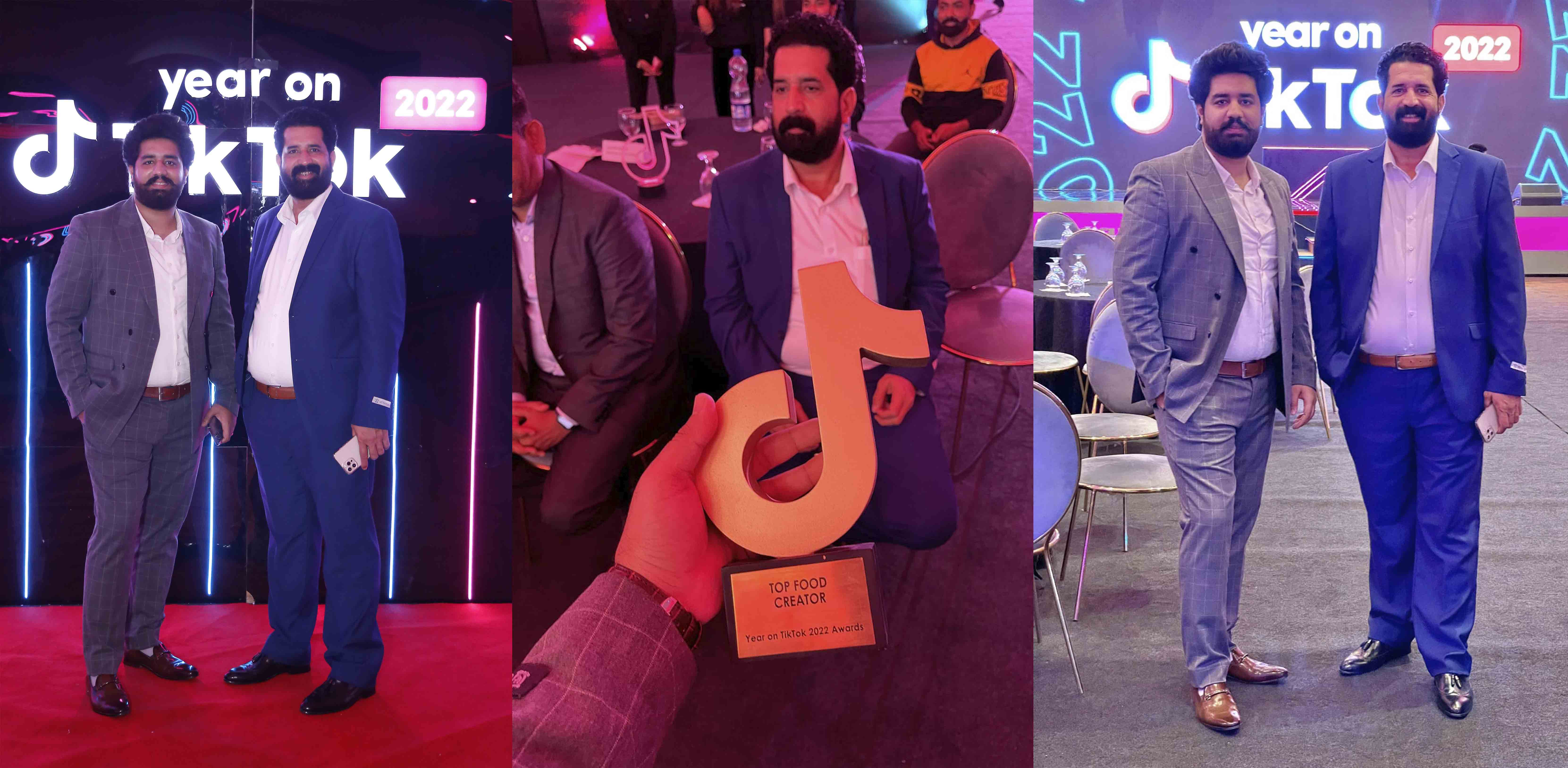 RRC decoded
Using the initials of his own and his dad's names, Ramish coined the name for their YouTube channel, while the C stands for 'chef'.
Ramish points out that while Chef Rizwan was always a foodie, his keen interest in cooking came from his mother who would always try new recipes and hacks from magazines.
"More than 80% of the recipes, tricks, and hacks that we record or use in our videos are my mother's," he says, adding that his younger brother Ali has recently completed his matriculation and is currently helping with content creation.
"When my father sold samosas at a stall, Ali would help my mother prepare them at home, and I would deliver them to my father's stall on my bicycle," says Ramish. "It was a family effort then and it is a family effort now. During Ramazan, there would be a 1000 percent increase in sales, so we had to work hard despite fasting to meet the demand."
It certainly isn't the first rags to riches story of a chef, but the Rizwan family's sheer hard work and togetherness comes across as an outstanding example of breaking stereo types, where instead of a father planning out his son's life, a son cleverly utilised modern technology to put up his dad's talent on digital platforms for the world to benefit from. This way they not only transformed their own lives but also of many, many families who followed their channel and started their own cooking businesses, as well as of those who have revived their everyday meals from mundane to mouthwatering.
link