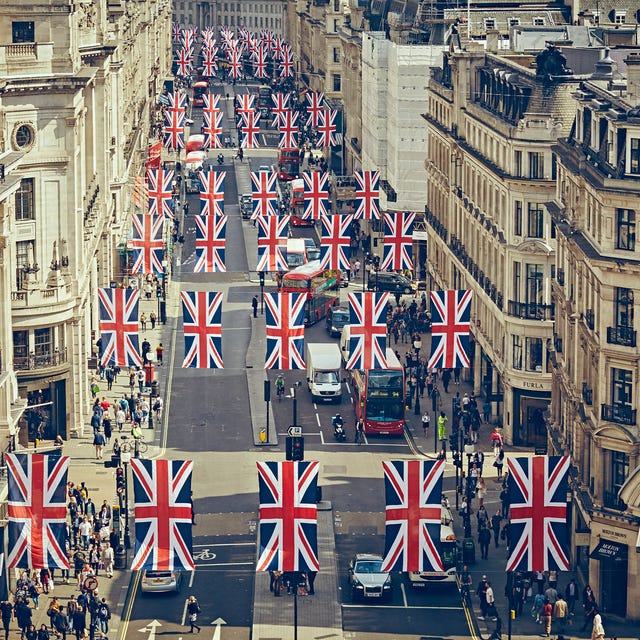 courtesy
After much anticipation, it is finally almost upon us – a spectacular four-day weekend in celebration of the Platinum Jubilee. Here at Bazaar, we have been championing the occasion with our incredibly special jubilee-themed June issue, which marks the incredible achievement of HRH Queen Elizabeth II's 70-year reign with an exclusive shoot at the Tower of London, a riotous celebration of British fashion and much more.
But how can you mark the occasion? What to do with a delicious four-day break in (hopefully) sunny weather? To aid you in planning for that Great British long weekend, we've put together the ultimate guide to celebrating the jubilee in style.
Below is our pick of the best exhibitions, shows, afternoon teas, cocktails, overnight stays and street parties from the capital and beyond, from which to toast her majesty in the most glorious fashion.
Advertisement – Continue Reading Below
1
Art, culture and diamonds at Sotheby's Jubilee Festival
As one of Britain's leading cultural institutions, it is little wonder that Sotheby's is celebrating the jubilee with an arts festival. Spanning a whole month, the iconic auction house will be showcasing talks, performances, family workshops and exhibitions all interrogating, exploring and celebrating Queen Elizabeth II and the history and legacy of monarchy itself. The public arts festival kicks off on Saturday 28 May with a regal debate (a crowns at dawn battle between Victoria or Elizabeth I) among other treats and will be followed the next weekend with a family day, including a children's poetry reading by Michael Morpugo. There are daily talks and performances, featuring such luminaries as Joanna Lumley and jewellery designer Kiki McDonough, who has designed a new tiara selected by Sotheby's, which will be exhibited from 28 May – 15 June.
Sotheby's, 34-35 New Bond St, London W1S 2RP
2
A Great British Weekend at Heckfield Place
This gorgeous Hampshire hotel has been a jewel in the UK's staycation crown since its opening in 2018. Now, to celebrate the jubilee, the bucolic retreat has announced four days of celebrations across the bank holiday weekend. There will be a special jubilee dinner by head chef Skye Gyngell featuring an atmospheric reception drink at the pavilion by the lake, live music and their signature 'Himm's' cocktail. There will also be a cake competition, overseen by Gyngell herself; flower-crown and tablescaping lessons from Heckfield's in-house florist; a traditional Sunday roast at Marle; and a quintessentially British picnic hamper to enjoy on the grounds – where you can also partake in wild swimming, woodland walks and much, much more.
Heckfield Place, Heckfield, Hook RG27 0LD
3
A Royal garden party at Balmoral
This summer, the Queen's beloved Scottish escape will be running a series of exciting open house events. Running until 2 August, an exhibition, 'Life at Balmoral', will lend an unprecedented glimpse into the Queen's time at the Scottish castle, and, at the centrepiece of the ballroom this summer, visitors will find the vast and imposing Salmon School art installation from Joseph Rossano. This was first showcased at COP26 in response to the issues facing salmon populations and as a way to address climate change. Over the jubilee weekend itself there are myriad celebrations at Balmoral, including a special afternoon tea and no less than 70 corgis assembled on the lawn, all accompanied by live entertainment from the esteemed Ballater Pipe Band.
Balmoral Castle, Balmoral Estates, Ballater AB35 5TB
4
A step back in time with Claridge's
The hotel commonly known as 'the annexe of Buckingham Palace' is celebrating the jubilee in unique and personal style. Claridge's is unveiling some rarely seen items from its illustrious archives, in honour of the Queen's frequent patronage of the hotel, where she chose to celebrate privately both her 60th birthday and her ruby wedding anniversary. Curated by the Claridge's in-house archivist Kate Hudson, the Royal Archive Cabinet will showcase never-before-seen items from the 1953 coronation and more, displayed in the hotel's legendary lobby from 1 June. You can then head to the Fumoir or Claridge's bar, where five new cocktails (including the Windsor Rose) have been added to the menu to mark the occasion, before walking pleasantly home under the Union Jack flags of Brook Street.

Claridge's, Brook Street, London W1K 4HR
5
A Royal Bonanza at The Biltmore Mayfair
Nestled in London's iconic Grosvenor Square, The Biltmore is a Mayfair institution. To celebrate HRH's Platinum Jubilee in style, the hotel has laid on a feast of charming events. Chief among them is a special corgi afternoon tea on Friday 27 May, at which your furry friends (corgis are encouraged but not mandatory) are the VIPs of the day. Tea will be served on the hotel's beautiful terrace, and there will be special dog-friendly offerings from The Barking Bakery. This is followed by, on the Thursday and Friday of the jubilee weekend, a street party served up by Café Biltmore, featuring live entertainment, an all-day BBQ and, naturally a Pimm's trolley. You may then spend Saturday and Sunday recovering, with their royal afternoon tea, accompanied by live entertainment and (why not?) a few sips from the champagne trolley…
The Biltmore, 44 Grosvenor Square, London W1K 2HP
6
A Jubilee fete on Jermyn Street with The Ritz
On Saturday 4 June, the entirety of this famed London street will close to traffic and host a quintessential British street party with pop-up stalls, food and drink, and live entertainment. At the centre of all the fun will be a very special collaboration between Nyetimber English sparkling wine and The Ritz, hosted on The Nyetimber, a classic 1968 Routemaster Bus. This innovative bar will be serving a selection of their world-renowned cuvées, while The Ritz will also be serving an extremely special HM The Queen's Platinum Jubilee afternoon tea, until 6.30pm.
The Ritz, 150 Piccadilly, St. James's, London W1J 9BR
7
A punk homage to Her Majesty at the Southbank Centre
To celebrate the jubilee, London's Southbank Centre presents a weekend full of music, dance and film events – from official classical pieces to jazz dedications to a thoroughly-British punk knees up – all taking their cues from Britain's multicultural makeup. There will be performances from the Royal Philharmonic Orchestra and the BBC Concert orchestra. Additionally, the Nu Civilisation Orchestra, presented by Tomorrow's Warriors, will perform a selection of Duke Ellington's compositions in the Queen Elizabeth Hall on 3 June, including The Queen's Suite, which was inspired by Ellington's meeting with Her Majesty The Queen in 1958. There will also be a special screening of Danny Boyle's limited series, Pistol, about the ultimate punk band, the Sex Pistols (coming to Disney+ on the 31st May). Plus, the Southbank's Riverside Terrace will be transformed into a dance floor on 2 June thanks to Folk Dance Remixed, Step Hop House – a free event that mixes traditional folk dances like maypole, clogging and ceilidh, with street, house and breakdance, with a hint of African and Bollywood thrown in, all to a live soundtrack of fiddle and beatboxing.

Southbank Centre, Belvedere Rd, London SE1 8XX
8
A champagne masterclass at Searcys
Why not grab yourself a seat in the sky and look down upon the capital as it prepares to celebrate the long weekend, with a jubilee champagne masterclass at Searcys at The Gherkin? Taking place on 31 May at 6:30pm, you can learn the art of champagne experience with Martin Dibben, consul of the Ordre des Coteaux de Champagne de Grande Brittanie and former employee of the Queen. You will be able to sample a selection of Royal Warrant champagnes, all perfectly paired with a seasonal three-course menu. Or, Searcys will be serving up quintessentially British afternoon teas across its venues, from cakes in the sky at The Gherkin to the opulent surrounds of 116 Pall Mall, from 21 May until 25 June.
Searcys, The Gherkin, 30 St Mary Axe, London EC3A 8BF
9
A royal invitation at Scott's Mayfair
The beloved Mayfair restaurant cordially invites us all to its jubilee weekend celebration. Running from 30 May until the 5 June, guests will be greeted by a gilded replica of the Queen's coronation carriage complete with suited footmen and four stunning white horses. The carriage will even be passing through the streets of Mayfair for onlookers to enjoy. Once inside, Scott's has partnered with Dubonnet and Plymouth Gin, creating a limited-edition dessert (a mouth-watering trifle) and a special jubilee cocktail with Pedro Ximenes Sherry and Crème de framboise. All that's missing is for the carriage to drop you home…
Scott's, 20 Mount St, London W1K 2HE
10
A cabaret celebration fit for a Queen at The Londoner
London's so-called 'super boutique' hotel has made its mark on the capital since its opening last year. Now, it has a summer series of events planned to usher in the jubilee weekend. Festivities will kick off with a special performance of the Queer Queen's Cabaret on Thursday 2 June, with host and DJ Dolly Trolly, before heading into a burlesque performance by Kitty Bang Bang and comedy by Jen Ives. You can make a weekend of it and stay the night, waking the next day to a special Omorovicza Queen's Jubilee Facial at The Londoner's relaxing basement spa. End it all with the Jubilee Summer Series afternoon tea and an exclusive cocktail, The Earl: a champagne blend using Buckingham Palace gin, Earl Grey tea, Dubonnet topped with Veuve Clicquot NV and (yes really) British clotted cream for a smooth and silky finish.
The Londoner, 38 Leicester Square, London WC2H 7DX
11
A jazzy jubilee at Horwood House
Those inclined to escape the city for the long weekend will be in for a treat at Horwood House. The gorgeous Grade-II country house hotel, just outside London, is laying on a special bottomless Jubilee Jazz afternoon tea. Visit on Thursday 2 June and enjoy two hours of free-flowing fizz alongside a right-royal feast while listening to live jazz music beside the hotel's picturesque lily pond. You could even make the most of the long weekend and book the hotel's Jubilee Weekend Break package, available 2-5 June, which includes a delightful spa day.
Horwood House, Mursley Rd, Little Horwood, MK17 0PH
12
A Belgravia street party with Ganymede
On Sunday 5 June, Belgravia's favourite dining room, Ganymede, is hosting a street party perfectly situated just around the corner from Buckingham Palace, on the aptly-named Elizabeth Street. There will be a plentitude of quintessentially British activities, from horse and carriage rides to Punch & Judy shows. Running from 11am – 6pm, the street will be decked in sensational bunting and tables will be laden with lobster rolls, Coronation Chicken, and loaded summer salads from Ganymede, paired with English fizz from Coates & Seely, served from the brand's iconic 1948 Leyland Bus. Ganymede will also be running an alfresco bar with pale ales, rum cocktails and gin fizz. Throughout it all, there will be live music from swing band 'Itchy Feet', which entertainment pausing only to watch the RAF flypast.
Ganymede, 139 Ebury Street, Belgravia, London, SW1W 9QU
This content is created and maintained by a third party, and imported onto this page to help users provide their email addresses. You may be able to find more information about this and similar content at piano.io
Advertisement – Continue Reading Below
link