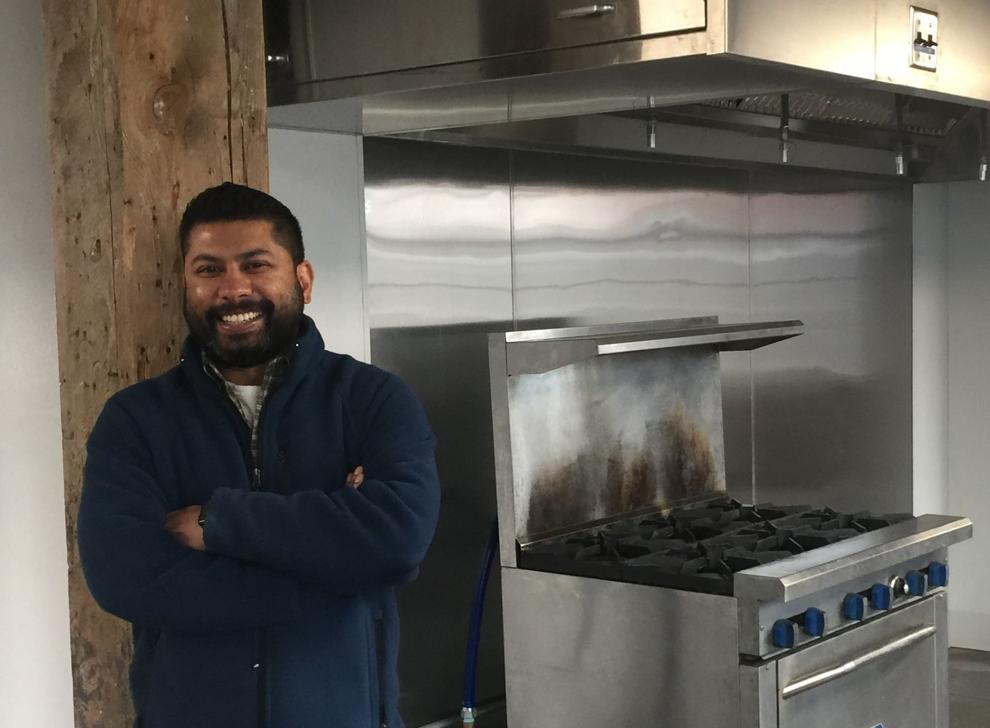 Ryan Fernandez, who created his unique barbecue-by-way-of-Bengaluru menu from Keralan and Texas roots, has announced his restaurant, Southern Junction, will be able to welcome guests.
At 367 Connecticut St., formerly the late, lamented The Black Sheep, Fernandez will offer his work in proper settings – with tables, chairs, and margaritas. After the liquor license is obtained he'll know more precisely, but expect it to open this summer, if all goes as planned.
The current Southern Junction menu will be carried in its entirety at Connecticut Street. Whether 27 Chandler St. remains open as a takeout window is not yet decided, though the smoker and kitchen there remain in his plans at present.
Until Connecticut Street is ready, step up for Southern Junction five days a week at Chandler Street, 11 a.m. to 6 p.m. Wednesday through Friday, 9 a.m. to 5 p.m. Saturday, or until sold out. Or order online at southernjunction716.com.
Besides smoked beef brisket and cardamom cornbread, consider the foldie ($10.50) with your choice of meats on Keralan flatbread with coleslaw, pickled onions, and coconut curry sauce. I'd suggest the barbacurry, smoked beef shredded and mixed with Fernandez's masala spices.
If you're in the neighborhood, go across the courtyard to Flat 12, the indoor mushroom farm at 31 Chandler St., and buy beef-and-mushroom borek ($5) from Lydia Herr, a talented baker who happens to be Hernandez's girlfriend. Herr is developing a white bread worthy of accompanying Southern Junction's work, as proper Texas barbecue etiquette requires.
Steve Gedra marked the occasion by penning a heartfelt farewell to The Black Sheep's legions of fans.
"Ellen and I would like to thank the City of Buffalo and all of you for giving us so many amazing memories inside of these walls," he said on Instagram.
"We feel so privileged for every meal you chose to share with us, but our stewardship of this property has ended. We wish the new ownership group all of the best in the future.
"We left it better than we found it, and she has incredible bones and a great soul. To the next phase for 367 Connecticut Street, and for us."
OPENINGS 
Updated Thin Man menu: Thin Man Brewery's Elmwood Village location, at 492 Elmwood Ave., reopened Tuesday after renovations, with an updated menu and a new look.
Bacon nubs ($8/$15), pork belly nuggets smoked, fried, and tossed in maple bourbon glaze or house hot sauce, have made the cut. One might also consider the Smoked Super Freak Hoagie ($22), of shaved smoked beef dressed with Super Freak IPA cheese sauce, peppers, onions, and Flat 12 shiitake mushrooms, served on a toasted hoagie roll, and fries.
Kitchen hours: 4 to 10 p.m. Monday through Thursday; 4 p.m. to midnight Friday; 11:30 a.m. to midnight Saturday; 11:30 a.m. to 9 p.m. Sunday. Bar: 4 p.m. to midnight Monday through Thursday; 3 p.m. to 2 a.m. Friday; 11:30 a.m. to 2 a.m. Saturday; 11:30 a.m. to 10 p.m. Sunday.  Phone: 716-923-4100. Check out the menu at thinmanbrewery.com.
MORE RESTAURANT INTEL
Bar operator sought: The West Side Bazaar is looking for an operator to run the full bar inside 617 Main St., where it is setting up Downtown Bazaar, a place for its restaurant and boutique operators to work until the Niagara Street headquarters is finished.
There's a 24-tap European style draft system, 20 bar seats, and about 80 table seats in play.
Send restaurant tips, heartfelt recipes and questions to [email protected] or One News Plaza, P.O. Box 100, Buffalo, NY 14240.
Send restaurant tips to [email protected] and follow @BuffaloFood on Instagram and Twitter.

link