Participant characteristics
Of the 38 participants, 24 were customers who participated in in-depth interviews and 14 were vendors or shop staff; among 24 customers, 16 were male and among 14 vendors or shop staff, 10 were male (Table 1). Among customers, the average household size was 4 persons and the average participant age was 29. For vendors and shop staff, the household size was 5 persons, and the average mean age was 24. The majority (n = 29) of the participants had a family that included children and elders. Half of the customers completed at least secondary education whereas 64% of vendors/shop staff completed secondary education or above. Fifteen percent of customers from both markets (n = 6) had household income of approximately 21,000 Bangladesh Taka (BDT or USD 250)/ month and 42% of vendors/ staff from both markets earned less than 30,000 BDT (USD 353)/ month. One-quarter (24%) of the participants shopped for household foods daily, whereas the majority shopped once a week.
We summarize participant interview and discussion opinions and themes on understanding of adulterant risks; perceptions of food adulteration; sales and purchase of adulterated foods; factors influencing food purchase; and sources of reliable food adulteration information.
Consumer understanding of chemical substances risks in foods
Most participants equated the term 'chemical substance' with a 'harmful substance'. Notably, only a few participants conceptualized the harmfulness of a chemical in line with scientific understanding; the amount needed to cause adverse effects. Instead, they often defined harmfulness by the number of people affected by the chemical or the severity of the effects a chemical can cause diseases. Most participants expressed negative attitudes toward chemical substances in food in terms of potential harm.
Perceptions of food adulteration
Most participants [34], when asked how commonly they thought food was adulterated with harmful chemicals or artificial colors gave figures of 70% and above. Based on information from television, family members, newspapers, other media, Facebook, friends, neighbors, colleagues, fellow customers, participants believed that food items such as spices, fish, vegetables, milk and milk products, rice, edible oils, and sweetmeats were most commonly adulterated and to varying degrees. They reported that non-nutritious and toxic substances such as formalin, calcium carbide, melamine, textile dyes, burnt engine oil, palm oil, alum powder, wax (to polish), urea, metanil yellow powder are added intentionally. Vendors (n = 4) and customers (n = 14) perceived that this problem persists at all levels of the food chain from preparation to consumption.
A customer from the supermarket said,
"Whatever we eat I think adulteration is there. Once I heard about the issue that in Dhaka 90% of the foods people consume are adulterated foods. These are adulterated in multiple ways, as a result, various diseases are increasing day by day, no one is safe, I am also included there. Now the thing is to me how can we overcome this dangerous situation?"
Most supermarket customers were concerned about adulterated foods (n = 10) and reported that there is no place to purchase unadulterated foods. Moreover, they do not know what the contamination status is, as the available information is inadequate (Table 3). They added that if they were to know which foods and vendors could ensure that the foods are free of adulteration they would pay more. In contrast, we found that half of the customers from the wet market (n = 6) were aware of food adulteration. Consequently, the cheaper price of foods were perceived greater longevity and attractive appearance were drivers of food purchase among customers from both markets (Table 3). Participants provided an extensive list of foods and the adulterants that they perceived were common for those foods. A range of industrial chemicals and components were described for foods that are frequently consumed (Table 4).
Participants reported that adulteration occurred to enhance food quality, improve appearance, texture, or food quantity. In addition, almost all of the participants said that adulteration occurs to maximize profit. Moreover, those aware of adulteration and risk expressed certainty about poor food safety, and uncertainty about acceptable risk.
Sales and purchase of adulterated foods
Vendors/staff from both markets argued that wholesalers use various hazardous chemicals to keep food items fresh, reduce costs and maximize profits. In addition, vendors stated that they were not involved with the process of food adulteration. Vendors from the wet market reported that they sell fish immediately after purchase from businessmen rather than holding fish in storage. They collect fish in the morning each day then sell these immediately (Fig. 3). In contrast, staff from the supermarket collect the fish at least a day before displaying it for sale.
A customer from the wet market said,
"When I buy fish, I touch the fish. Touch a fish on its mid-section and if there is resistance, the fish is good. All people know that rotten fish start going soft around the belly. In Dhaka city, vendors simply collect the fish a long time ago and if the fish are not rotting it means they have been drenched in formalin (one kind of chemical)".
Supermarket staff stated that before displaying fish for sale they performed formalin tests according to instructions in the formalin testing kit. In addition, they mentioned that sometimes customers request the sales staff to perform a formalin test in front of them (1–2 customers every day) and it takes 10–20 minutes.
A customer from the supermarket said,
"There are no foods you can find without adulteration. I know formalin is used in fish, vegetables, and fruits. Day by day there is an increasing rate of food adulteration as we watched it on TV programs and heard from neighbors, relatives. Sometimes newspapers/Facebook published articles regarding food adulteration with toxic artificial colors. Moreover, anxiety has increased due to increasing rate of adulterated foods which has negative impacts on health".
A customer from the wet market said,
"I am sure that all we eat contains poison, deadly dangerous substances which have negative impacts on human health. We also buy fruits for children: bananas, apples, grapes, oranges, aside from baby foods and milk. Due to the use of particular substances (like-formalin), all foods are fresh and shiny to look at, but you know each fruit is a source of poison."
Some customers said that shopkeepers try to get the better of them. Half of the wet market customers (n = 6) suggested that after picking out the items, they watch closely, to ensure that vendors do not substitute chosen items with something inferior e.g., a sick or smaller chicken, rotten vegetables, or fruits. When customers want to buy vegetables or fruits, they select items that they feel are fresh (tatka) and not old or rotten (Fig. 4).
Customers' perceptions on health effects, risks of adulterated food, and food safety
Participants were unaware of the magnitude of food adulteration-related deaths in Bangladesh. The majority (n = 34) agreed that food adulteration was harmful to one's health. Half of the customers (n = 14) and the majority of participants opined that adulterated foods have long-term adverse effects on health- and might reduce life expectancy. Moreover, participants felt that adulterated foods can have immediate effects e.g., diarrhea, dysentery, and vomiting. Only a few customers from the wet market (n = 3) were aware of the health impacts of adulterated foods.
A customer from the supermarket said,
"In our country, food adulteration is a burning problem which is increasing rapidly day by day. Adulterated foods are dangerous to human health, which leads to increased number of kidney, diabetes, heart attack, and liver failure patients. The respective department of the government should take immediate action against food adulterers to minimize the graveyard situation"
A 30-year old participant from the wet market said;
"In spite of knowing these reasons we do not have any alternative without having these foods. This should be taken as public health urgency, not only by Government but also take the initiatives by NGOs"
Most participants (n = 34) stated that no food can be regarded as safe. A few participants reported that safe food denotes food that is free from any kind of adulteration or free of formalin. In addition, more than half of the customers perceived formalin residue to be a serious food safety threat that could impact health; this issue has been repeatedly raised by the local press.
Factors influencing food purchase
Various factors that influence customers' food purchasing behavior were identified during interviews and discussions and synthesized into a conceptual model (Fig. 2), used to summarize data in this section.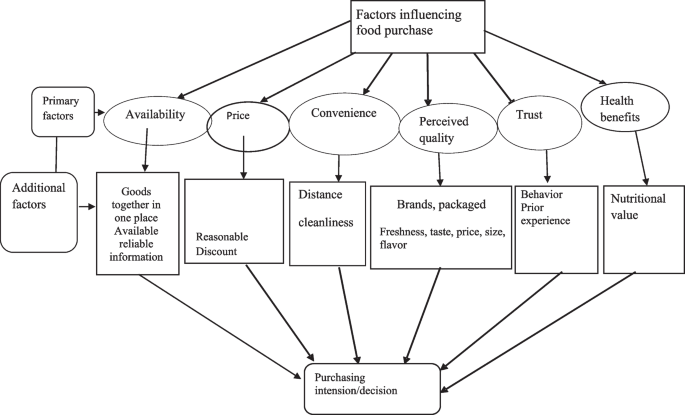 While participants preferred unadulterated foods for a healthy life, with little information on safety and safe alternatives, they purchase based on their usual pattern of consumption, which they said was difficult to change, highly cultural, having formed during one's early years. Consequently, choices are made primarily on price, convenience, perceived quality, and trust.
A customer from the wet market said;
"We are bound to eat to survive. No one can take care of this issue [food adulteration]; we are helpless as we do not have any alternative without buying those."
Price
Participants from the lower-income group, who struggle for their subsistence, try to purchase food at a low price and are less concerned with food safety or quality. In contrast, participants from the higher socio-economic group pay more at supermarkets compared to the wet market. Customers from group discussion (n = 6) argued that vendors are more concerned about the price of the goods than quality or adhering to the recommended price. Price was the most frequently mentioned priority for participants from wet markets. Customers from both locations mentioned that prices are generally higher at the supermarket. Supermarket customers were motivated by the price discount system and purchasing at a fixed price, with no bargaining necessary. In addition, in some cases, customers thought that they pay an additional cost, estimated at USD 0.10 per kilogram, in the supermarket compared to the wet market.
Convenience
The wet market customers mentioned that the key priority was that the market was close to their house (5–10 minutes walking distance). Conversely, supermarket customers said that though the location was distant from their homes and involved additional transport costs, they liked the supermarket's cleanliness and the convenience of obtaining all goods at one location and transaction.
A customer from the wet market said;
"My father purchased foods from the wet market since 1983 when I was 8 years old. My grandfather also purchased foods from the same bazaar and same vendor. So, to me, the relationship with the vendor is the key point which could motivate me to purchase foods, along with the location of market as I need only five minutes to go there."
Food quality; dry goods
Most participants (n = 8) from the supermarket mentioned their prime concern was food quality, and they determined the quality of foods in terms of packaged item brands, size, perceived freshness, taste, and flavor. Also, they expressed that they trusted quality by examining food labels on packaged goods. Food labeling frequently includes the brand name, total weight, ingredients, and amount (s) including nutrient values, date of manufacture, and expiry, which had an important role in determining perceived food quality, stated by one-third of the supermarket customers. In addition, in supermarkets, they checked product quality on arrival and disposed of unacceptable/decomposed vegetables, fish, and or meat. More than half of the customers from the supermarket said that it stocked good quality foods compared to wet markets.
The wholesalers from the wet market reported that they sell rice from jute sacks and polyethylene bags where rice is labeled as 'export quality,' 'fortified with nutrients,' 'stone free', as written on the outside of the bag or sacks by producers. They said that rice producers consider these as quality indicators whereas customers do not make these distinctions. Moreover, vendors from the wet market described that attractive packaging and labeling impacts customers' perception of food quality, especially freshness and taste. Only a few customers (7/38; n = 4 from supermarket and n = 3 from wet market), mentioned nutritional value. While purchasing rice, two customers and one vendor mentioned the brand or company name. Customers from the supermarket also considered expiry date, quality, and freshness as important criteria while buying packaged food items; only a few (n = 3) considered the packaged instructions-brand name, ingredients (n = 2), percentage of nutritional values (n = 1). Some from the wet market said that they bargain to get a good item. None mentioned that they looked for the approval of the regulatory authority- Bangladesh Standards and Testing Institution (BSTI) when buying packaged and regular food items. A few mentioned that when they wanted to purchase the items quickly in case of urgent need they purchased from the supermarket.
Among customers from both locations, there were frequent comments on food quality.
A vendor from the wet market said;
"I try to make sure that no medicine or powder was used to store rice. Although I do not know the name of those medicines or powders, I tried to ensure the quality of the food. I have heard from my acquaintances that those are harmful to health."
A customer from the supermarket said,
"To me, supermarket and the wet market are the same things considering the quality of foods. The supermarket has no arrangement for test of foods, supply fresher foods. So how can I realize if the food in supermarket is good, and the food in the wet market is free of adulteration?"
Food quality; fresh foods/perishables
Fish quality was judged by customers from both markets and by vendors from the source (geographical region and whether it was from the river or sea). In contrast, vendors from the wet market stated that they do not need to check the quality of foods. Usually, they collect fresh foods-vegetables, fish, meat each day and sell these immediately. Only in some exceptions, when they have residual foods such as fish or meat in their shops do they store and sell the next day. Nearly all (n = 10) customers from the wet market and two vendors reported that food quality was ascertained by touching and observing goods. Customers also observed fish at the wet market and found it displayed with greenery that made it look more 'natural' and 'fresh' (Fig. 3). In addition, one-third of the supermarket customers and three customers from the wet market reported that some foods need to be cooked first to understand the quality e.g., rice, fish, and meat (Fig. 4). Therefore, customers perceived that food quality was a mediating factor for purchasing behavior.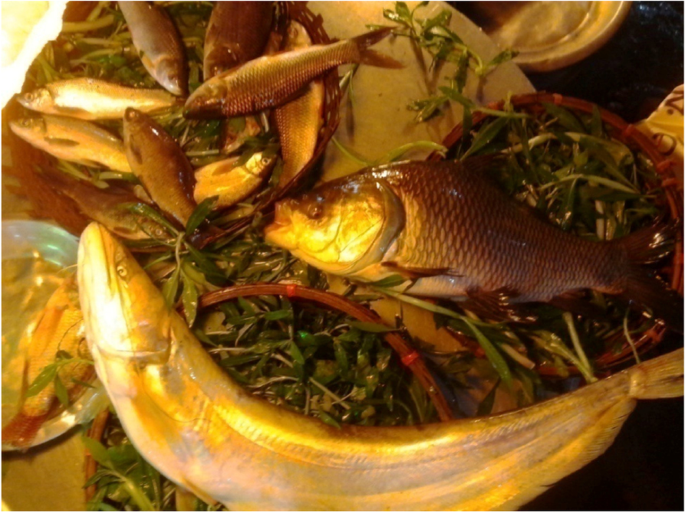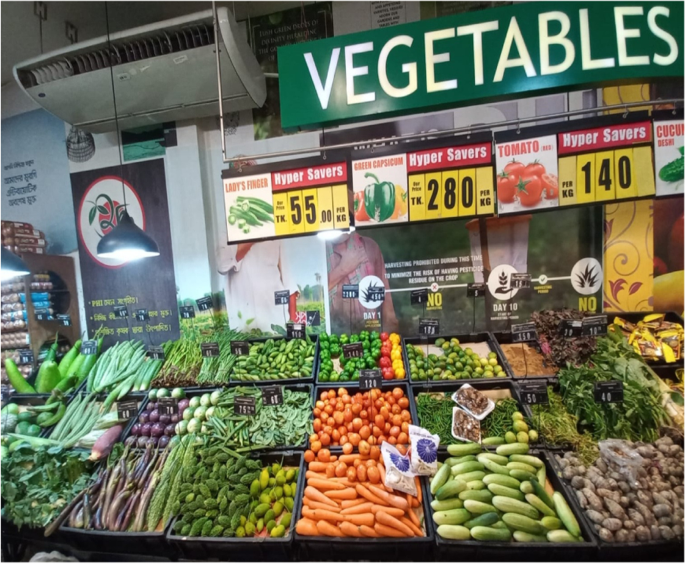 A customer from the supermarket said,
"Quality does not differ a lot. I purchase these local products like vegetables from other markets or farms as I have no own products. The quality of green vegetables is looking similar everywhere. A wet market is enriched with different green vegetables, and they collect these regularly which is fresher compared to the supermarket. A supermarket is superior due to its cleanliness in some sense. It's a matter of fact and one of the reasons which could make difference between supermarket and wet market."
A vendor from supermarket said,
"If anyone thinks fish is a healthy option, they should think about it again. Many fish vendors spray formalin on fish (a chemical usually used for the preservation of fish for a longer period). This kind of chemical is usually used with fish including imported fish. It makes the fish stiff and keeps them looking fresh for a longer duration". (

Fig. 5

Fish perceived as formalin tainted (left to right: wet market-photo-1, 2 & supermarket-photo-3)

Fig. 5)
In contrast, another participant from the wet market said,
"Whenever I purchase some vegetables, like tomato, green chili, pepper, from the wet market they remain fresh day after day without getting rotten but in the supermarket, it's found rotten after one day. I perceived getting rotten vegetables fast as a good sign which is free of formalin. It's a matter; I think that the sellers, who sell at the wet market, use chemicals and items that stay dry and don't rot. But in the case of the supermarket vegetables become rotten."
Trust in vendors
Study participants reported that a customer's intention and decision to purchase foods can be driven by vendor trust and in most cases, particularly in the wet market, vendors get return customers when they feel trusted. Personal acquaintance with the vendor leads to trust as customers can be motivated by vendors' behavior. Supermarket customers said that the supermarket staff is educated and interactions with customers are good. In addition, they have a minimum level of understanding related to dealing with a customer. Staff behavior is an important consideration for supermarket customers.
A customer from the wet market said,
"I purchased rice from a vendor in Mirpur-2 market. I trust him as I am purchasing rice from his shop since 2010. However, when I purchased rice first time for my family, I relied on his opinion. I have no idea about good quality of rice. When rice was been cooked, my family members said that the quality of rice was good. There are some items which are not possible to ensure quality without cooking or eating."
"Vendors of the wet market do not store the food items like vegetables, fish, meat for selling on next days, but in the supermarket it happens, and they usually do it."
A customer from the wet market said,
"The vendors are familiar to me as I have been shopping from this market for a long time around 14-15 years; to me, trust of the vendor is important for getting quality foods
A customer from the supermarket said,
"I have purchased consumable foods from this supermarket since 2014. Almost all staffs are familiar with me. I do not know what are quality food or fresh fruits or vegetables, but they provided me the accurate items and fresh ones. So, I relied on their trust. Also, their behavior motivated me to purchase foods from this shop."
A customer from the wet market said,
"All times I am purchasing Rashid (brand) minicat (variety) rice as I know it is the renowned company and the rice of this brand is good-clean compared to others. Since 2009, I and my family members prefer minicat (variety) rice and I purchase rice only from the vendor of the open-air market of Mirpur-6. Even there I did not find any extra substances in the rice such as stones, black rice grains. So, I believe the vendor keeps the best quality of rice in his shop."
Customer awareness and availability of reliable food information
We found that most (n = 32) participants were aware of food adulteration; among them, most were male customers (n = 25) and a few female customers (n = 7) were aware. Most participants (n = 31) opined that food adulteration had become more common and felt that this problem persists at all levels of the food chain from preparation to consumption.
A market committee member from the wet market said,
"An overall customer perception of food adulteration is high. I think if anyone talks about adulterated foods whereas about eight in ten people in each market describe the impacts of adulterated foods in people's daily life. Food adulteration in Bangladesh is highly prominent without any concern of health aspects of foods."
Half of the participants (customers and vendors, n = 19) stated that educated people were more concerned about food adulteration. About half of the customers and vendors (n = 17) reported that there is a law in the country that deals with food adulteration; among them, nine participants thought that the existing law and enforcement was insufficient. In addition, some mentioned that monitoring adulterated foods is not strong.
Despite purposively enrolling participants from the two shopping venues to maximize variability in responses, we found that those from the wet market and the supermarket had similar and limited access to reliable customer information about food adulterants. One-third of the participants (n = 12) from interviews and half of the participants from group discussion mentioned that though they do not have access to reliable information, they are concerned about food adulteration. Television, family members, newspapers, other media, Facebook, friends, neighbors, colleagues, fellow customers were the reported sources of information. Most of the participants (n = 24) reported that they shared information with others if they found any adulterated food item while the remainder (n = 12) did not share information.
A participant from the wet market said;
"My acquaintances have only told about the adulterated food; they do not know anything else in detail. Could you guide us in which place and from whom mass people can learn the information related to adulterated food?"
Consumers' perceptions and attitudes about testing adulterated food
Study participants from both markets had similar opinions about the testing of adulterated food. They perceived severity of adulterants in food and acceptance of scientific uncertainty about the risk. Additionally, the perception of adulterated food varied between participants in terms of the degree of chemicals being harmful and correlation with adulterated food and perceived health risk.
More than half of the participants in interviews (n = 17) and one-third of the participants from the group discussion (n = 3) distinguished between fake food and adulterated foods.
A customer from the supermarket said,
"I heard from my colleague that plastic rice is available in the market came from China. So, what can we do? Who can take care of this? We are helpless because of the fake food items. We are facing many health-related problems?"
A customer from the wet market said,
"I saw news on Facebook that artificial egg is available in the market. It was made by using multiple chemical substances which are dangerous for human health. If anyone could identify the artificial egg (s)/he should not buy it surely."
link