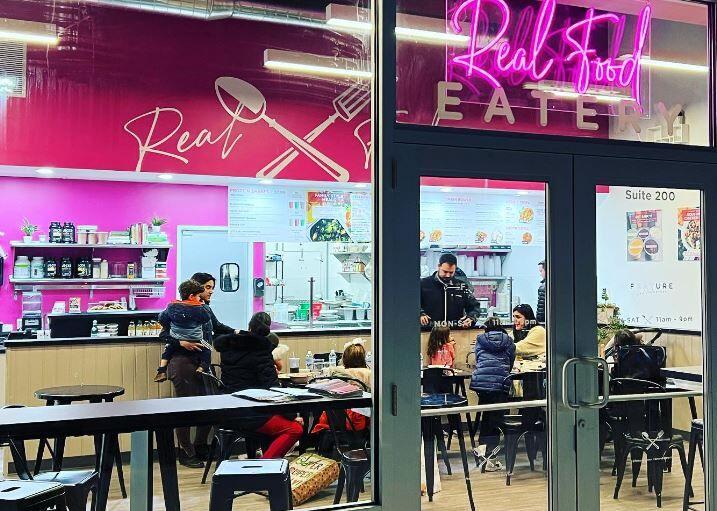 After providing steady employment to those who served them, the Buffalo office workers who once streamed into downtown five days a week have dwindled like salmon cut off by a new dam.
Michael Khoury, co-owner of Feature Eatery, comes from a Lebanese restaurateur family. His place at 598 Main St. made him the latest in a long line of Khourys who, over generations, found themselves making their living feeding Buffalo office workers.
Then came the pandemic, and an epic shift in the economic realities facing downtown retail businesses. "The office workers never came back," Khoury said. "Some have come back, a bit, but I'd be surprised if they're 25% full at this point."
So Khoury gave up 598 Main St., which has been occupied by one of the all-time downtown lunch stalwarts, Sue's N.Y. Deli. Part of the family, actually, with decades of hard-won experience in how to survive the shifting economic sands of downtown retail.
At 9310 Transit Road, Amherst, Khoury and company are offering another Chipotle-model, quick-serve meal format, with prices from $10.99 to $14.49. The Feature Eatery difference is in the scratch cooking and recipes dialed in to local tastes for years, across almost every diet. The place has 20 seats, and serves soft drinks.
The difference moving to Transit Road made, was that now Feature can get customers after 2 p.m. and on Saturday, Khoury said.
"We're just following everybody, our customers, to where they actually live and work now, and that's in the suburbs."
Certainly, that landscape could change, again, Khoury acknowledged. But based on the response he's seen to Feature Eatery so far, he's in the right place.
"When you're trying to grow, it's difficult downtown, because the lunch rush is it. You have a very limited time to actually generate revenue."
Check out the menu at featureeatery.com. Phone: 716-510-7465. Hours: 11 a.m. to 8 p.m. Monday through Saturday. Closed Sunday.
OPENINGS & CLOSINGS
Pita Gourmet Sheridan Drive: In more Lebanese quick-serve restaurant news, Pita Gourmet opened its Sheridan Drive store Jan. 3, at 3122 Sheridan Drive, Amherst. Readers may remember it as the site of the late, pink-clad Alice's Kitchen.
Check out the menu or order online at eatpitagourmet.com. Hours: 10:30 a.m. to 9 p.m. Monday through Saturday. Closed Sunday.
Kaylena Marie's in East Amherst: Known for its mammoth cinnamon rolls in creative configurations and all-around bakery bodaciousness, Kaylena Marie's has opened a location at 9320 Transit Road, East Amherst.
Phone: 716-926-6519. Hours: 7 a.m. to 8 p.m. Monday through Friday; 8 a.m. to 3:30 p.m. Saturday, Sunday. Check out the menu at kaylenamarieseastamherst.com. Read more
MORE RESTAURANT INTEL
West Side Bazaar headed to Main Street: The EXPO space at 617 Main St. will host West Side Bazaar restaurants left adrift by the September blaze. It'll be called Downtown Bazaar, with a soft opening expected in mid-February.
Downtown Bazaar will be open weekdays only in the vast downtown arcade, which stretches the full block from Main to Washington streets. Including:
The South Sudanese glories of Akec Aguer's Nile River — including dill-laced beef kabobs and Western New York's finest full medames, fava beans sauteed with garlic.
Abyssinia Ethiopian Cuisine, from Zelalem Gemmeda, the steadiest Ethiopian operation in the 716, with vegan or carnivorous combos on injera sourdough pancakes.
Pinoy Boi, a Filipino operation that was not a West Side Bazaar vendor, but has been drawing adoring throngs, including yours truly, while cooking at the Broadway Market's commercial kitchen.
There will also be a full liquor bar, selling alcoholic beverages the old West Side Bazaar did not offer. 
ASK THE CRITIC
Mentioning Puerto Rico triggered several readers to ask for a rundown on what's good in Puerto Rican-style grub, comida boricua, Buffalo style. I've got a guide in the works, but here's enough intel to dig in:
La Flor Bakery, 544 Niagara St., for sandwiches on their own bread, sweets like flan and flaky sugar-dusted guava pastelillos, and stick-to-your-ribs steamtable meals like smothered pork chops and pernil, with rice and pigeon peas, and yuca. Don't go here if you're in a hurry, because it doesn't work like that.
Montes Grocery, 413 Swan St., for deep-fried beef or chicken and cheese pastellitos, other pinchos, carne frita (pork butt chunks rolled in dried sauzon spices and deep-fried, sold by the chunk, bag, or dinner), and pernil dinners. If you go Thursday, you can get the bistec encebollado, beef braised in sofrito and onions. This place is built for speed, get in line.
Niagara Café, 525 Niagara St., for rotisserie chicken, pernil, and other steamtable classics. Offers plantains done soft and caramelwise, called maduros, and an unbeatable $7 lunch deal with beans and rice. Built for speed, but cash only. ATM on site. There are tables to sit at, here, unlike the others.
Send restaurant tips, heartfelt recipes and questions to [email protected] or One News Plaza, P.O. Box 100, Buffalo, NY 14240.
Send restaurant tips to [email protected] and follow @BuffaloFood on Instagram and Twitter.

link