---
Geylang Serai Ramadan Bazaar 2023 food guide
---
It's the time of the year again when Ramadan bazaars are back in full swing! We recently covered the Kampong Gelam bazaar—the biggest of its size yet—but we can't forget the OG main attraction, the Geylang Serai bazaar that's officially open today.
This year marks the longest run of the Geylang Serai bazaar. Open till 22 April, the market will boast a whopping 700 stalls, a tenfold increase from 70 last year. Of all the stalls, 150 will serve food. It'll operate daily from 10am to 11:59pm.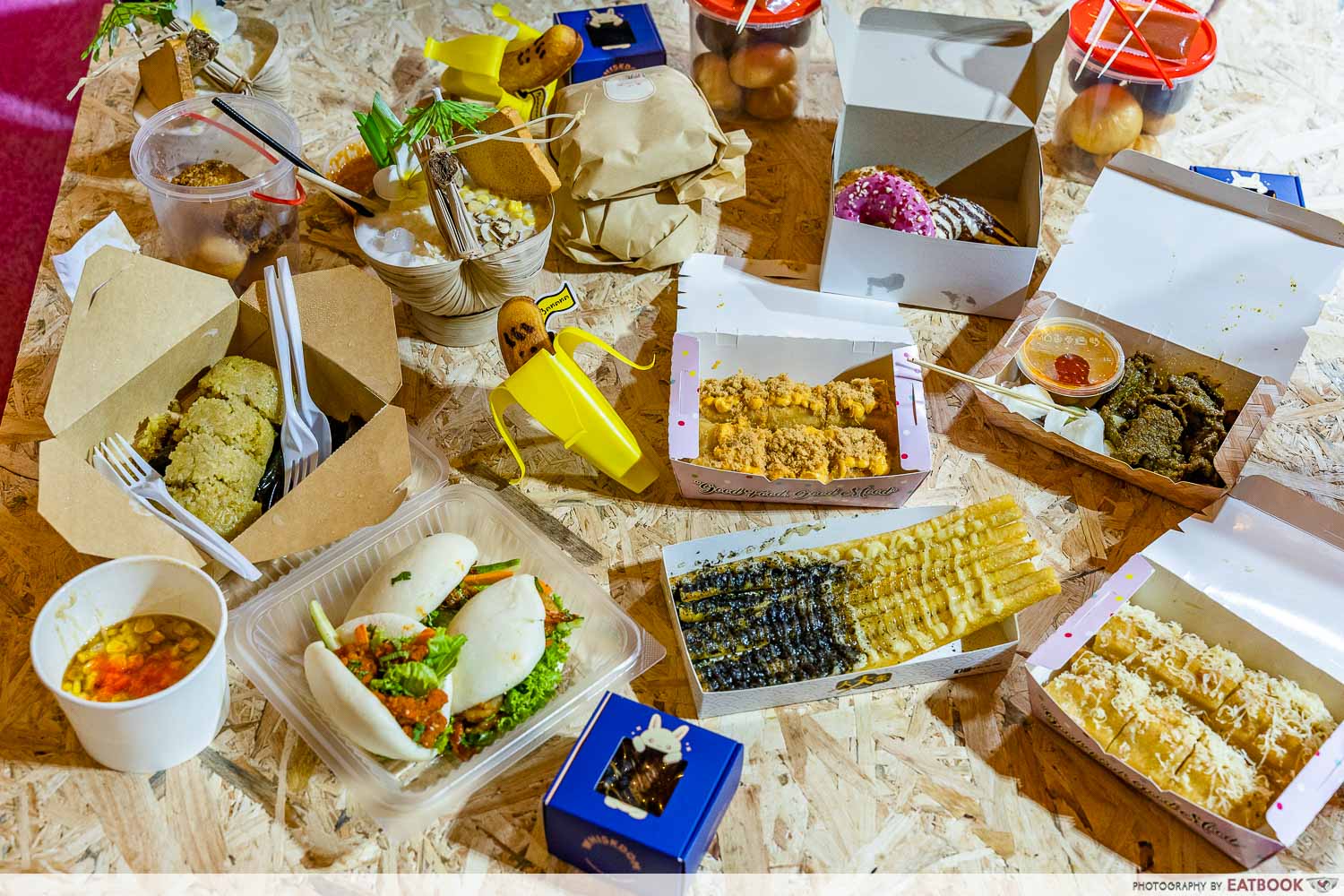 That's quite a bunch to wrap your head around, so to help you make the most of your time there, we've paid an early visit to suss out all the must-try food at the Geylang Serai Ramadan Bazaar 2023. 
There are plenty of seats on-site for you to dine at too, including an extended "rooftop" area with comfy tables and bench seats this year! 
All stalls are either Muslim-owned, halal-certified, or only work with Muslim-friendly ingredients.
---
1. Whiskdom 
---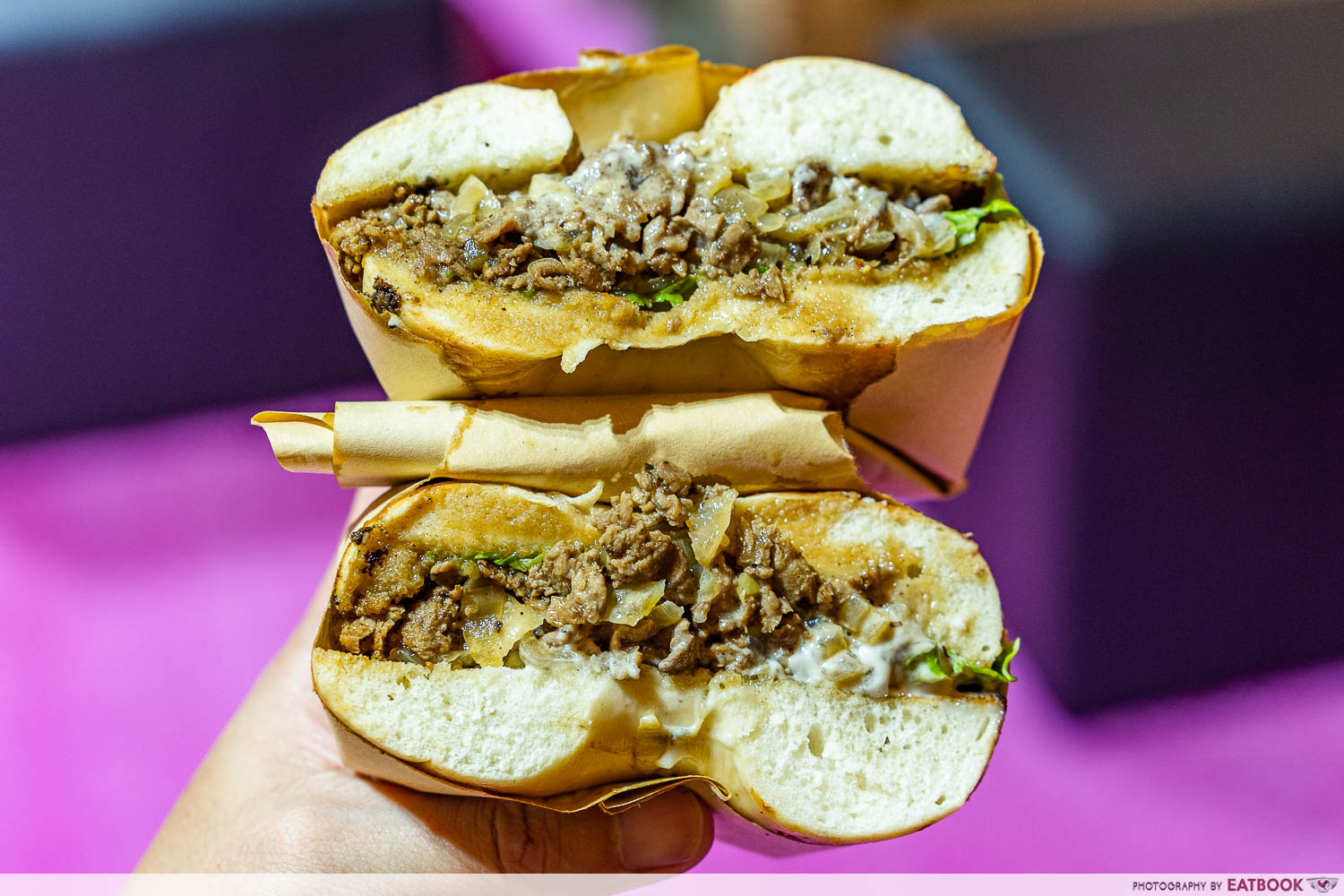 Whiskdom is one of the biggest home-based business success stories in Singapore so far. You know them for their thick levain cookies and lava brownies, available in a variety of flavours, but the brand has also since branched out into offering savoury dishes.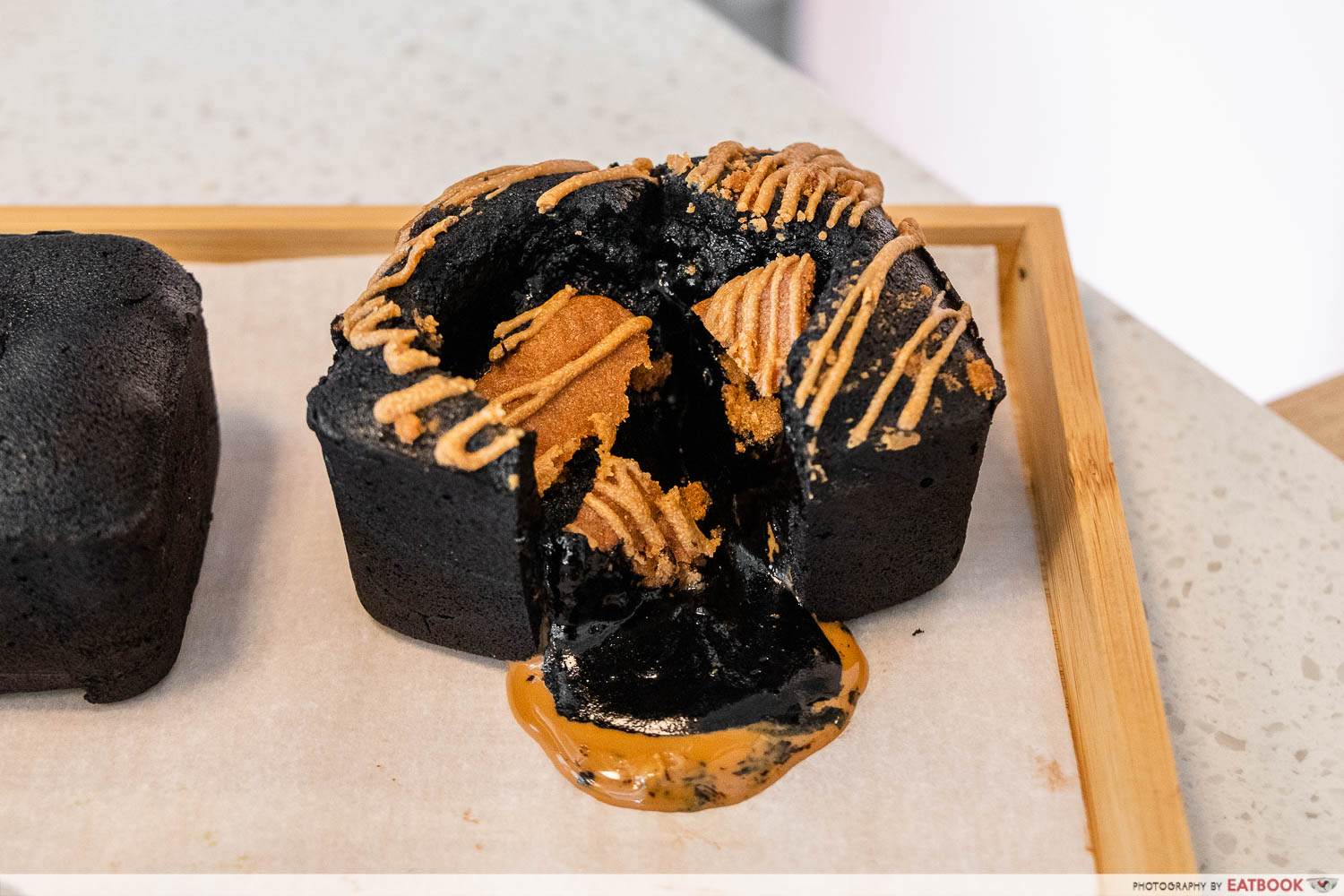 Swing by the stall this year to get your hands on their brownies and cookies, priced at $6.50 each, or their newer menu items. This includes bagels in flavours such as Truffle Beef Steak ($13.90), and fried Tater Tots ($6.50) served with either a nacho cheese or truffle aioli dip.
Whiskdom Review: Loaded Bagelwiches, Lava Cookies And More By IG-Famous Bakery In Bugis
---
2. Kakak Chicken x Big Big Fries 
---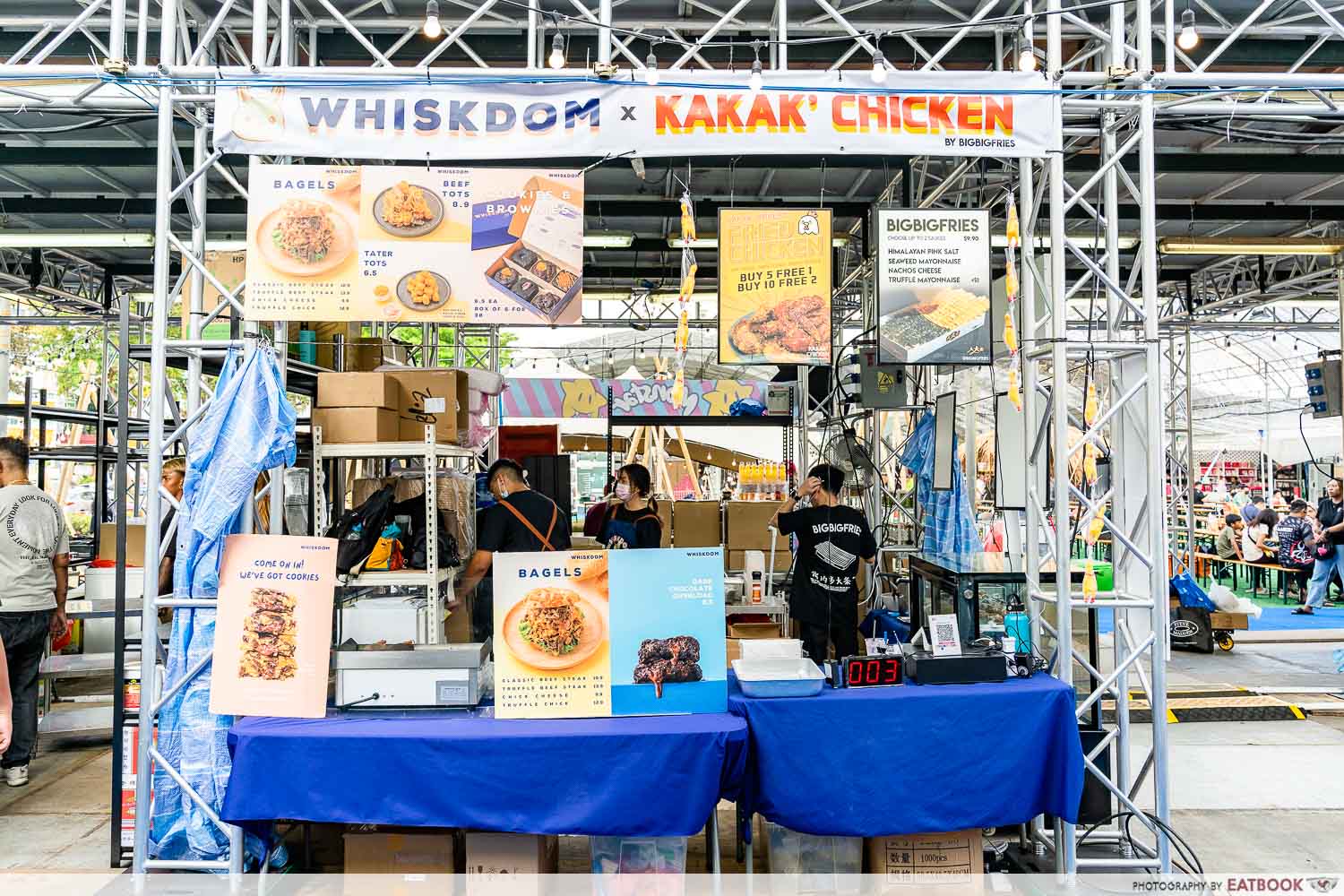 Located next to the Whiskdom booth is Kakak Chicken x Big Big Fries, two stalls selling deep-fried goodies such as Korean fried chicken, and XXL french fries. The former is available in a wide selection of flavours, including a mouth-searing Ghost Pepper. Also, they're running a promotion where if you buy five wings, you get one free. Buying 10 wings gets you two for free.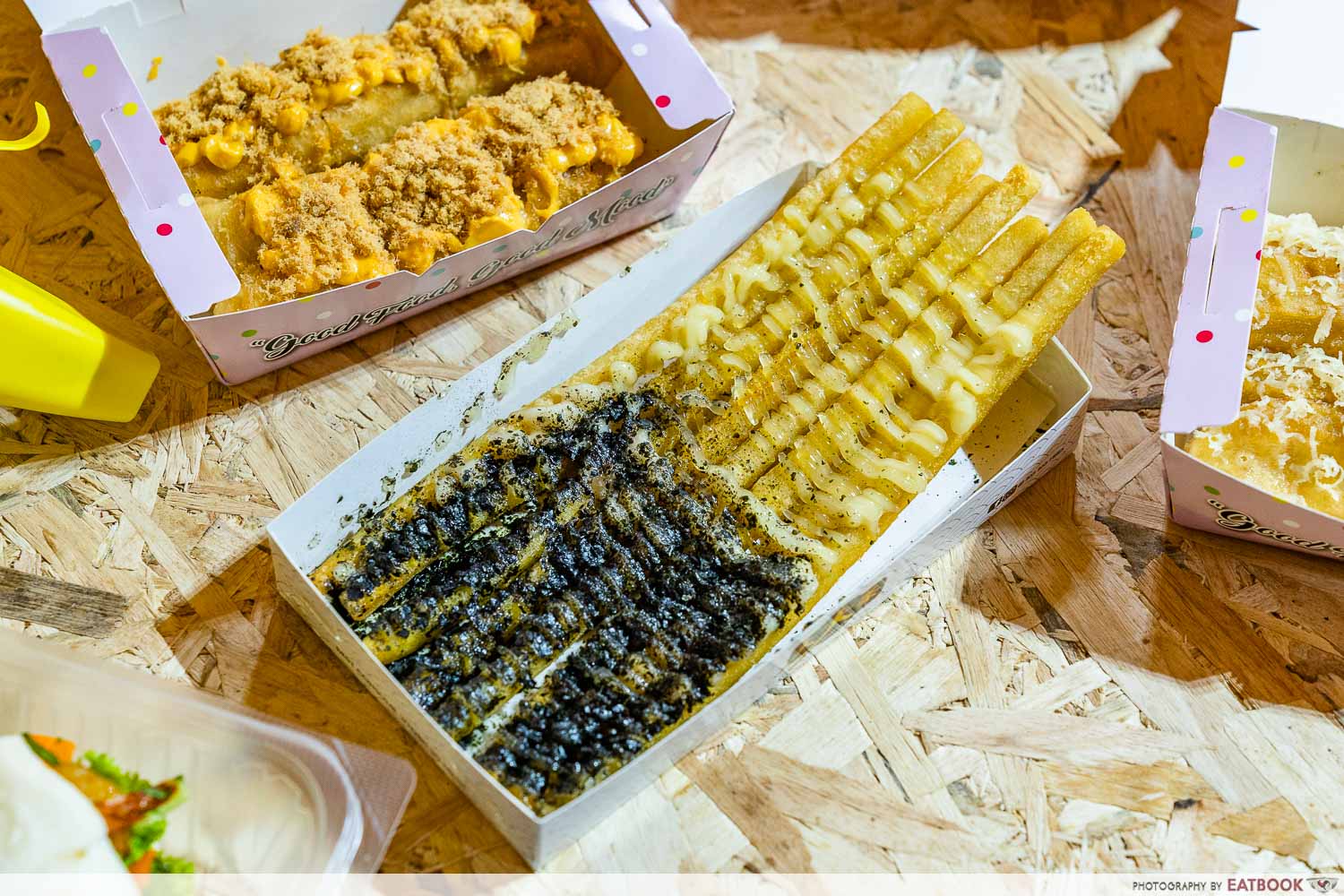 Pair your fried chicken with some extra-long fries, priced at $9.90. You get to choose your favourite topping, from seaweed mayonnaise to Himalayan pink salt, and even truffle mayonnaise with an additional $1 top-up.
Website
---
3.Just Coconut 
---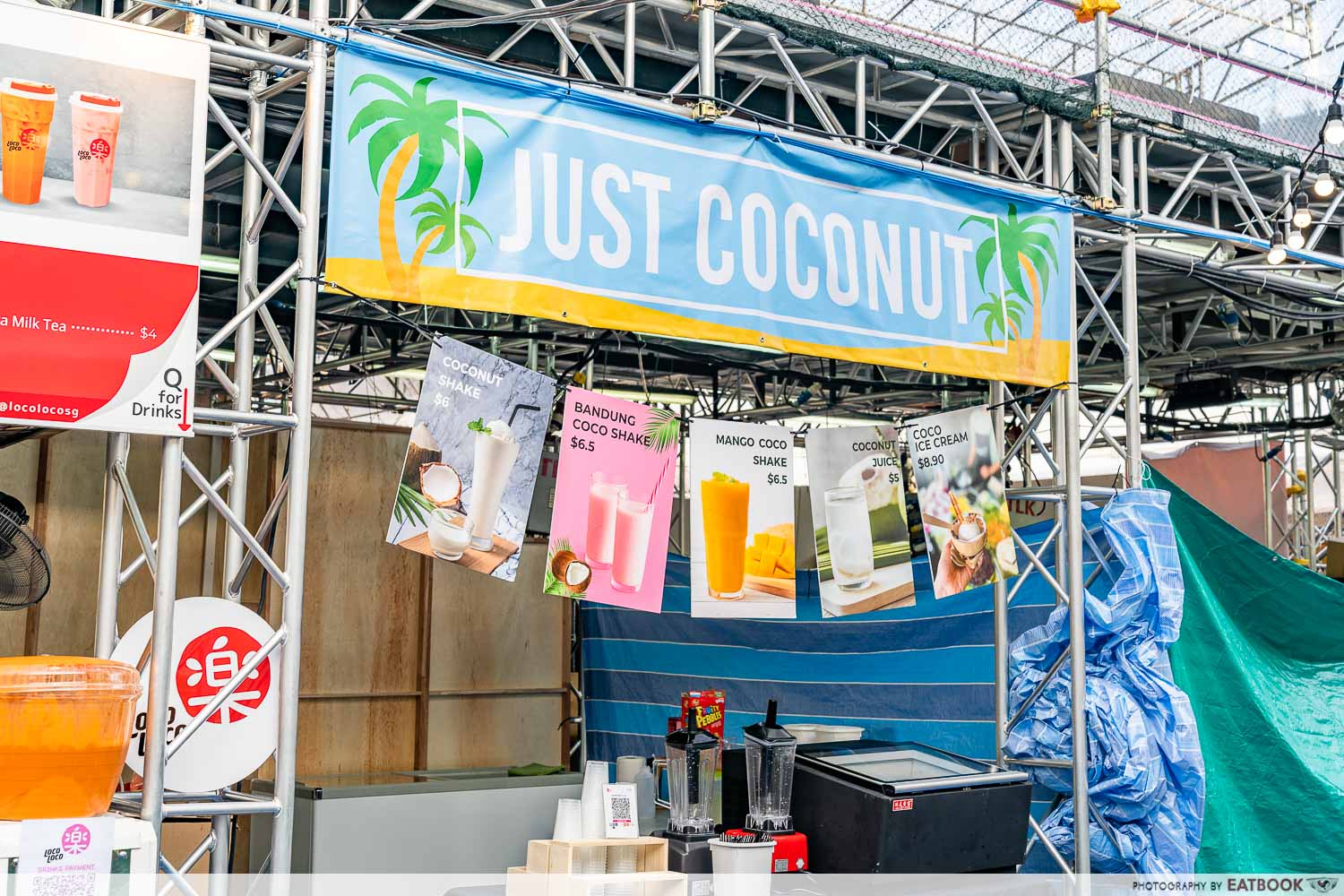 Beat the evening heat with a quenching coconut shake from Just Coconut. They have a handful of flavours available, each shake is creamy, rich, and satisfying.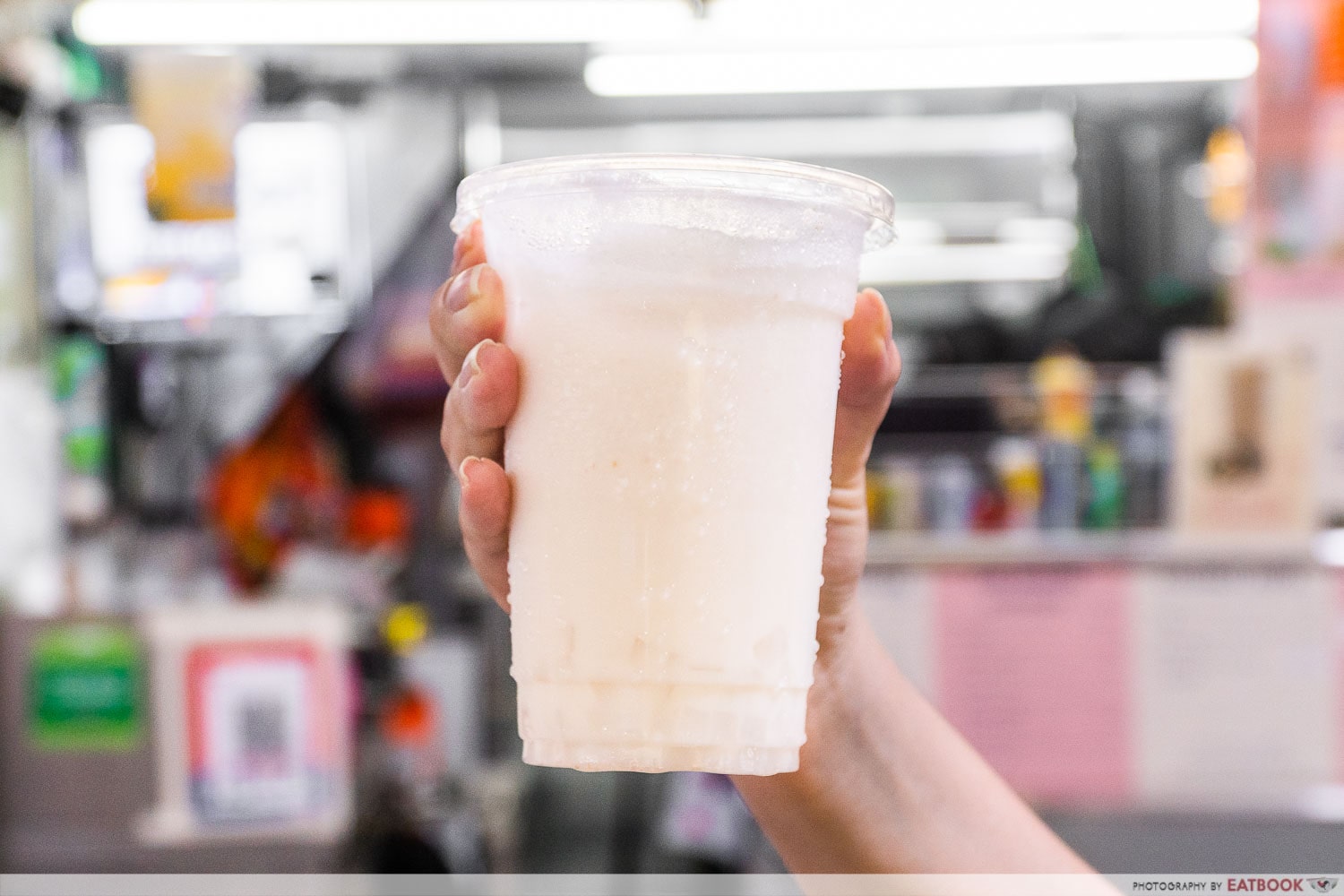 Choose between flavours such as their Bandung Coco Shake ($6.50), their Mango Coconut Shake ($6.50), or their regular Coconut Shake ($6). If you're not keen on a thicker drink, they also have fresh Coconut Juice for $5.
---
4. Krumbz N Kraves 
---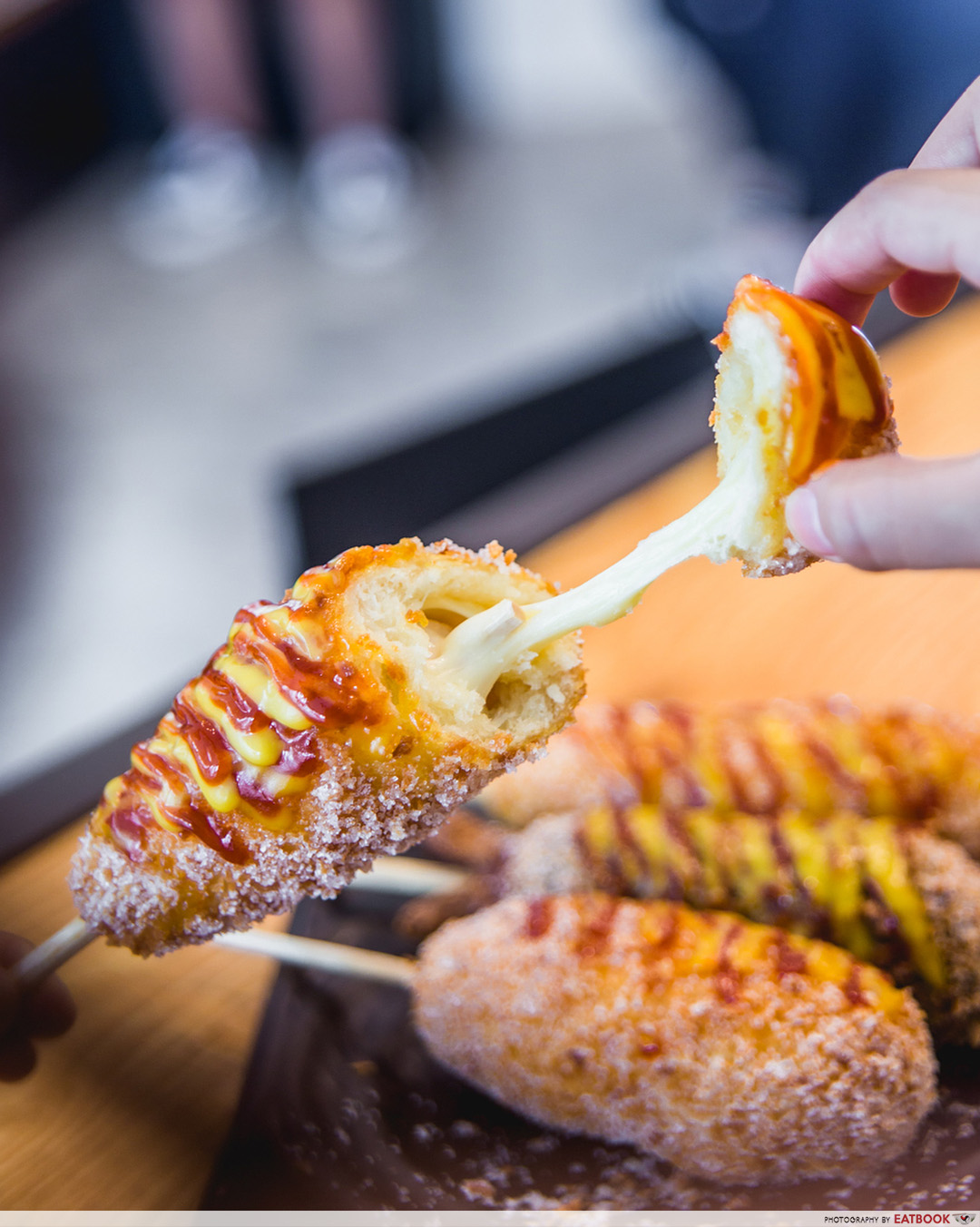 Krumbz N Kraves offers deep-fried street food bites that are a little bit Korean, and a little bit Taiwanese. You can't go wrong with a corndog, so give their Mozza Cheesedog ($7) a try. Else, they also have Argentinian Squid ($10), starring a whole, deep-fried squid on a skewer, and Taiwanese-style Shilin Chicken ($6), dusted in chilli powder, salt, and pepper.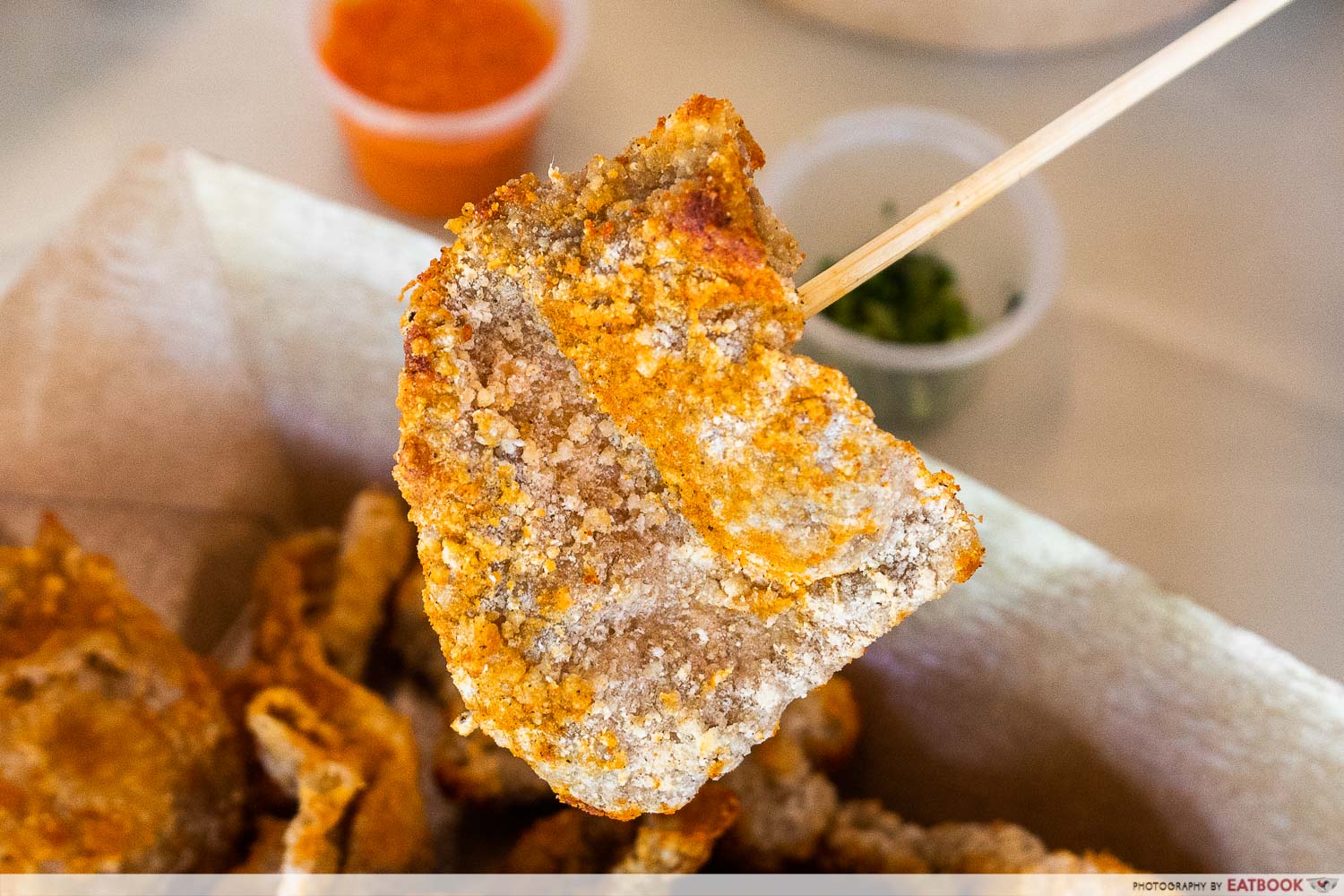 The stall also sells drinks—great for quenching your thirst on a balmy evening at the bazaar. There is a wide selection of mocktails, from the citrusy Cuban Mojito ($5) to the Blue Lagoon ($5), and even Vietnamese Coffee ($6) if you need a dose of caffeine.
---
5. Street Wok by Maktok's Kitchen 
---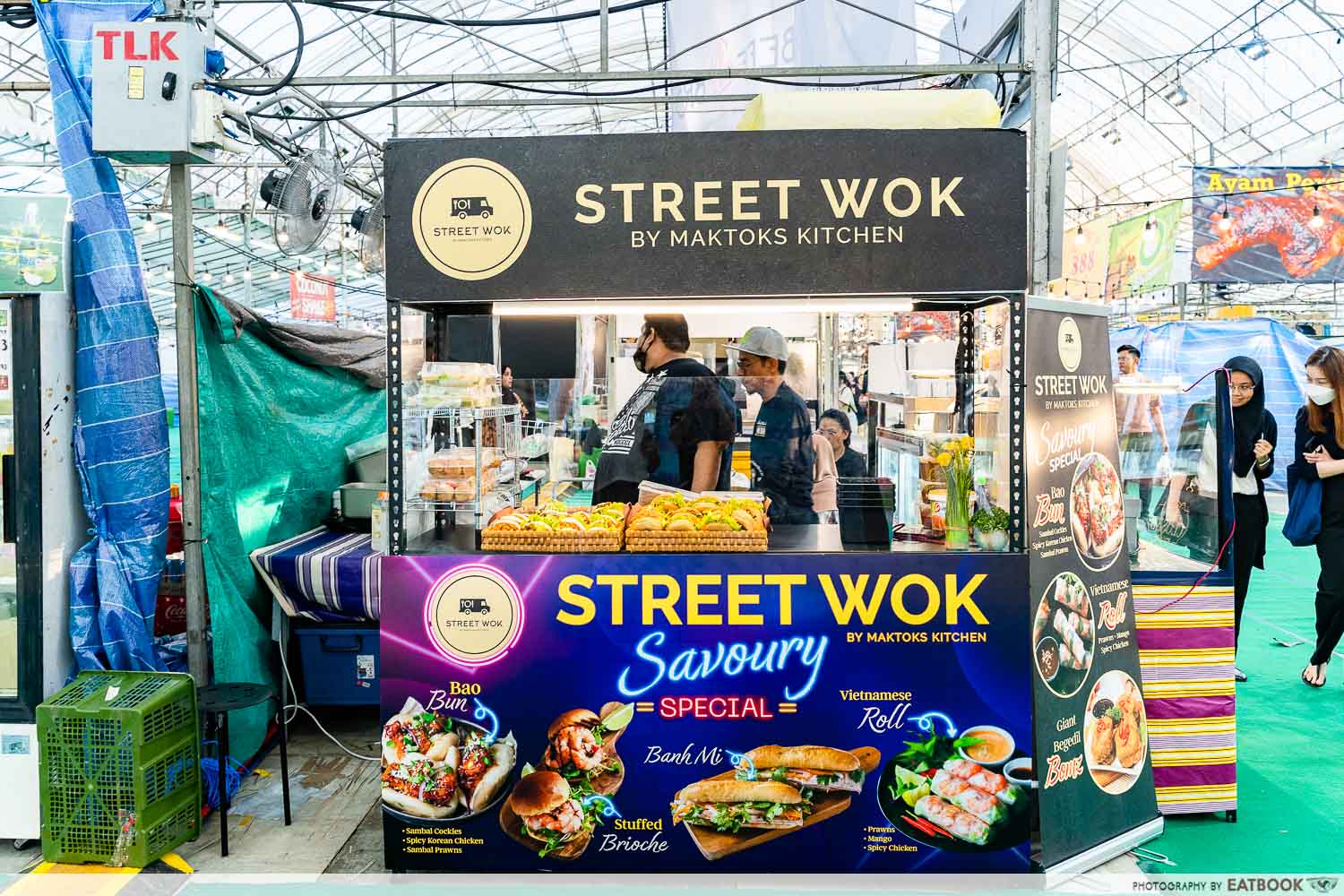 For peak Asian fusion bites, check out Street Wok by Maktok's Kitchen. The eatery offers dishes that splice Vietnamese, Thai, Korean, and Indonesian flavours together. This includes their Bao Bun ($10 for three), where Chinese-style gua bao, are filled instead with sambal cockles and Korean fried chicken.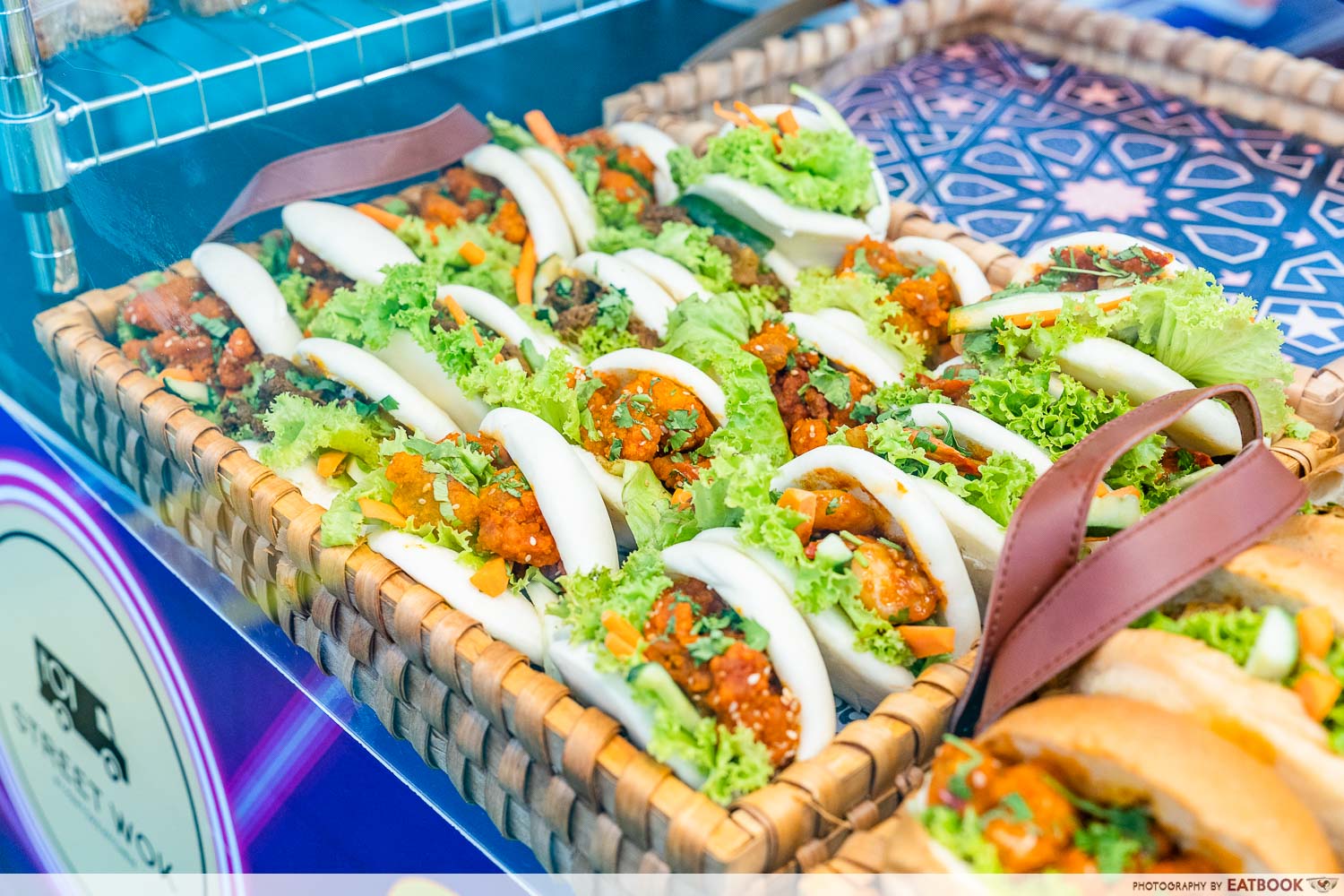 There's also their Vietnamese Spring Rolls, priced at $6 a packet. Finally, don't miss their Giant Begedil Bomz ($8)—an XXL take on everyone's favourite item at a nasi padang stall, the deep-fried potato pancake.
---
6. Charkoi 
---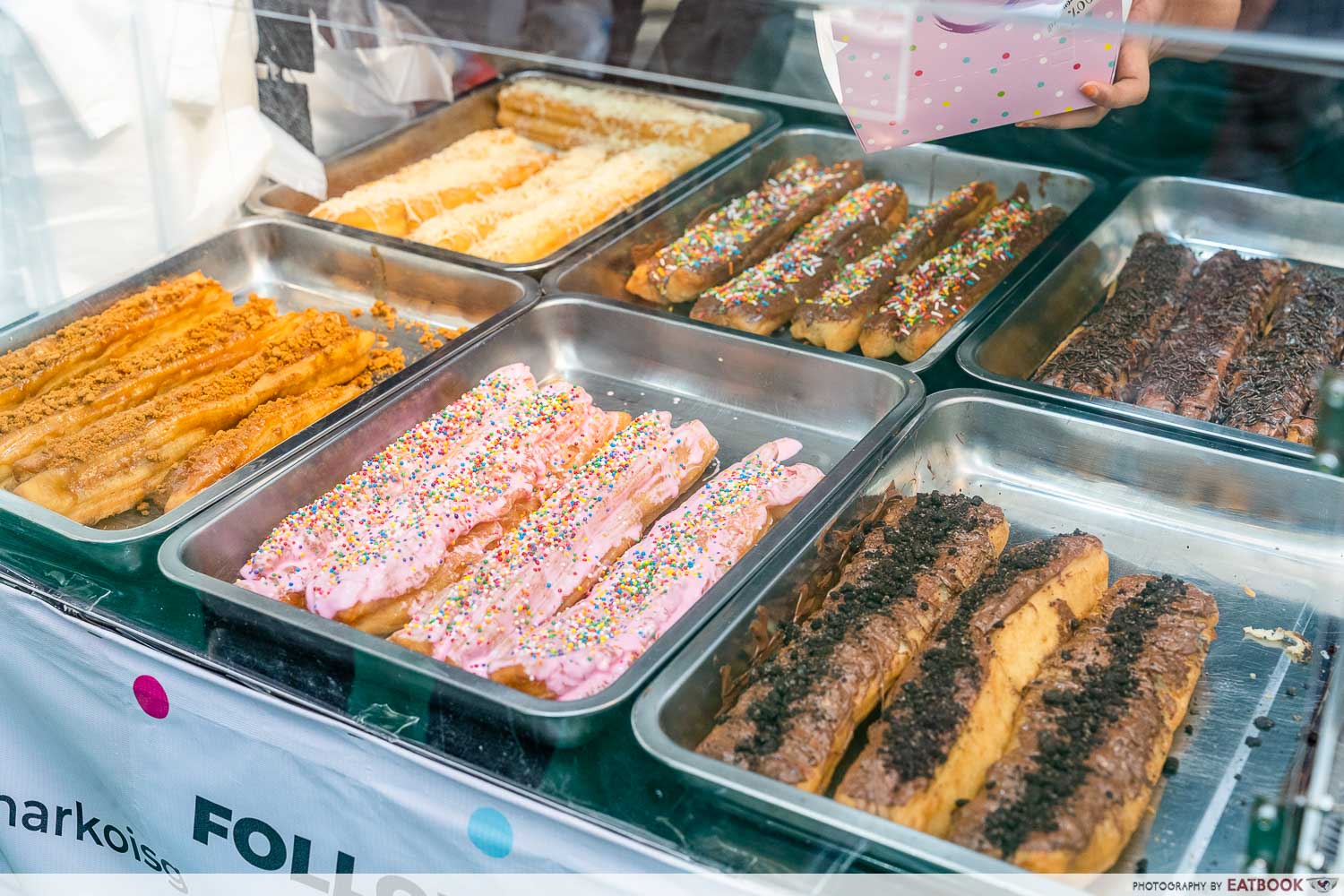 Charkoi is a well-known name in the Geylang Serai Ramadan Bazaar scene. You may know them best for their flavoured, filled you tiao, available in both savoury and sweet options. Sweet options are priced at $4.50 each or $12 for three, and are available in flavours such as Nutella Oreo, Milo Dino, and Biscoff Caramel.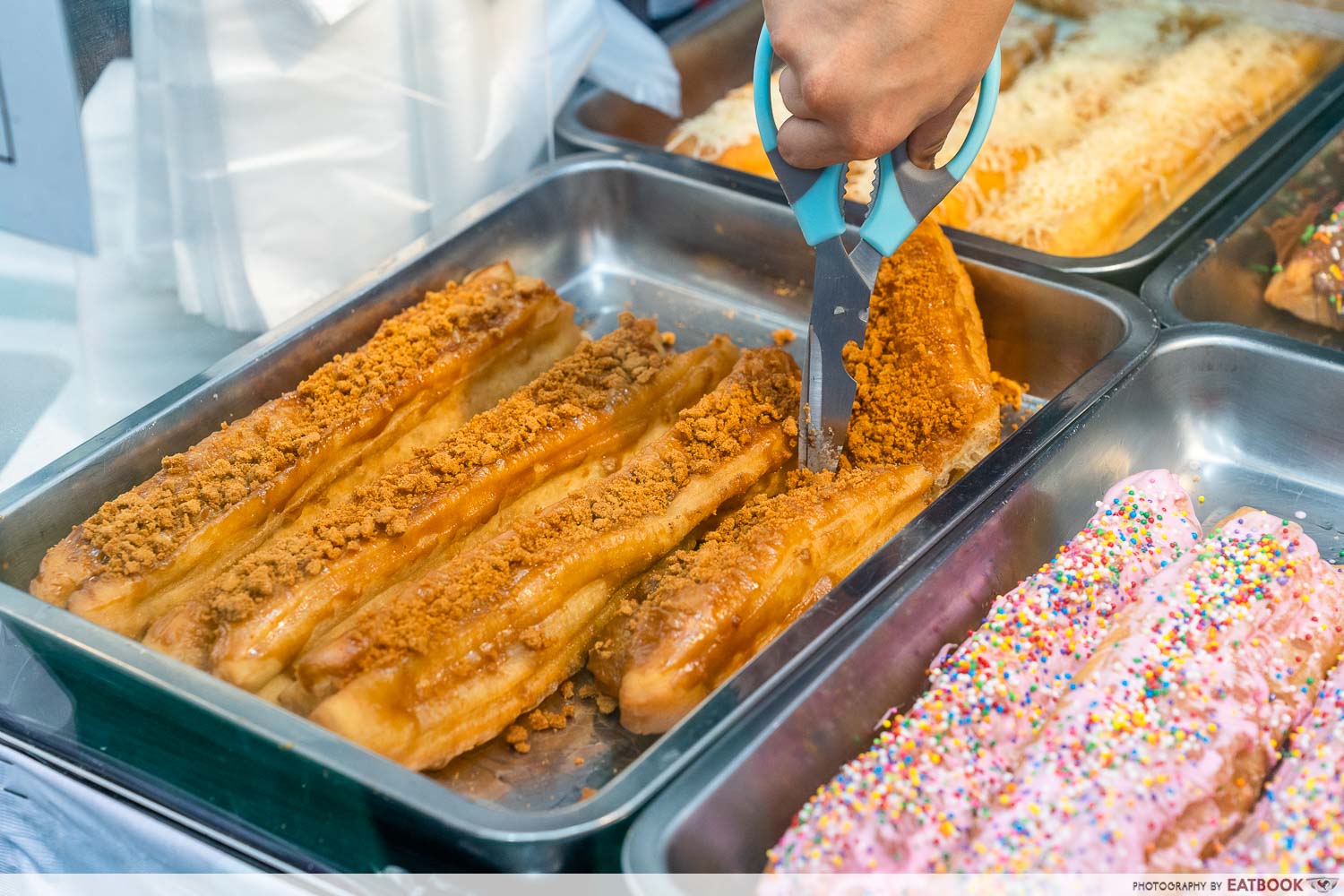 If your sweet tooth is on hiatus that day, try their savoury items instead. Each char koi is priced at $5.50 for one, or three for $15. Choose between the likes of Chicken Floss, Spicy Tuna Mayo, and Cuttlefish. The stall also serves flavoured milk teas and other finger food, including Popiah Otah ($4).
---
7. Praffles 
---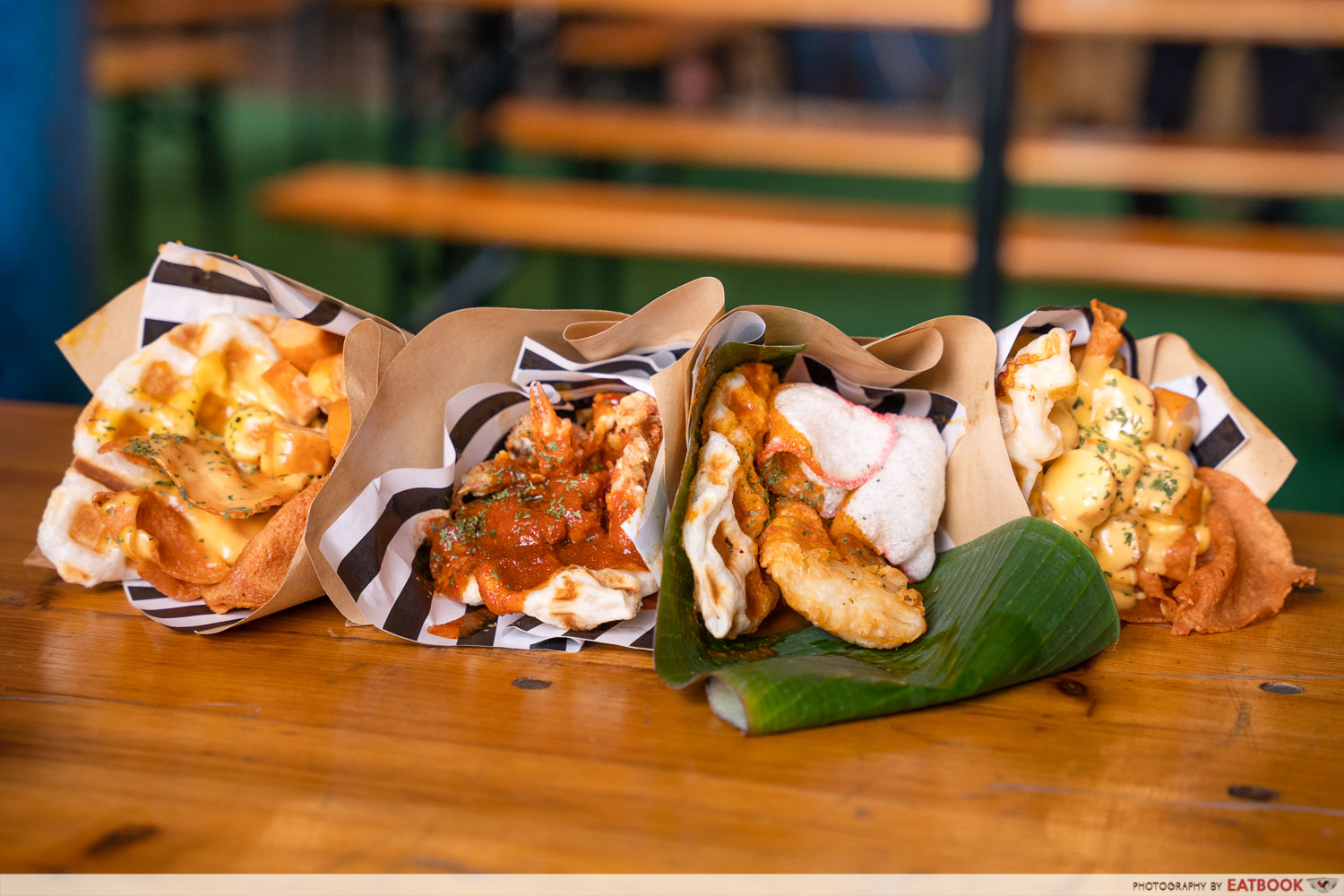 Another frequent name in the Geylang Serai Ramadan Bazaar circuit is Praffles, which serves prata waffles. They're famous for their Chilli Crab Praffle ($15.90), loaded with crab meat, soft shell crab, and the stall's signature chilli sauce.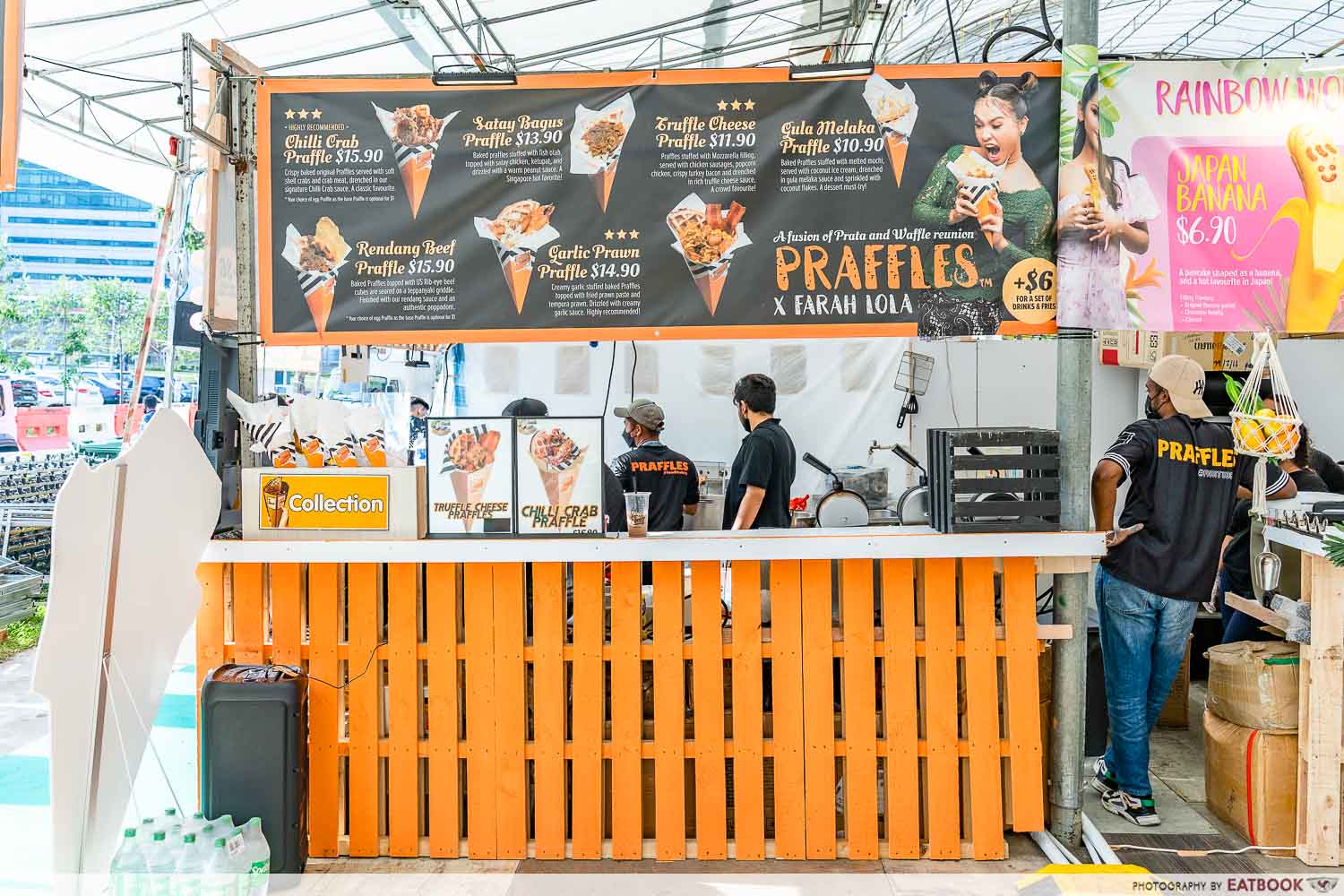 If crab is not your jam, we recommend trying their Truffle Cheese Praffle ($11.90), where you get prata waffles packed with mozzarella, folded around chicken sausage, popcorn chicken, turkey bacon, and a truffle cheese sauce. They also have sweet praffles too!
---
8. Rainbow Works 
---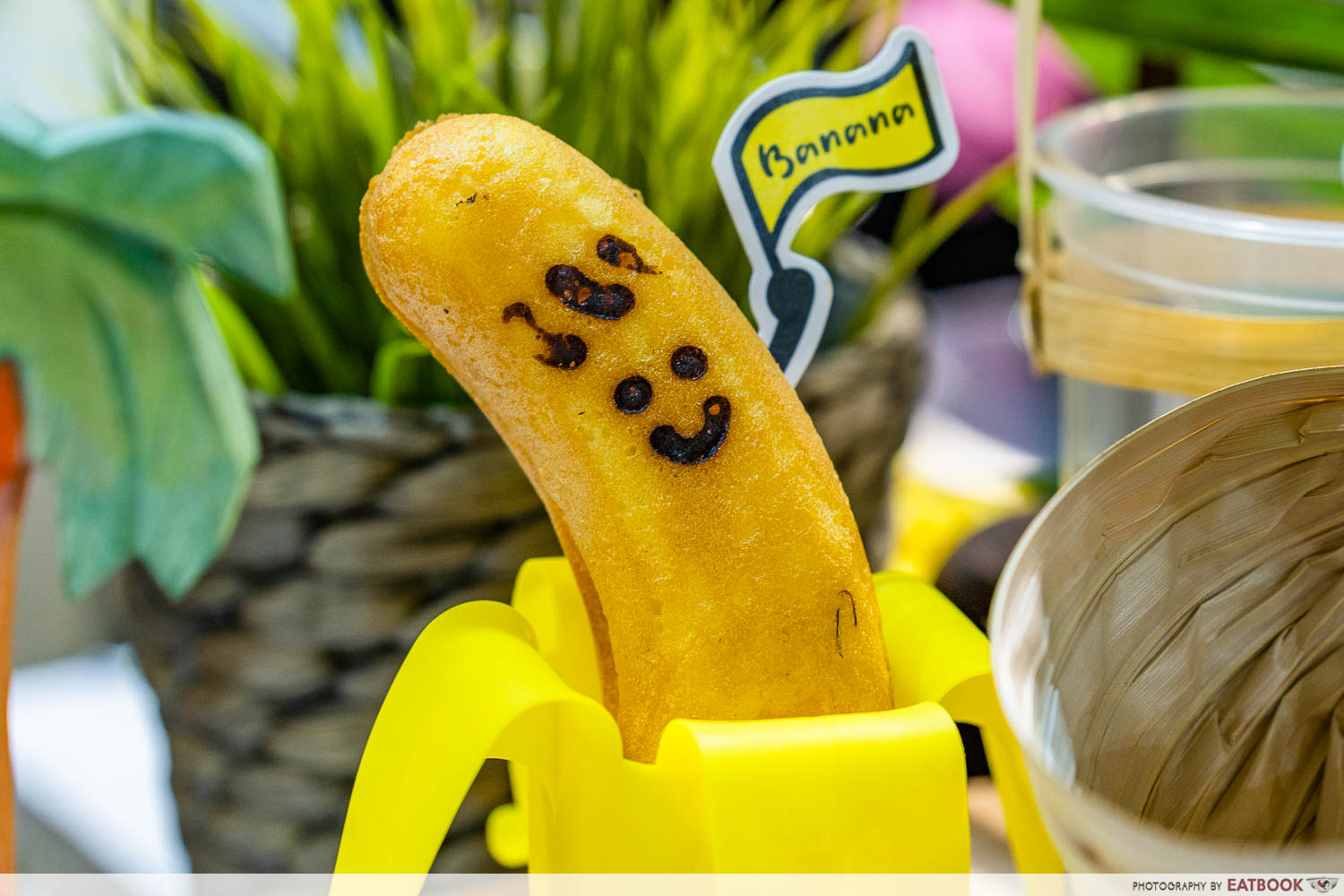 If you love Tokyo Banana, you might want to save stomach space for Rainbow Works, a kiosk selling a unique treat known as Japan Banana ($6.90). Comprising a pancake rolled like an actual banana, you get each serving filled with banana puree, Nutella, or cheese.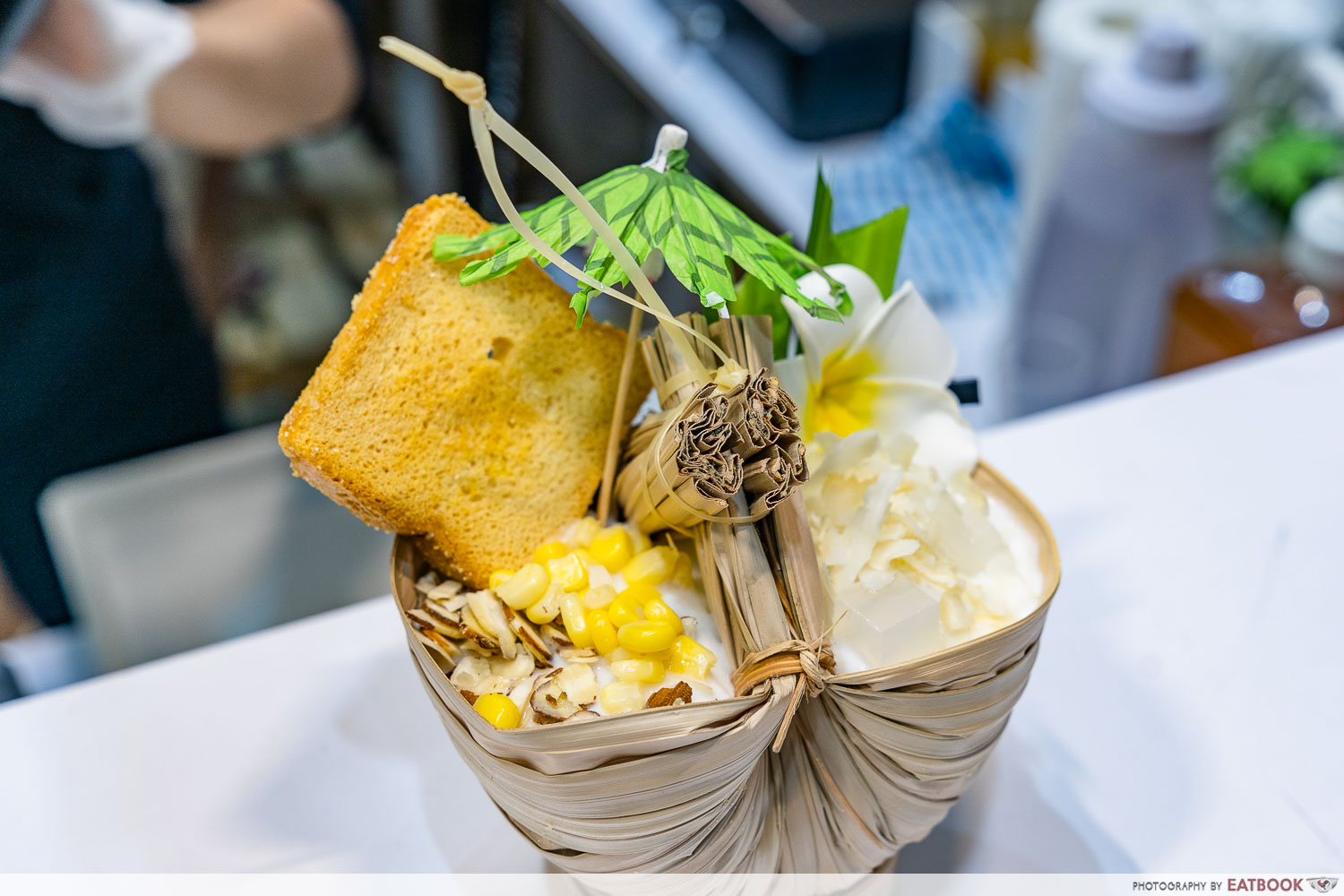 Otherwise, the stall also sells a variety of Thai-style coconut shakes, ice creams, and desserts, all served in beautiful Instagrammable woven cups or bowls.
---
9. Frank On Wheels 
---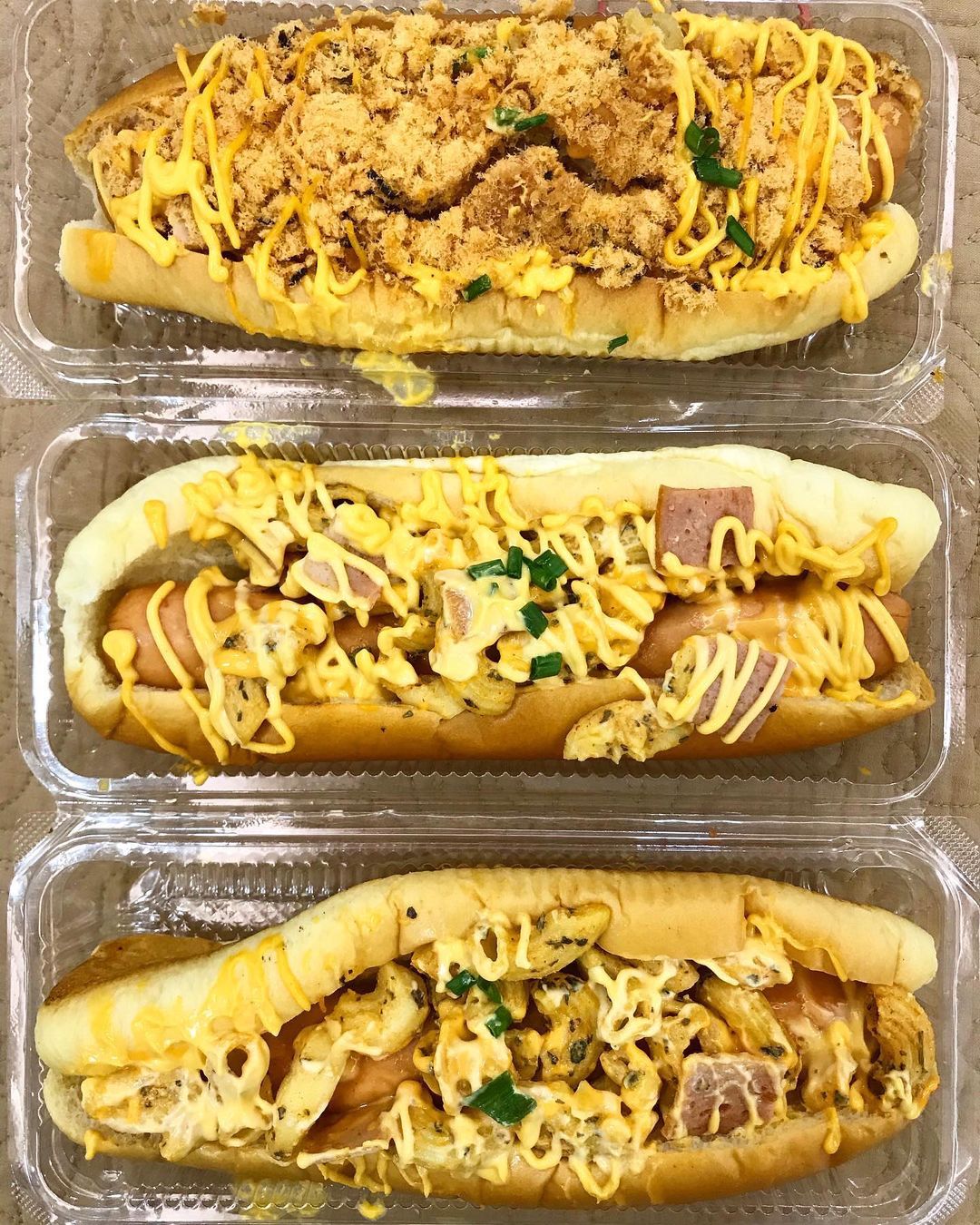 Image credit: @foodie.forevers_
Street food fairs are rarely complete without hotdogs, so grab yours at Frank On Wheels. The stall is best known for their range of Buldogis, fusion hotdog buns available in flavours such as Dendeng Chilli Beef ($12.90), Mac & Cheese ($10.90), and Mentai King ($11.90). They've got a selection of loaded sides to go with the mains too, from Mentai Fries with Turkey Bacon ($7) to Spicy Korean Fries with Turkey Bacon ($7). 
---
10. Jom Lekor 
---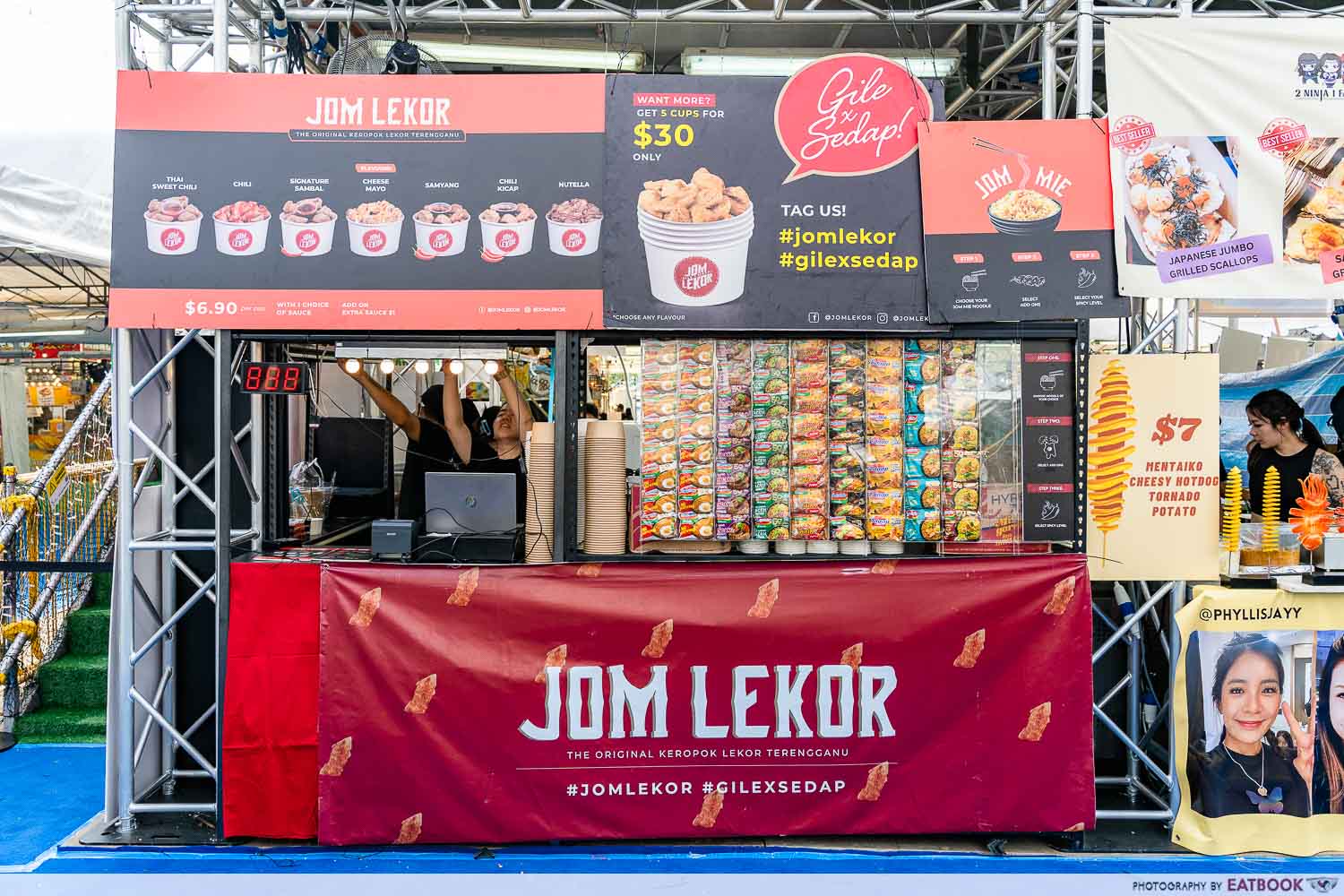 Jom Lekor is another night market classic, selling their house-made lekor—traditional Malay fish keropok.
Crispy on the outside and fluffy in the middle, these oh-so-snackable bites are great for munching on the go. A bowl costs $6.90, and you can get this with a variety of sauces, from Thai Sweet Chilli to Kicap Manis, and even Nutella.
---
11. Loco Loco 
---

Image credit: @locolocosg
Loco Loco has been round the block since 2015, making frequent appearances at local pasar malams and food events, like the latest Chatuchak Night Market. Now, they're going to be selling their popular fusion churros and takoyaki at the Geylang Serai Ramadan Bazaar. For something sugary, get their Churros, priced from $6.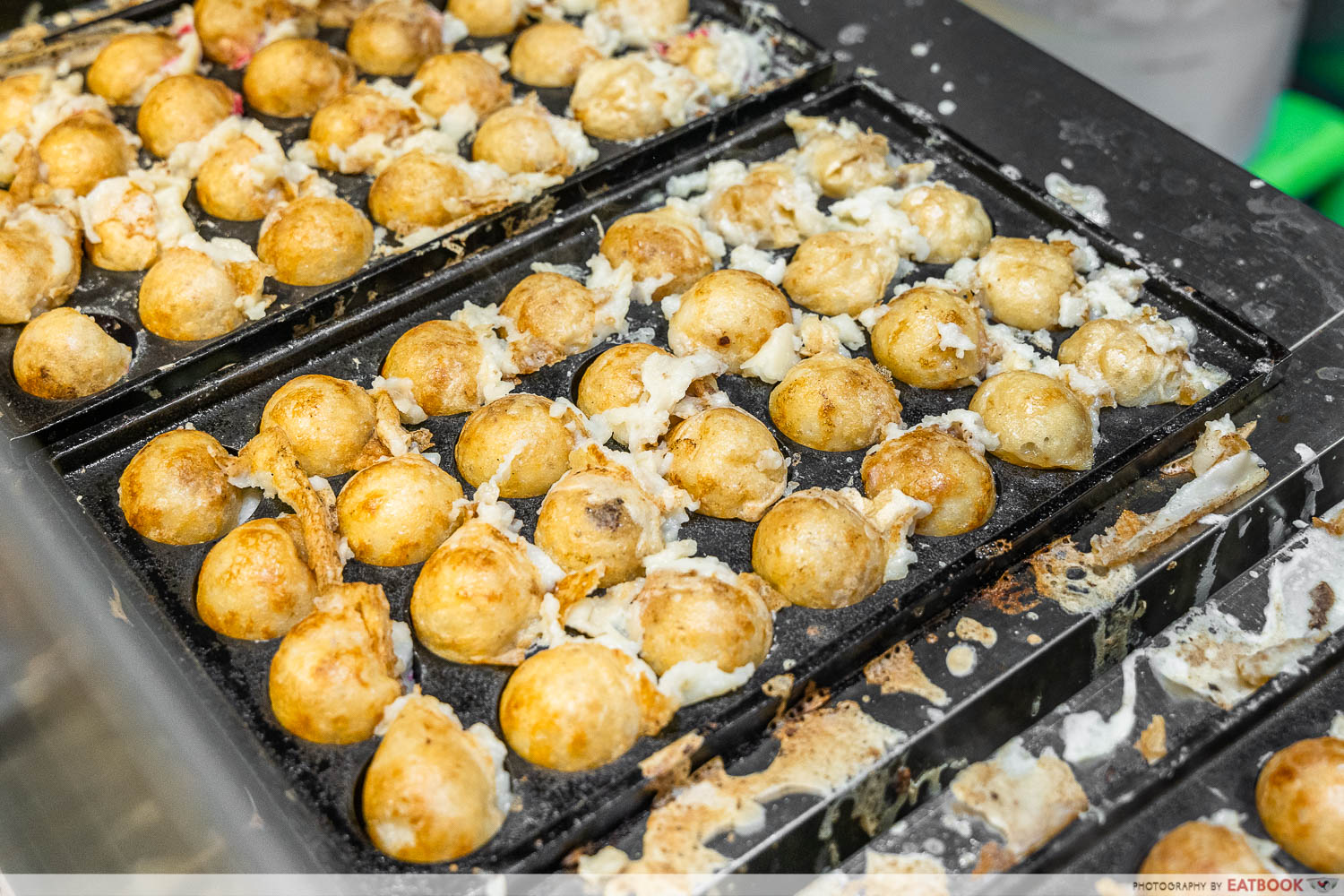 We suggest getting their Ondeh Ondeh ($6) option, where pandan churros are tossed in coconut sugar for oomph. Don't forget to grab a portion of their takoyaki too, especially their Mentaiko Takoyaki ($7) if you're a fan of the creamy Japanese-style mayo, as the takoyaki balls come absolutely covered in the sauce.
---
12. Bakes by Ny
---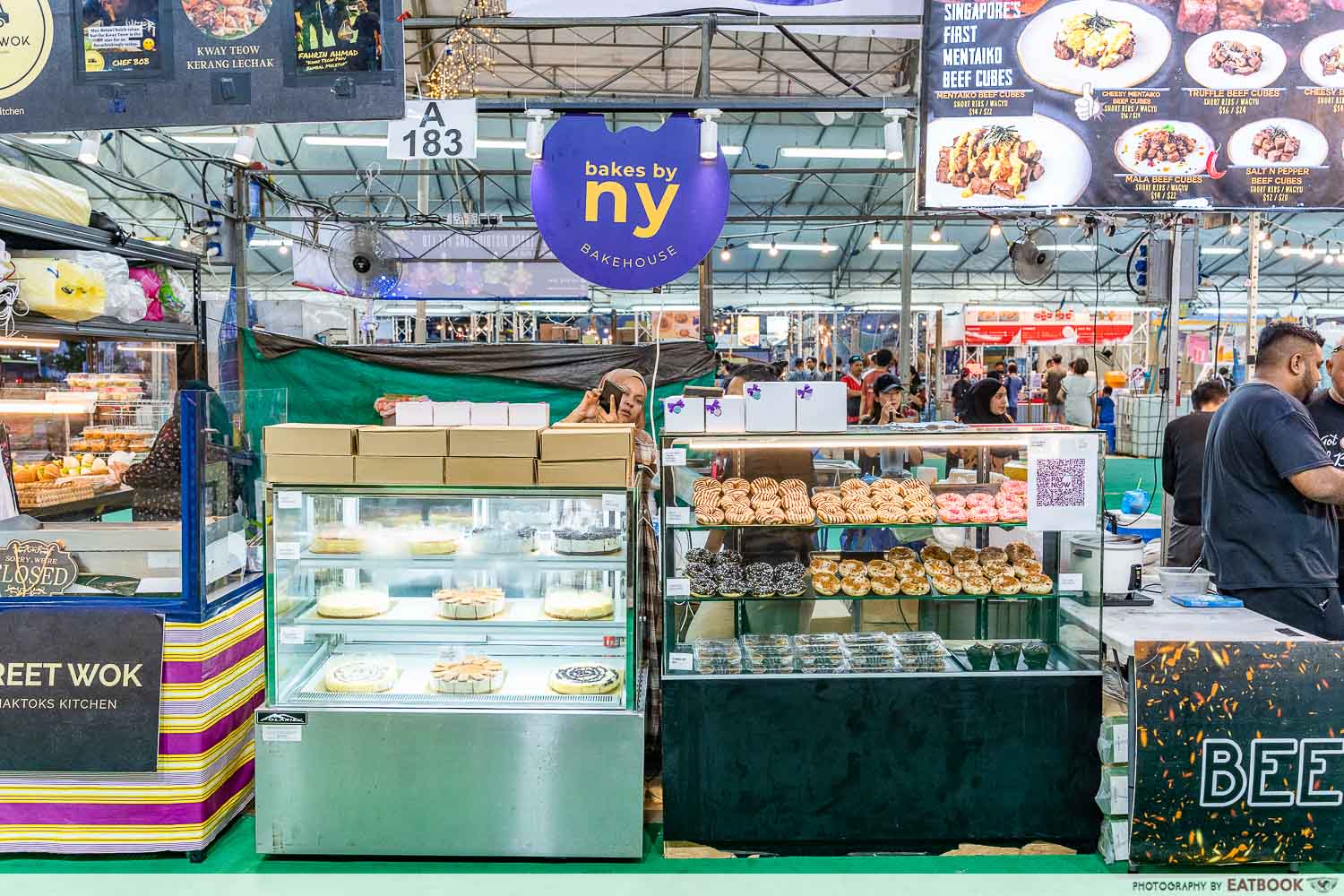 Bakes by Ny is a local doughnut bakery founded by Kahriul Anwar, an ex-inmate.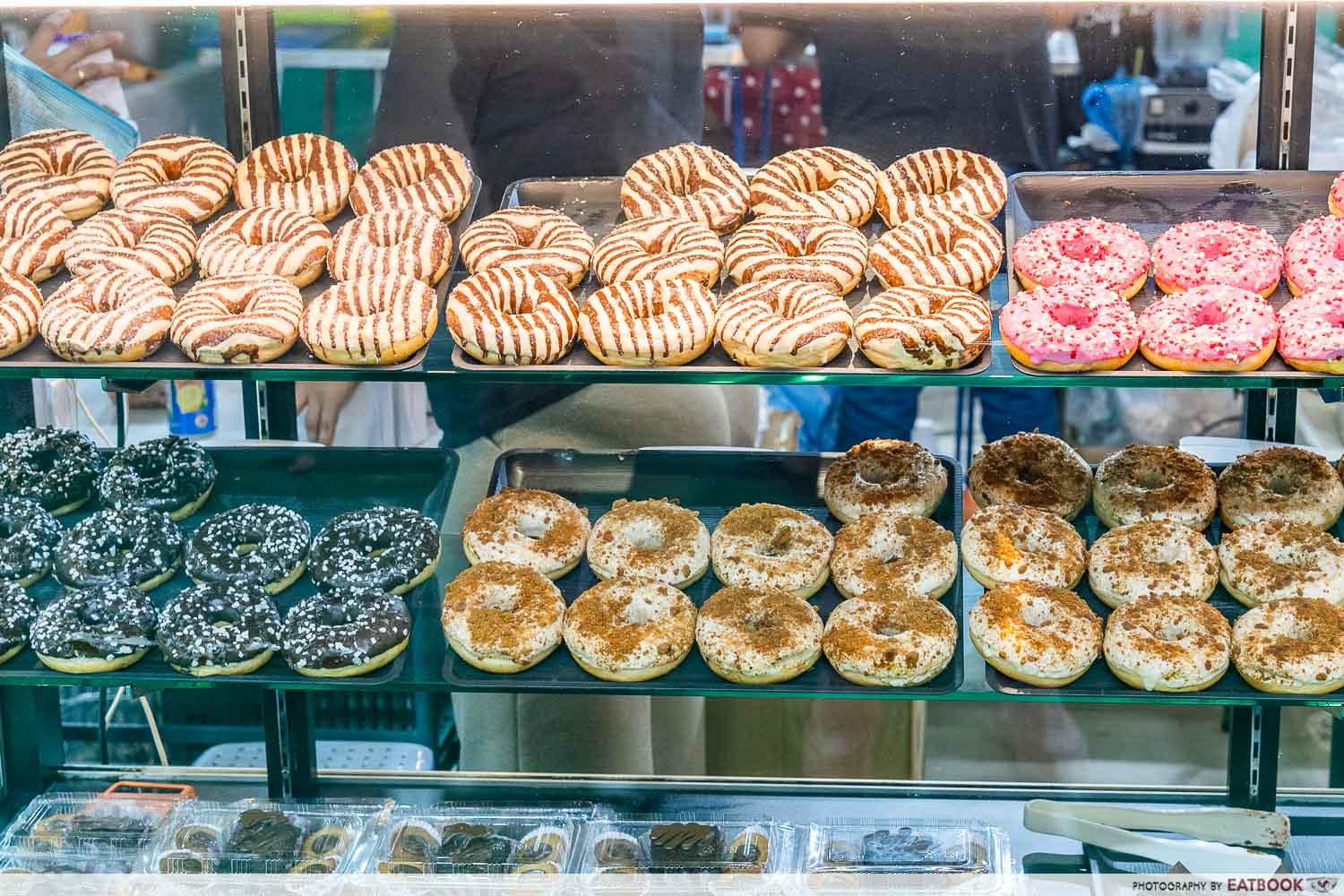 They specialise in a variety of flavoured doughnuts, but at the bazaar, they'll also be selling cheesecake in flavours such as Lotus Biscoff, Basque Burnt Cheesecake, and Oreo Cheesecake. Slices of each will be available. Prices are under $5.
---
13. Kakak Dim Sum 
---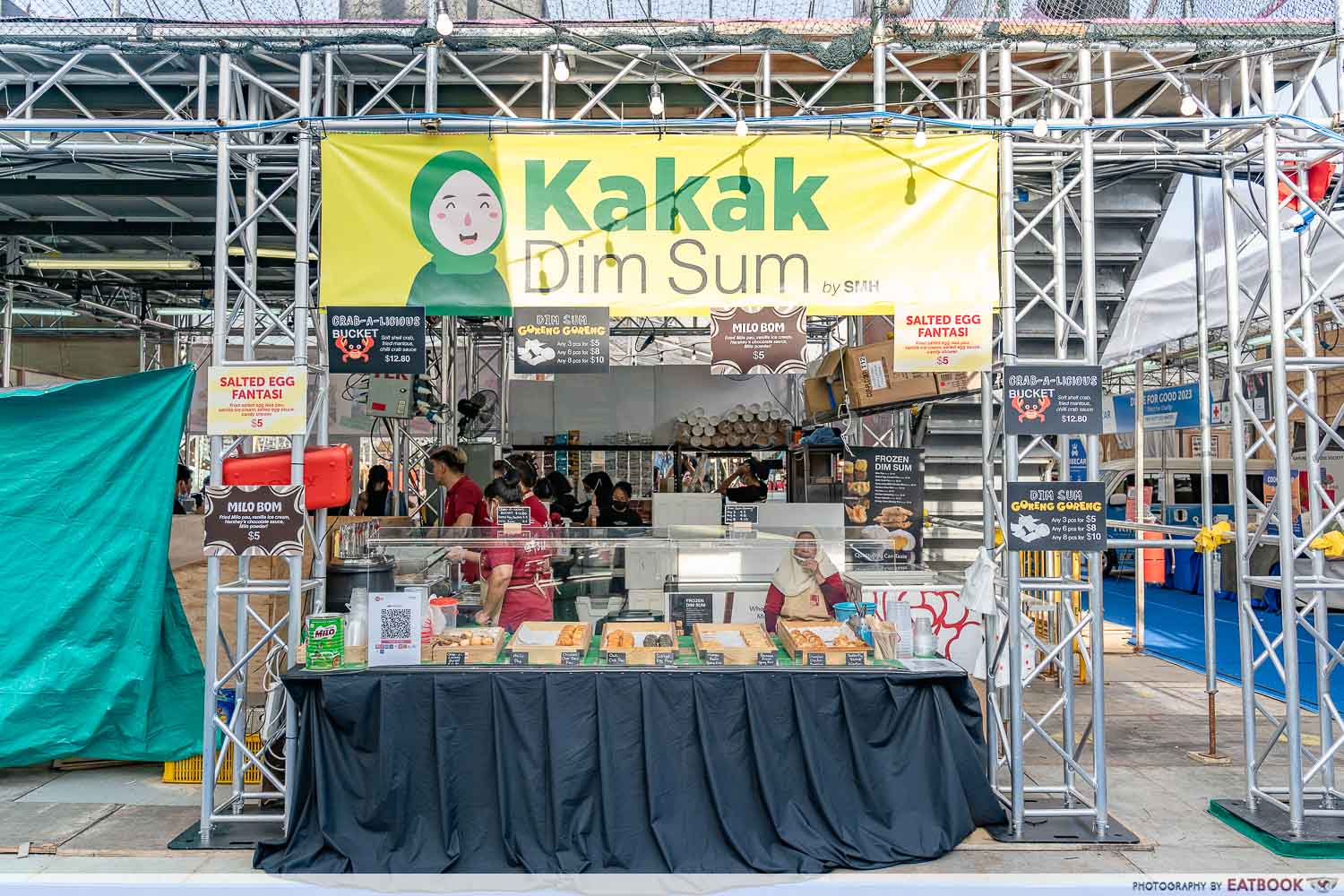 Kakak Dim Sum has a variety of Muslim-friendly yum cha options you can grab for a quick snack. First, they have their Dim Sum Goreng, where you can pick a medley of fried dumplings and more from $5. Those craving something sweeter ought to try their Salted Egg Fantasi ($5), a dessert starring a fried salted egg yolk bao with vanilla ice cream, salted egg yolk sauce and their candy topping.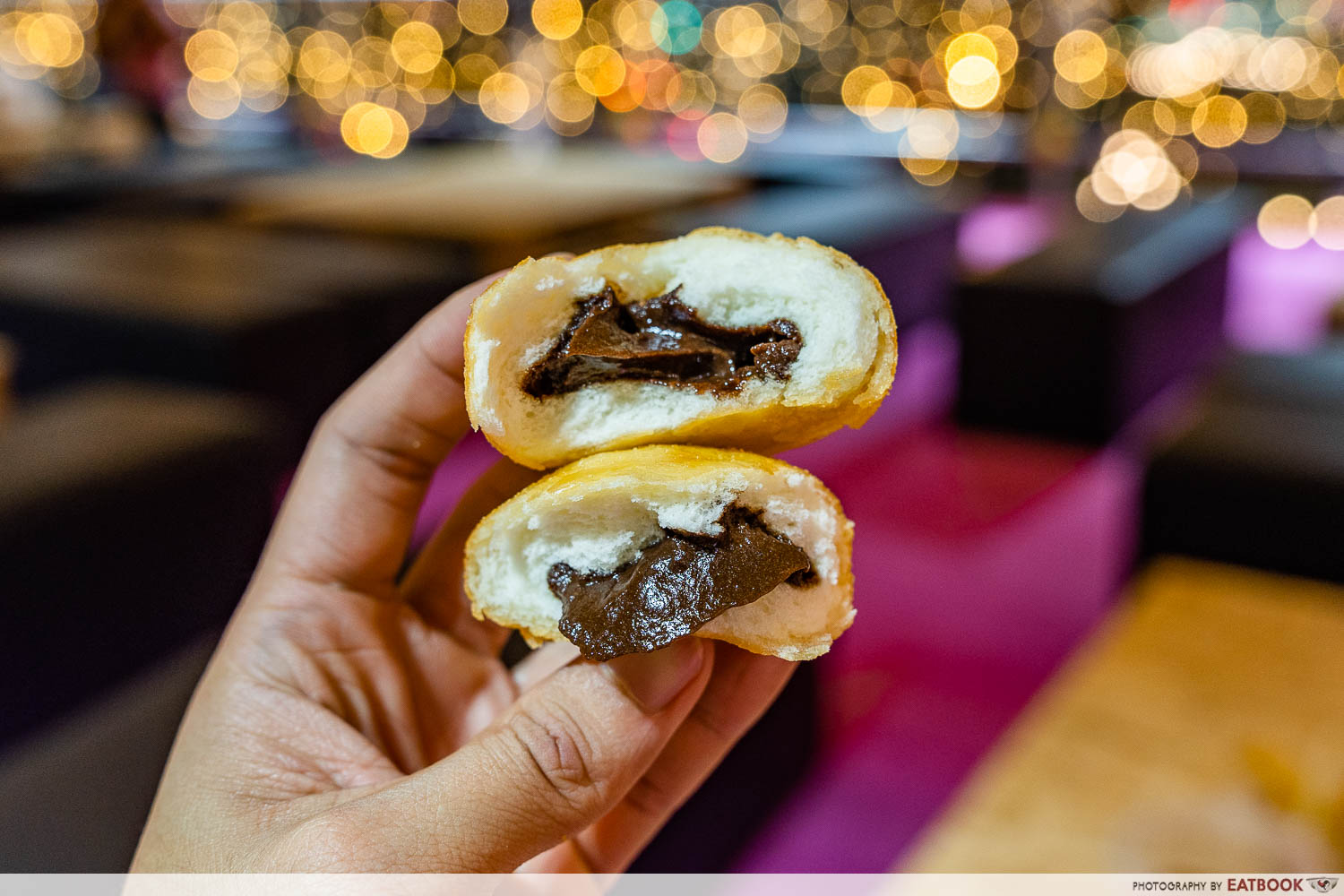 The Milo Bom ($5) is another one to nab. This time, you get a fried Milo bao, drizzled with chocolate sauce, Milo powder, and served with vanilla ice cream.
---
14. 2 Fatty and 1 Ninja 
---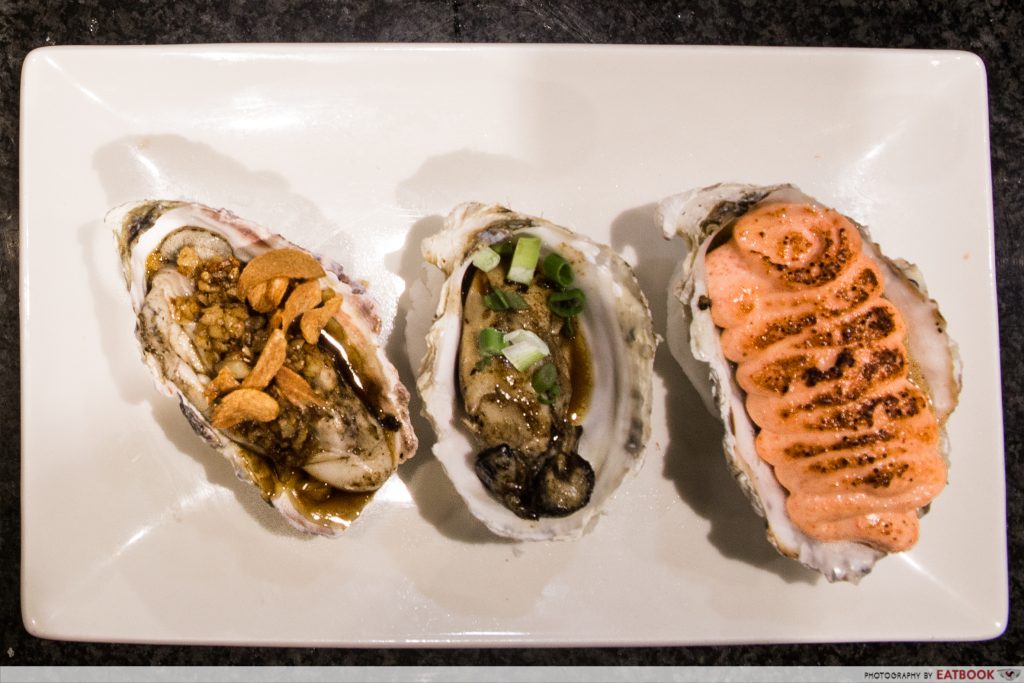 2 Fatty and 1 Ninja is a stall selling a bunch of classic night market snacks. There's Tornado Potato, priced from $4 and available in flavours such as Mala and Nacho Cheese; Grilled Giant Sotong ($6.50), and Tempura Shrimp Balls ($6) topped with cheese or a dusting of matcha powder.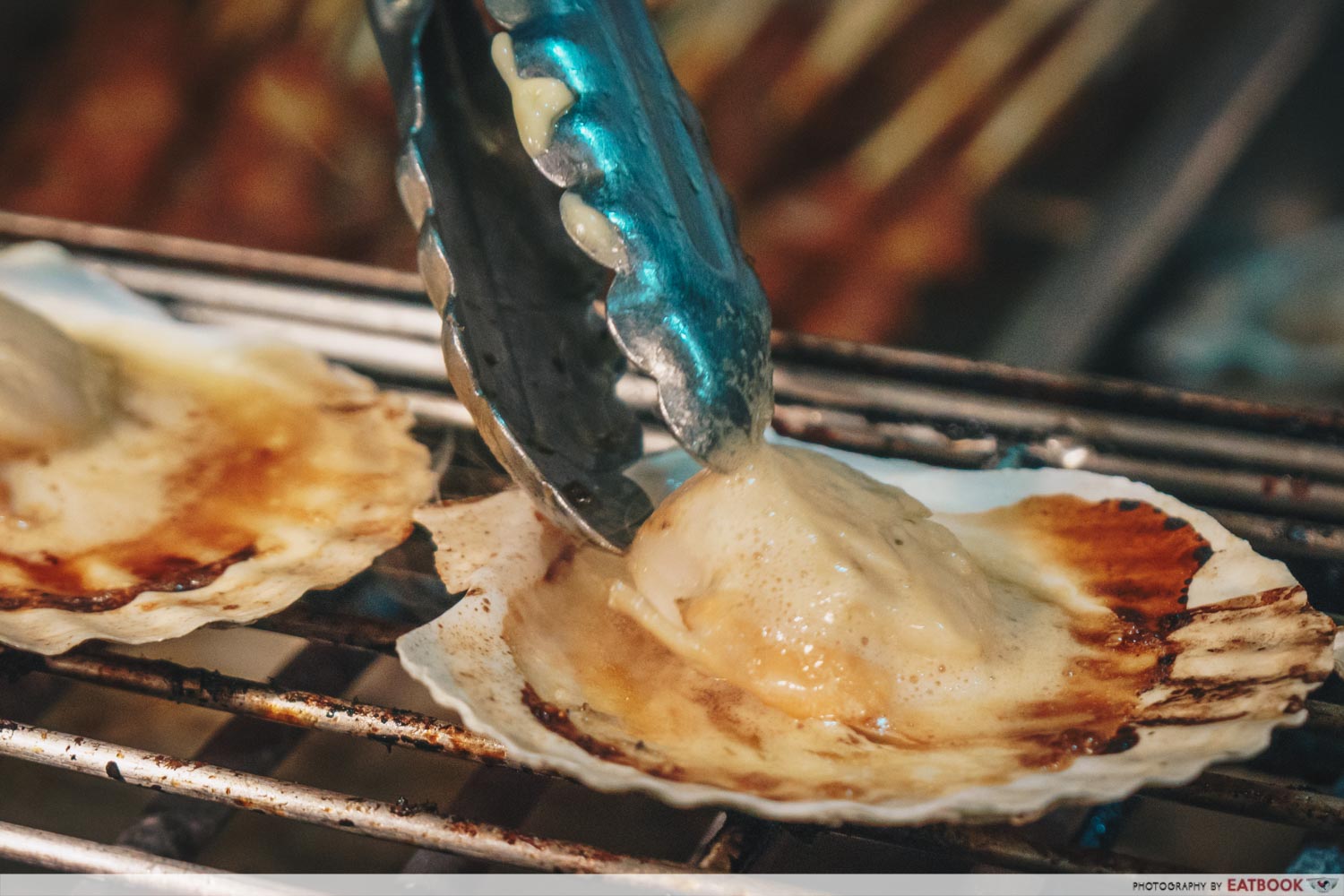 For something more unique, they've got Sashimi Grade Grilled Oysters and Japanese Jumbo Grilled Scallops. Both are priced at $15 for three, and come in flavours such as mentaiko, garlic butter, and cheese.
---
15. Sofnade
---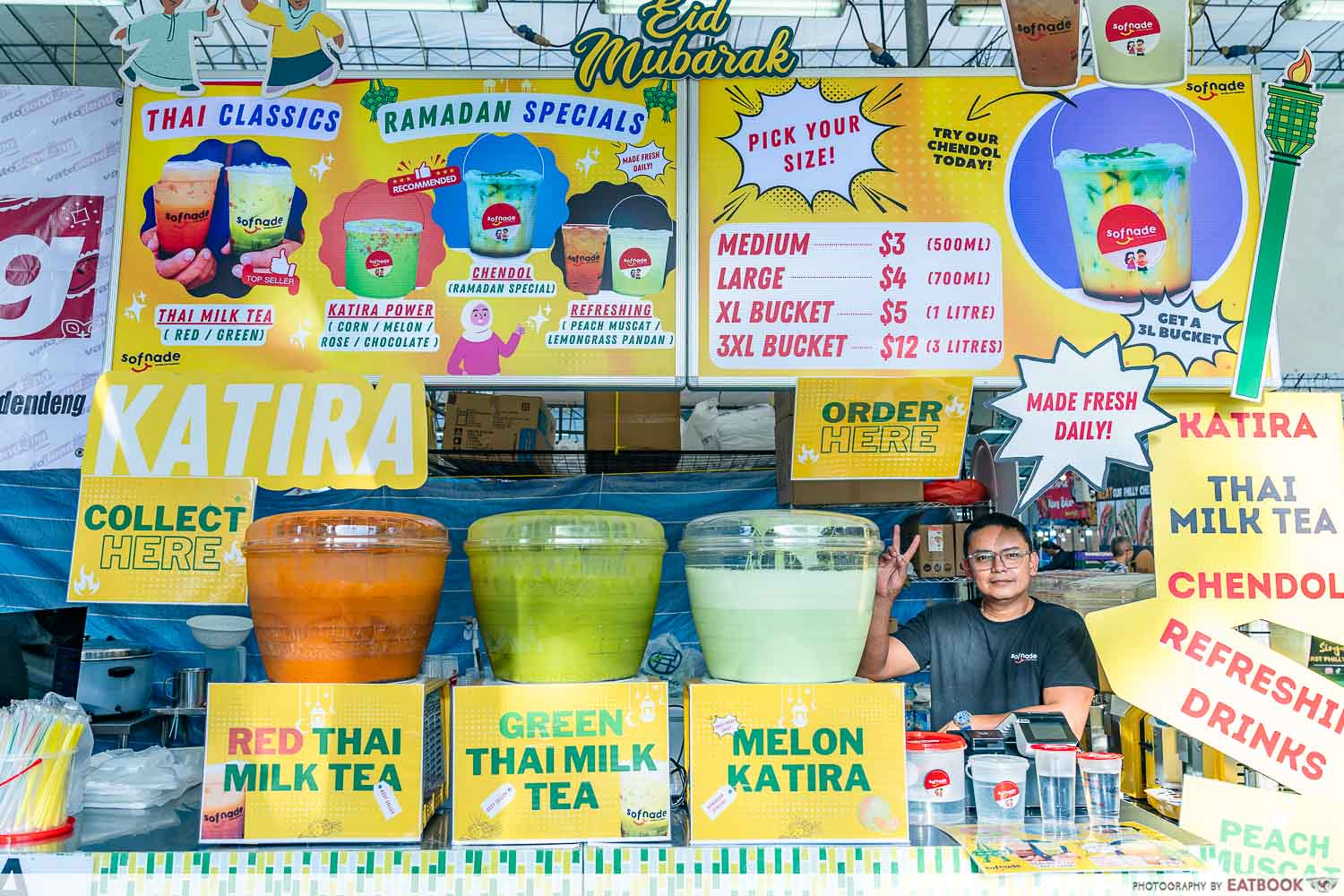 If all the jalan jalan is making you thirsty, swing by Sofnade. The drink stall sells buckets of Thai milk tea, sparking drinks, katira, and even chendol drinks in sizes up to 3 litres!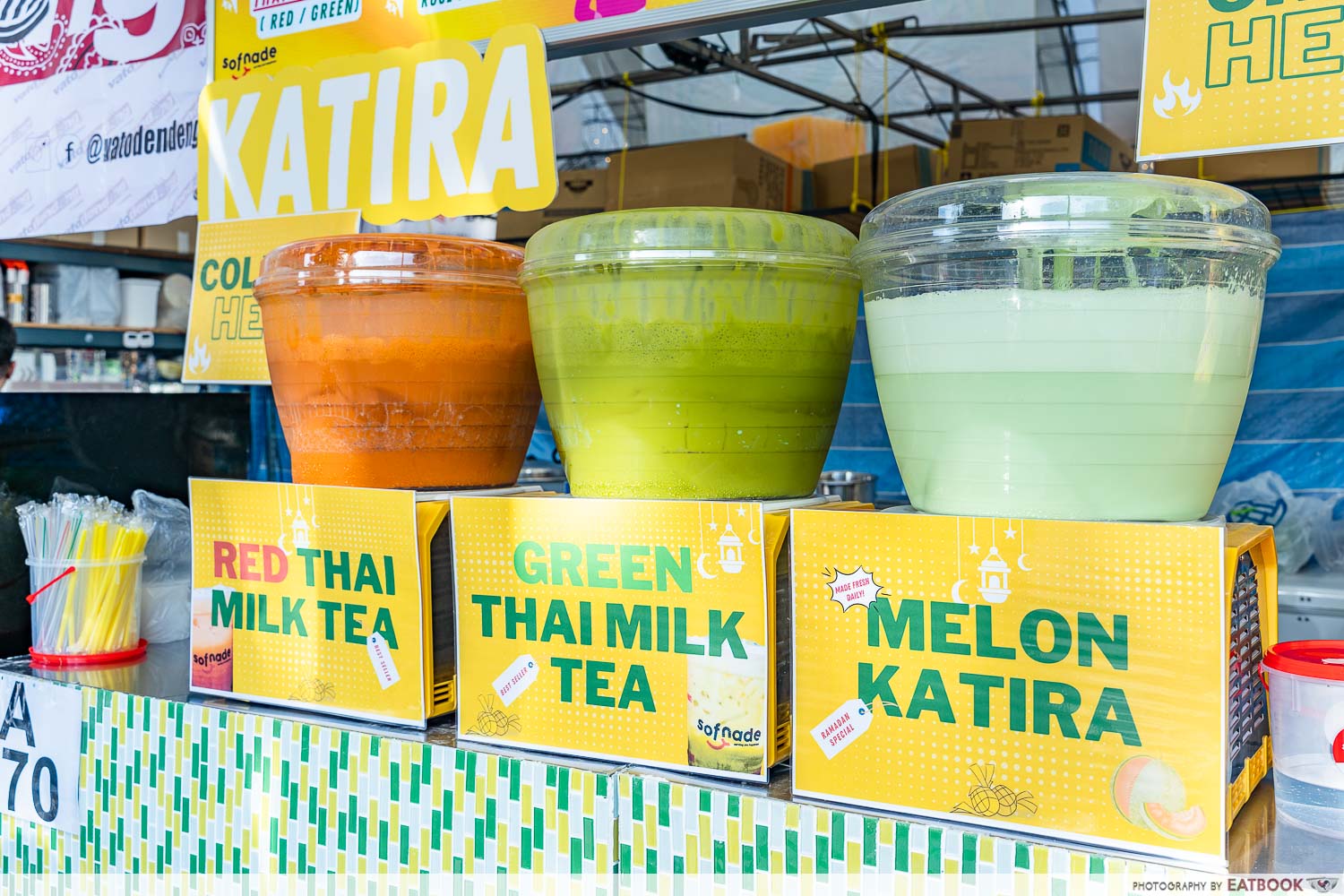 The chendol comes highly recommended, starring a generous amount of gula melaka syrup, coconut milk, pandan noodles, and shaved ice to keep you cool. A 500ml cup starts at $3, but as mentioned, you can get a 3XL bucket with 3 litres of drink for $12.
---
What to eat at the Geylang Serai Ramadan Bazaar 2023 
---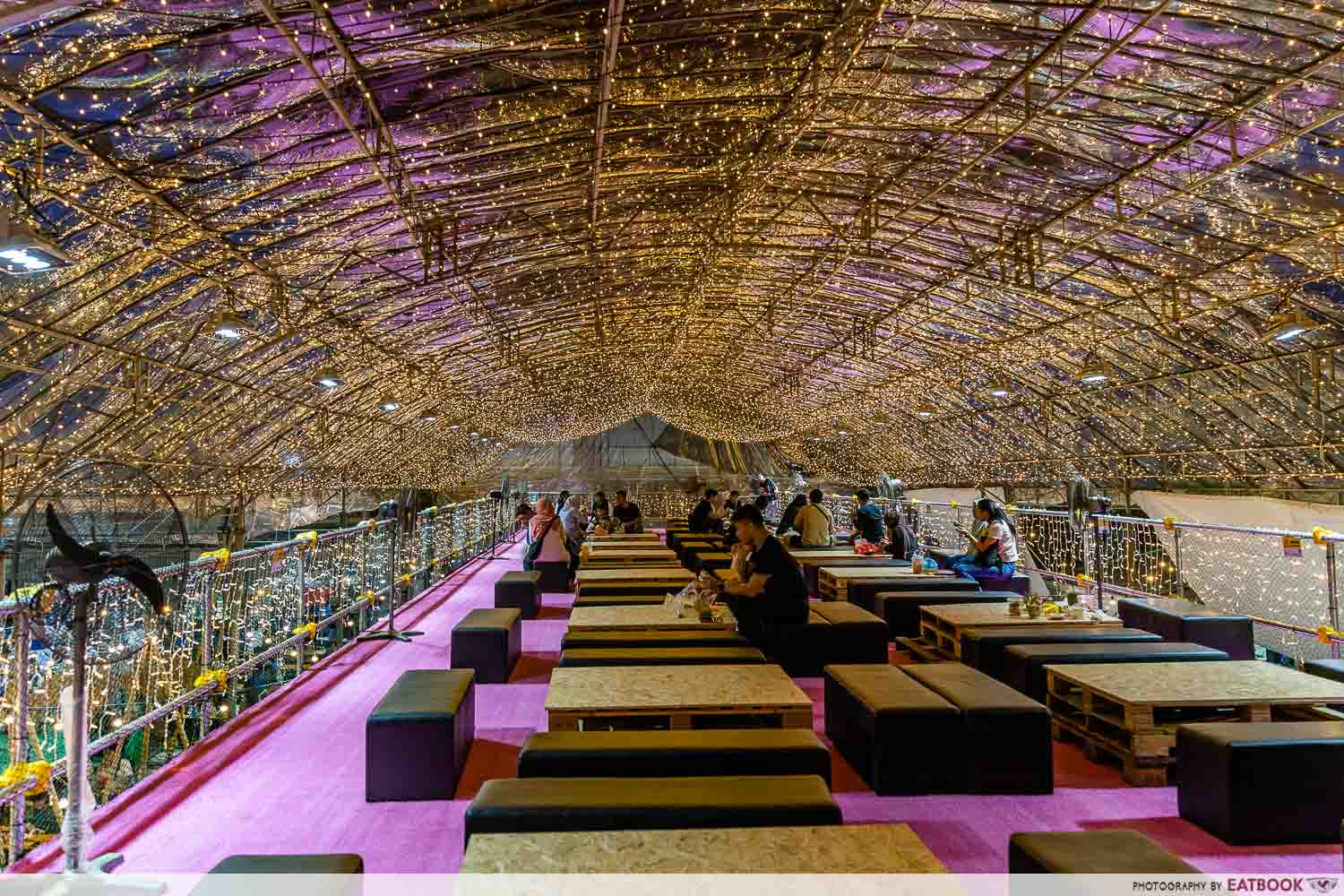 With over 150 food stalls, we've barely scratched the surface of what the Geylang Serai Ramadan Bazaar 2023 has to offer patrons, but we hope this makes for a useful starting list. 
For more eats this Ramadan, check out our guides to the best halal cafes and halal restaurants in Singapore.
Photos taken by John Lery Villanueva.
This was an independent visit by Eatbook.sg.
10 Best Halal Cafes for Brunch, Coffee And More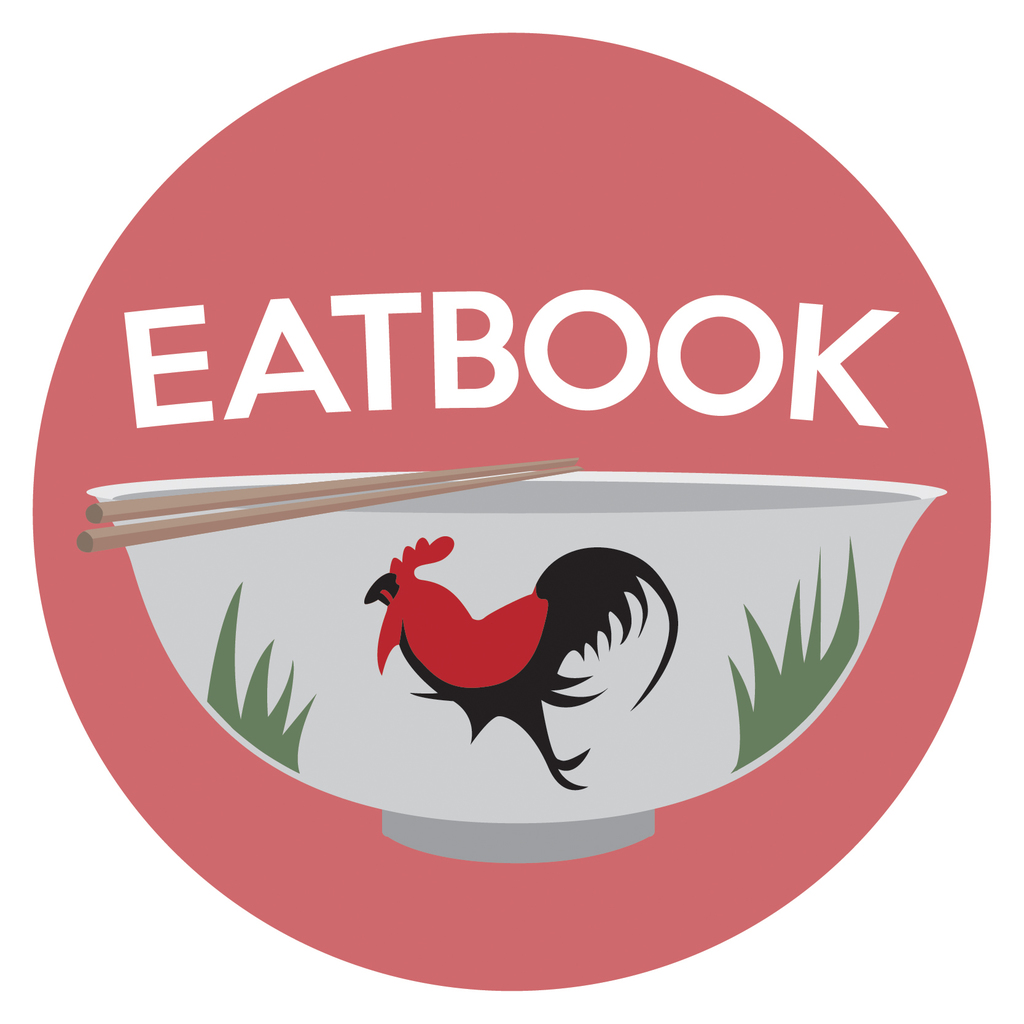 Drop us your email so you won't miss the latest news.

link