There will be 38 official new Minnesota State Fair Foods! Eight new vendors! So many new foods on a stick! I've been asking for a return to the food on-a-stick and a move away from gourmet food, and we're half way there. The Minnesota State Fair folks announced the new foods early this morning.
Mancini's has cake on-a-stick, and you can find deep-fried ice cream on-a-stick in the Coliseum. I noticed lots of non-traditionally-Minnesotan flavors, too. Midtown Global Market's rotating booth in the International Bazaar always brings global flavors with Arepa Bar this year. And we've got James Beard finalist Yia Vang's Union Hmong Kitchen now coming to the Bazaar as well as Gerard and Brittney Klass' Soul Bowl in the Food Building. There are lots of non-meat options, too. Kale and Aubry Walch's Herbivorous Butcher has a home in the Food Building, French Meadow has a "chicken" slider and a "meat" balls dish, and Blue Barn is bringing a vegetarian sweet potato poutine with Beyond Meat chorizo.
Here's my list, ranked, of new foods that I'm excited about. You can click here for my list of new foods based on walkability on the Fairgrounds. And make sure to say hi to me, I'll be broadcasting my new WCCO Radio show at the Fair every weekday except Fridays from 3 p.m. to 6 p.m.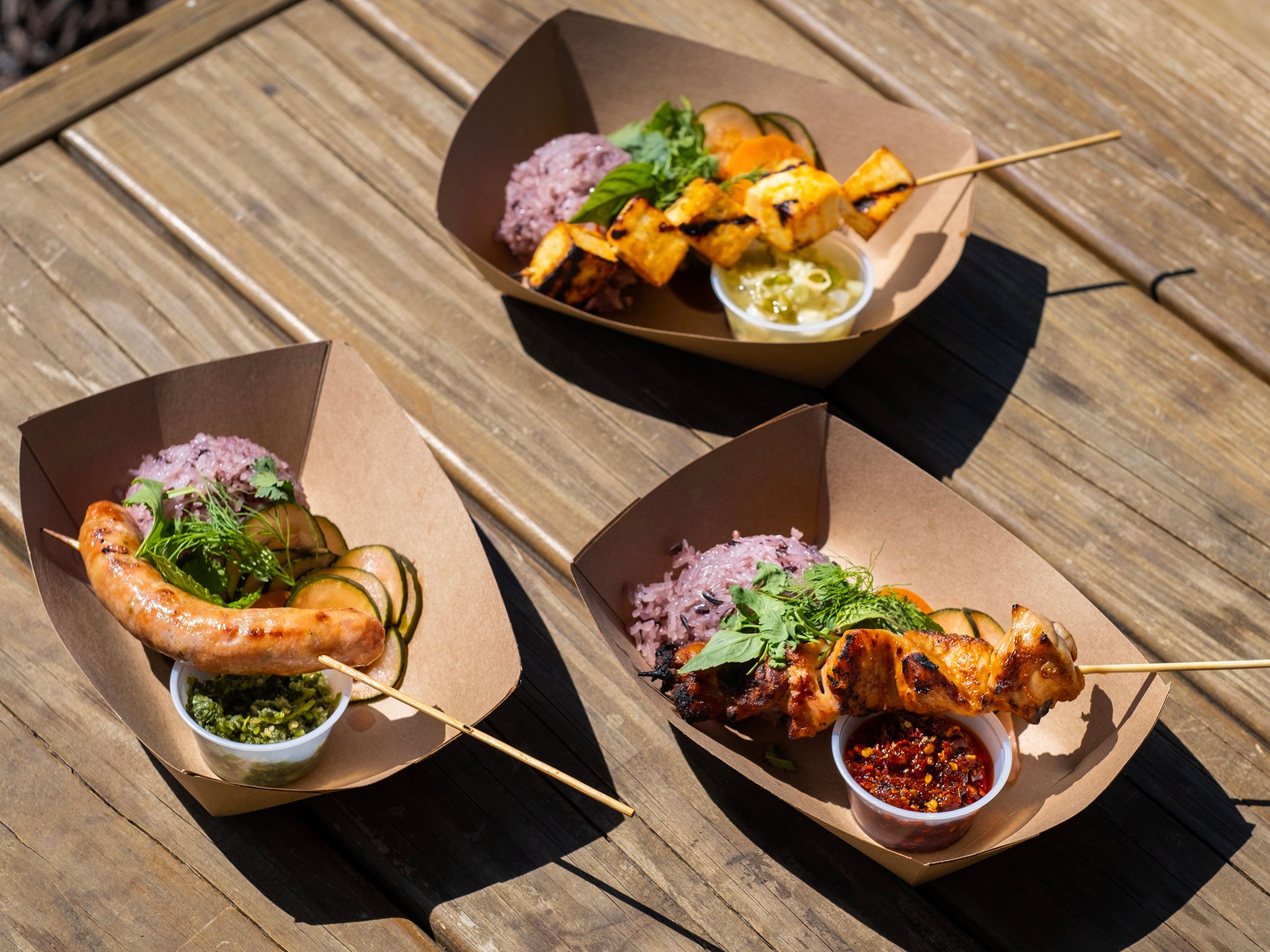 Mov + Nqaij: Union Hmong Kitchen serving meat-on-a-stick (Hmong Sausage, Hilltribe Chicken Thigh or Lemongrass Turmeric tofu) alongside purple sticky rice and crunchy chili oil sauce. It looks splendid. International Bazaar
Soulsicle: Fried chicken on-a-stick topped with candied yam sauce, cornbread crumble, mac-and-cheese seasoned cheddar cheese. This is likely to be over the top from Soul Bowl. Food Building
Pork Schnitzel Sandwich: I'm not always a huge schnitzel fan. Why take pork and pound it and dry it out? But I believe in the Minnesota Farmers Union, the people who brought us that glorious BLT. With pickled cabbage, mustard mayo, and toasted bun, I'm in. Farmers Union Coffee Shop, North end of Dan Patch.


Baba's hummus bowls

Provided

Baba's Beauty & The Buffalo Hummus Bowl: Baba's was my No. 1 food at the Fair last year, and ranch hummus with buffalo chicken sounds great to me. There's a sweet hummus, too, called the Coco-Nuts bowl. I'm not so sure about that one. Just South of Little Farm Hands
Minne Hot Hot: RC's BBQ never lets me down, and I'm excited to try smoked rib tips tossed in Nashville Hot Sauce. This dish should be easy to share. Near the Grandstand


Birthday cake paleta

Provided

Birthday Cake Paleta: Hamline Church Dining Hall used to use Izzy's, but now they're bringing La Michoacana Rose's paletas, which are a Mexican frozen dessert on-a-stick. Celebrating Hamline's 125th year at the Fair, I'm down with a frozen vanilla pop with chunks of birthday cake. They'll have other paletas, too. North side of Dan Patch
Rueben Rolls: These goodies will include egg roll wrappers with corned beef, Swiss cheese, and sauerkraut. This is the snack you're going to be embarrassed you're going to love, O'Gara's has had Rueben-type snacks before and they just work. Dan Patch Avenue near the Snelling Entrance
Tirokroketes: Dino's new food is always controversial: Sometimes I love it, sometimes I hate it. I love their gyro, I love Dino, will I love these panko-coated deep fried cheese balls? With spicy feta, cream cheese, and mozzarella blended with Greek seasoning and sprinkled with lemon juice, I expect to love it. Carnes Avenue by WCCO Radio
Minneblueberry Pie: The original apple Minneapple hand pie is my favorite, but I'm a blueberry fan so this should be a winner. Near the Pork Chop on a Stick and MPR
Turmeric Ginger Lemon Surprise: West Indies Soul Food's Caribbean Lemonade gets amped up with fresh ginger and turmeric syrup. This is going to slap. International Bazaar
Gray Duck Sundae: I'm bullish on Bridgeman's black licorice ice cream topped with marshmallow cream and crunchy mini marshmallows. Corner of Judson and Liggett


Breakfast gnocchi

Provided

Breakfast gnocchi. I like the charm of breakfast foods coming out of The Blue Barn, and this fried potato gnocchi with scrambled eggs, bacon, and pesto sounds like a nice way to start a day at the Fair.

West End Market
Deep Fried Ice Cream: Now we're talking State Fair food! Ice cream bar covered with a crispy corn flake coating, deep-fried, covered with raspberry and blueberry drizzle and sprinkles. Hey it's vegetarian, too! Snack House in the Coliseum
New Mexico Chile Dog Sliders Two Ways: I love a chili dog, so why not a Chile dog? Green chile and red chile with New Mexico Hatch chiles and a hint of chorizo pork, queso-style cheese and red onion, all on top of a hot dog? Add a prickly pear cactus slushie shooter on the side? Sounds perfect! Blue Moon Dine-in Theater
Chilaquiles Breakfast: We've got a breakfast thing going. Tejas Express is one of the most underrated spots at the Fair, and I look forward to their guajillo chile salsa on top of fried tortilla strips. The Garden north wall
Molotes: These deep-fried corn masa empanadas with choice of fillings work for me. Chipotle style is chicken, elote style is roasted corn and cotija cheese. Andy's Garage will be in the Midtown Global space, and this sounds like a walkable, easy-to-eat treat. Aug. 25-30 only, International Bazaar
Sweet Potato Poutine: Sweet potato waffle fries (Blue Plate does sweet potato fries so well in their restaurants), topped with cheese curds, Beyond Chorizo sausage and turmeric gravy. Blue Barn at West End Market
Celebration Cake On-A-Stick: Nothing beats Pat Mancini walking around his restaurant handing out sheet cake for your birthday, so what a brilliant idea to bring white cake with almond flavoring, white frosting to the Fair. They'll personalize it to with short text, so you can put your I LOVE JASON messages on there and bring it to me across the street. Mancini's al Fresco
Dej Qab Zib: A sweet drink made with a blend of coconut milk, lychee syrup, lime, and mint. This could be the perfect tonic on a hot day as its served over ice at Union Hmong Kitchen. South wall of International Bazaar


Nordic Waffles' new Fair foods for 2022.

Provided

Nordic Waffles Belly Full/Vanilla Dream: I'm looking forward to the spring-onion-infused waffle filled with pork belly, coleslaw, and jalapeno jam. There's also a nice simple vanilla custard cream filling with a cinnamon and sugar coated waffle. Both sound like winners. West End Market
Pink Guava Slushie: On a hot day, I'm 100% getting this. On a cold day, I'm 100% getting this. It's a simple frozen slushie made with juice squeezed from fresh pink guavas at Holy Land. International Bazaar
Chicken Tandoori Rolls: Chicken wrapped in paratha flatbread, grilled, served with a side of avocado cilantro lime sauce. This sounds light and refreshing, and would go great with that pink guava slushie at Holy Land. International Bazaar
Tot Dog: There's some high potential to overachieve here. An all-beef dog, dipped in corn dog batter then rolled in a mixture of minced tots, cheddar and onions, then deep fried. Sounds really flavorful. Can LuLu's Public House make the corn dog better? West End Market
Kufli: Indian-style ice cream: There's almond/cashew/pistachio kulfi, mango and saffron/almond/pistachio options here. Kulfi is made with condensed milk and infused spices and this is going to be great from Hot Indian. Food Building


Herbivorous Butcher's new dish for the 2022 Minnesota State Fair.

Provided

Poultrygeist and Steak-xorcist: Herbivorous Butcher has a ton of experience creating things that look like meat, taste sorta-like meat, and are not meat. This has high mess potential, but also high flavor potential, so we'll see. Fried "chicken" topped with "sausage" gravy on Texas toast, plus chicken fried steak on Texas toast. Both are fully vegan entrees. Food Building
All Quacked Up!: This breakfasty-open-faced-sandwich from The Hideaway Speakeasy features toasted sourdough topped with shaved smoked ham, cheddar, tomato and spinach, topped with a duck egg. It sounds very filling and potentially very good. Grandstand Upper Level
Arepas: I've been a fan of Arepa Bar's arepas at Midtown Global Market, so this should work well at the Fair. The pulled pork version is slow roasted in red wine, the Queen option is an avocado chicken salad, and a vegan option is black beans and fried plantains. Aug. 31-Sept. 5 only at International Bazaar
Tandoor-Fired Jerk Chicken Mini'zza: This dish features naan crust pizza with West Indies Soul Food's signature Jamaican jerk chicken. I love that chicken but I'm skeptical of the ability to pull of a nice naan crust at the Fair, We shall see! West Indies Soul Food at International Bazaar
Sundae Sammie: Brim does great stuff but I'm uncertain about this sweet on sweet on sweet production. It's a panini with cinnamon bread, strawberry jam, vanilla cream and fresh strawberries topped with whipped cream, toasted peanuts, confetti sprinkles, and flaked sea salt. OK, now that I think about it, this might be good. Jammy Sammie by Brim. North End by the event center
Lemon Cookie Tortilla Chips: I'm excited to try this but not really optimistic. They've taken the flavor of a lemon sandwich cookie and turned it into a large tortilla chip, then the lemon cookie center becomes a sort of dip topped with lemon curd. It looks like ice cream but it isn't. I don't know what to expect here from Blue Moon Dine-In Theater. Northeast corner of Carnes and Chambers
French Meadow Vegan Entrees: I'm not vegan but I'm happy for you, really I am. This crispy-fried "chicken" patty sandwich with shredded lettuce and turmeric sweet onion pickles could be good. The fake meat balls topped with plant-based Parmesan cheese, however, hmmm. French Meadow on Carnes Avenue
Buzz'n Hot Honey Chicken Sausage Kebob: Sausage Sisters are great, but why is hot honey everywhere? I don't like it. Keep it off my pizza and keep it off my sausage kebob. This sausage skewered with cornmeal biscuit chunks could be way too dry or it could be awesome. Food Building
Chick N Swiss Sausage: Nothing about this sounds interesting to me: A grilled chicken sausage with chunks of Swiss, asparagus, pineapple, bacon, and jalapeno all in the sausage. Looking forward to being proven wrong. Gass Station Grill outside the Food Building
Sweet Cheese Blintz: I like blintzes, I like blitzes, I'm not sure I need a blintz or a blitz at the Fair. iPierogi Food Building


Concha Bacon Burger

Provided

Concha Bacon Burger: Raspberry aioli and a beef-patty should never be paired together. Pickled jalapenos and a sweet Mexican roll sounds like ingredients to make this whole thing way too sweet. We'll see! Aldo's in the Coliseum
Cotton Candy Float: Why is cotton candy soda a thing? Why would you pour it over Ice cream and top it with more cotton candy? Are you trying to kill me German Root Beer and Popcorn? East of Chambers, just south of the Grandstand
Vegan Corn Dog: Why? Daryl's Dog House, Carnes between Nelson and Underwood
 Pickle Pizza: I like pickle pizza, but I'm nervous about those pickles avoiding being totally soggy and ruining the crust on a hot day at the Fair. New vendor Rick's Pizza, west side of Cosgrove St. between Wright & Dan Patch

link