---
Kampong Gelam Ramadan Bazaar 2023 food guide
---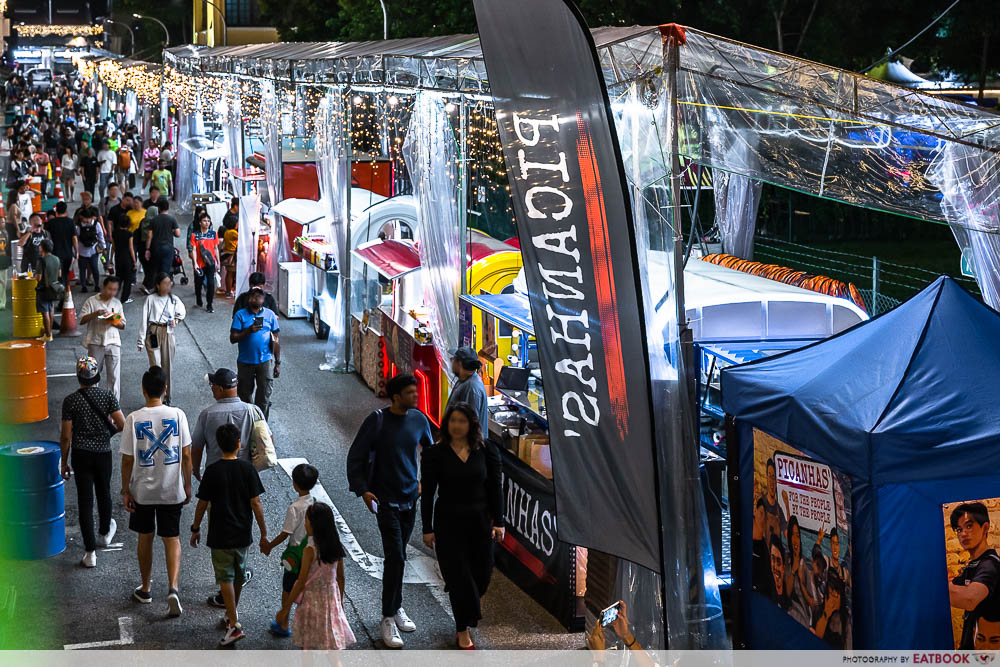 After two years of no bazaars, the Ramadan bazaars sprang back to life last year, albeit at reduced capacity. This 2023, 'reduced' is a thing of the past, with the Geylang Serai Bazaar slated to host something like 700 stalls. If your bazaar engines are revved up and ready to rumble, head to One Kampong Gelam for the biggest-ever Raikan Cahaya Ramadan 2023!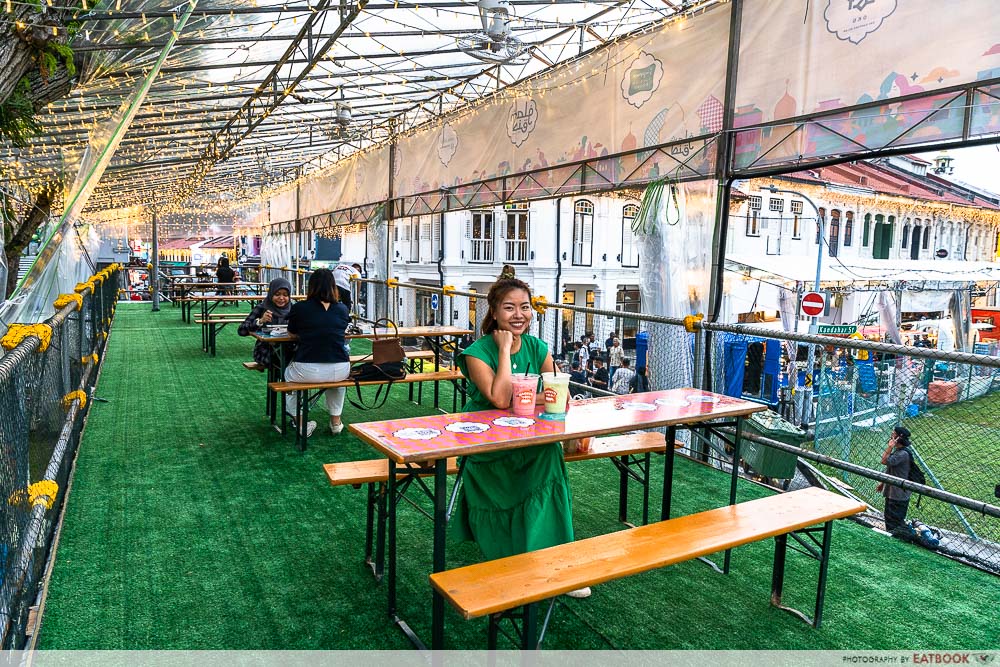 This edition of the Ramadan bazaar runs from now till 16 April 2023, with more than 80 food stalls operating daily from 12pm to 11pm. They're spread throughout the historic Kampong Glam district, with the majority of the food stands located along Kandahar and Baghdad Streets.
For bazaar dining with a difference, look out for the mezzanine stand along Baghdad Street, hung with fairy lights and complete with a perfect view of the bustling streets. P.S.: camp here with your buys for a most magical sunset experience!
---
1. Habibtea
---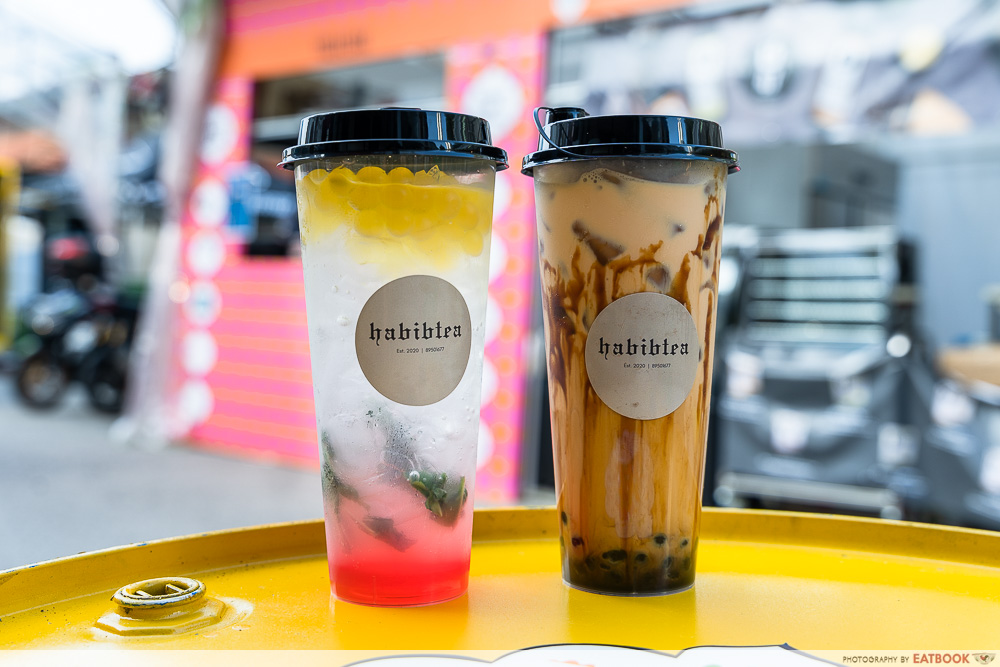 You might have seen Singapore's first Arabic bubble tea stall Habibtea at Artbox, but if you missed them, here's your chance to get your hands on some! Their namesake Habibtea ($6) is a pared-down version of chai with brown sugar pearls. It's brewed with cinnamon, star anise, and cardamon—very palatable, aromatic, and a nice change from your usual BBT. For a non-spiced version, there's Bhaiyatea ($6), made with Kenayan Assam tea leaves, or Belgian Chocolate w Cream Mousse ($8).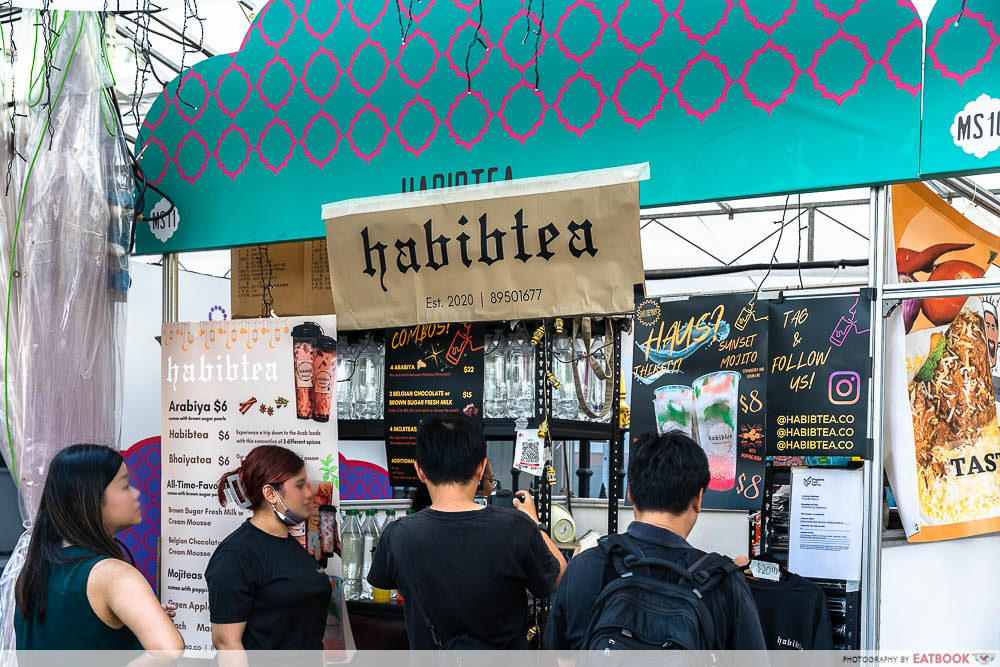 They've also got halal mojitos here! The popping boba in these non-alcoholic drinks changes daily, and mojito flavours include Green Apple, Strawberry, Peach, Mango, and Lemon-Lime. Each is priced at $7; otherwise, the new Sunrise and Sunset Mojitos are priced at $8, each starring a duo of green apple or strawberry with lemon-lime.
---
2. La Birria
---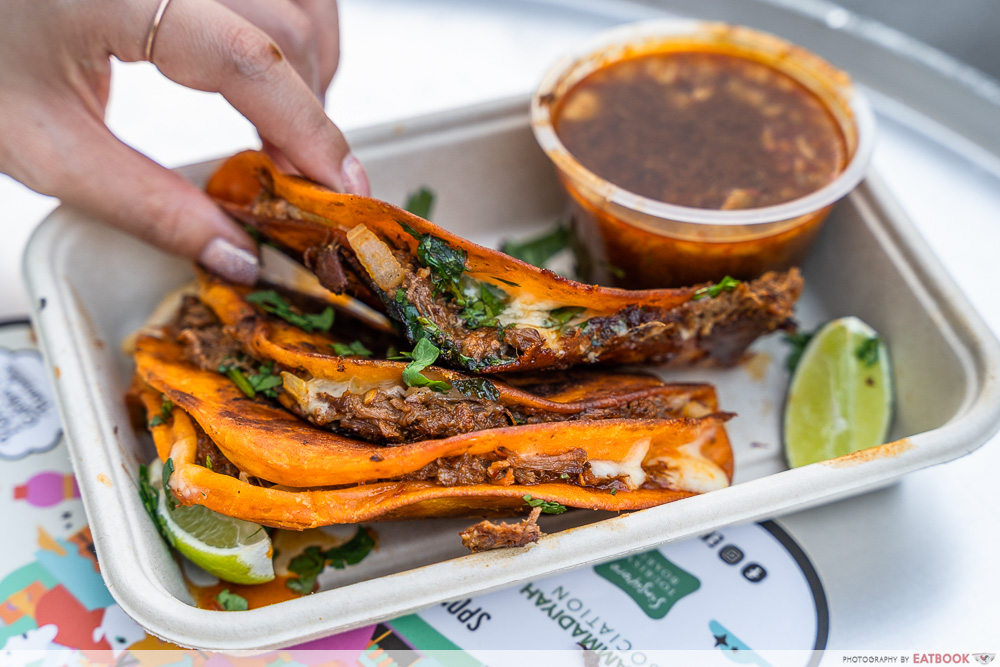 One of our favourite items at this bazaar is La Birria's take on the Mexican birria dish. Here, choose from Quesa Birria Tacos ($15), Birria Quesadilla ($15), or Birria Cheese Fries ($15), all of which come with the house-braised shredded beef and lots of that addictive gravy.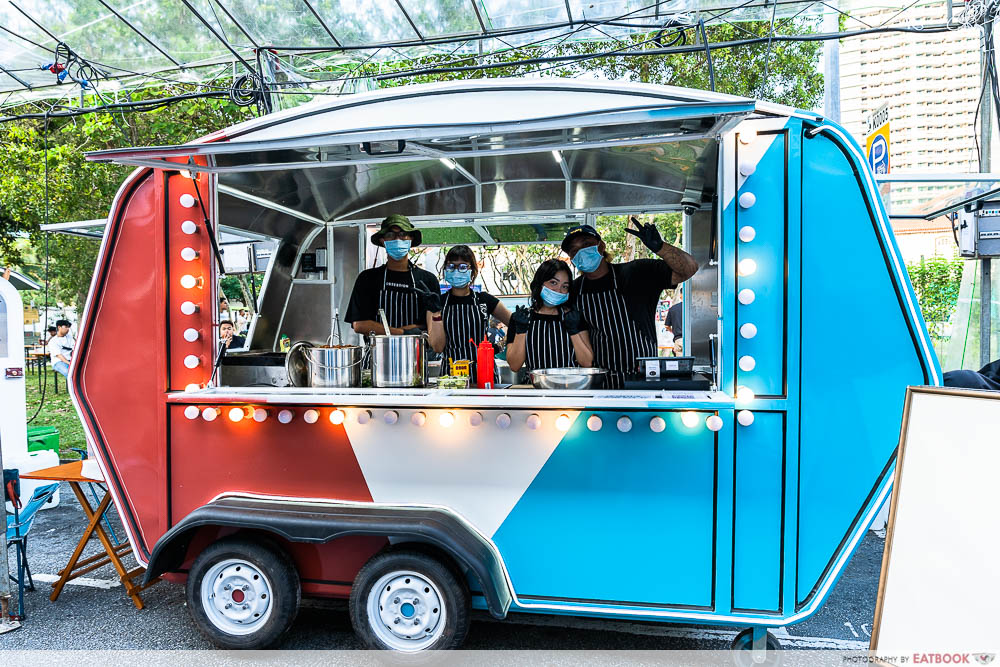 Traditionally made with goat, the only respectable way to dig into birria tacos is to dash some fresh lime juice, then dunk your taco into the ultra moreish sauce before chowing down on it. It's a mess, but a very worthwhile mess.
---
3. Loco Loco
---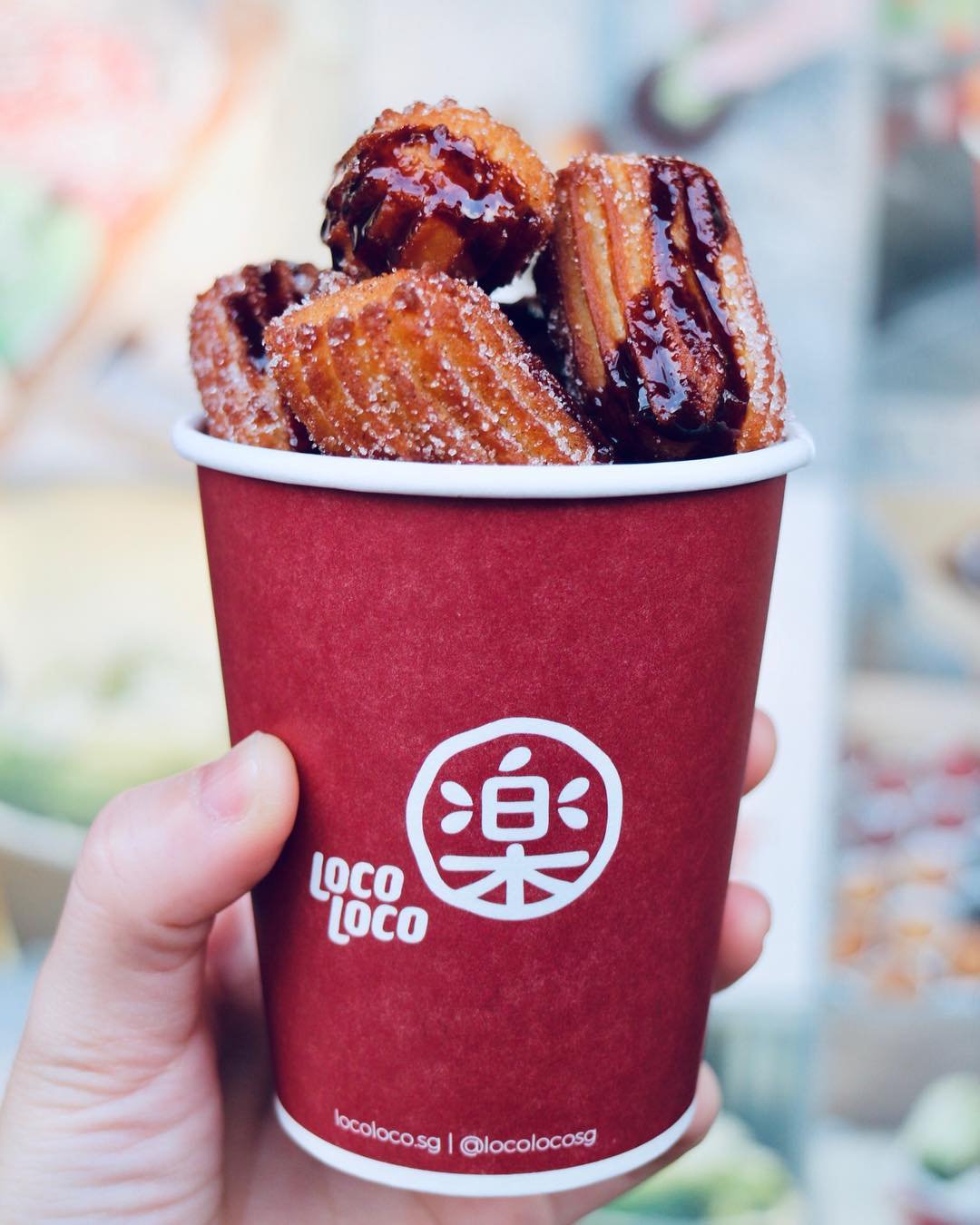 Image credit: @beeauteous
Churros specialist Loco Loco makes an appearance at the bazaar with a selection of four churros: Original, Oreo, Ondeh Ondeh, and Chilli Crab. Each cup of the bite-sized fried fritters is priced at $6, and you could even order a cup of Assorted Churros ($6), which comes with Onden Ondeh, Original, and Oreo bites.
Pair your churros with drinks including Thai Red Milk Tea ($4) and Taro Milk Tea ($4), or go for their seasonal special: a pretty pink Sakura Milk Tea ($4)!
---
4. GAOSYP
---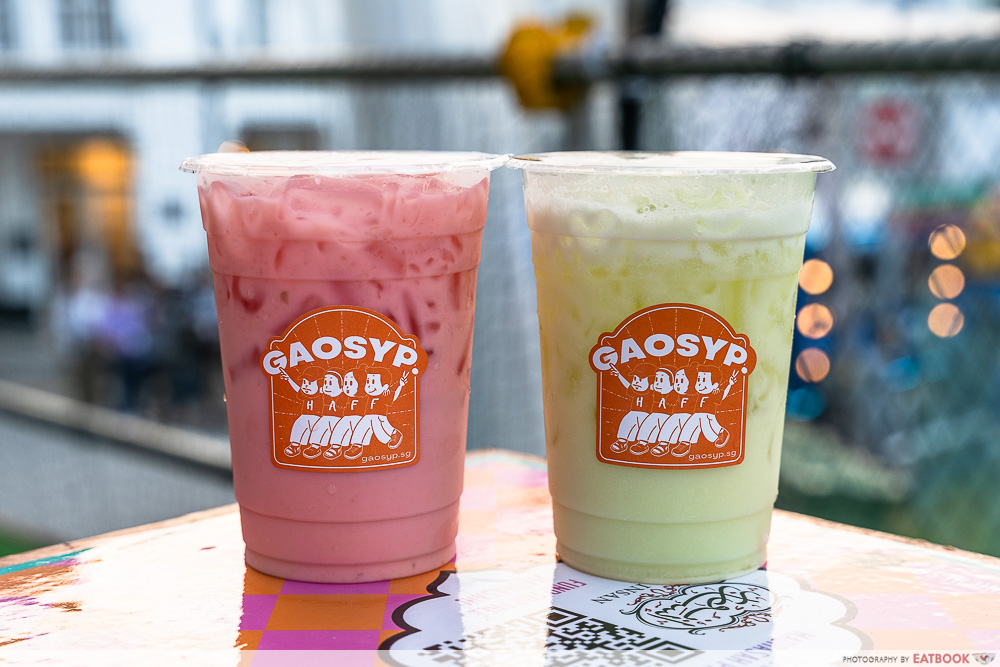 GAOSYP is the only stall—in Singapore, they claim—to serve Watermelon Milk ($6.50), which funky as it sounds, actually is super refreshing. The other recommended drink here is Solero ($6.50), AKA the drink version of the nostalgic ice pop flavour. Each drink comes in a massive cup which we couldn't humanly finish, and other flavours include Teh Ais Pandan ($6.50), Berry Limeade ($6), and Soda Gembira ($5.50).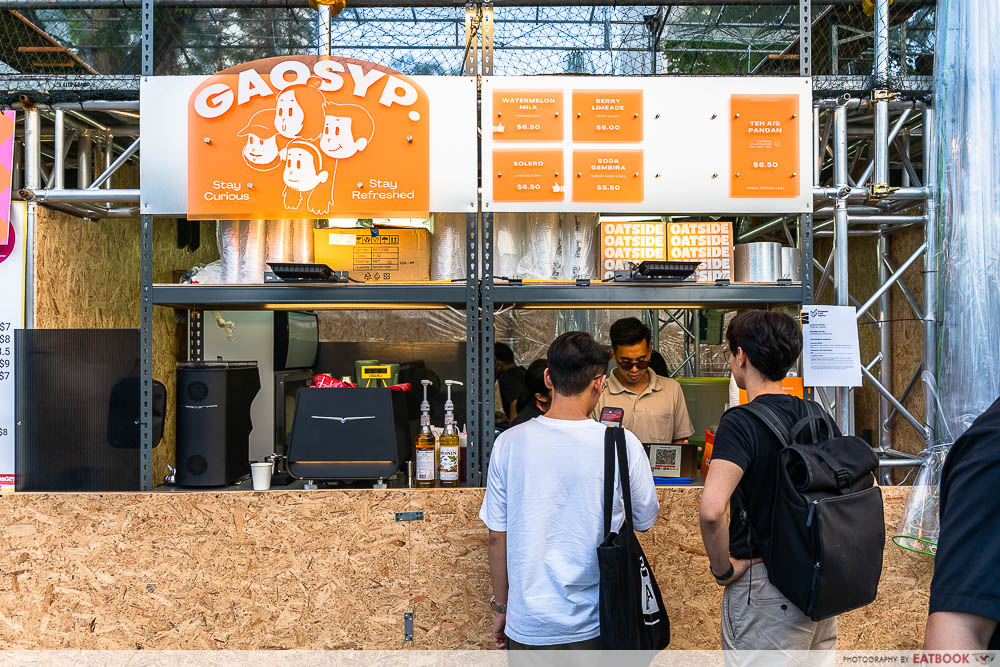 If you're not after a sweet drink, they're also the same folk behind Off Day Coffee, and they've set up shop here too! Their Ramadan special is a Dirty Bandung (price TBD) starring rose syrup topped with coffee and Oatside oatmilk.
---
5. Naughtyboyz
---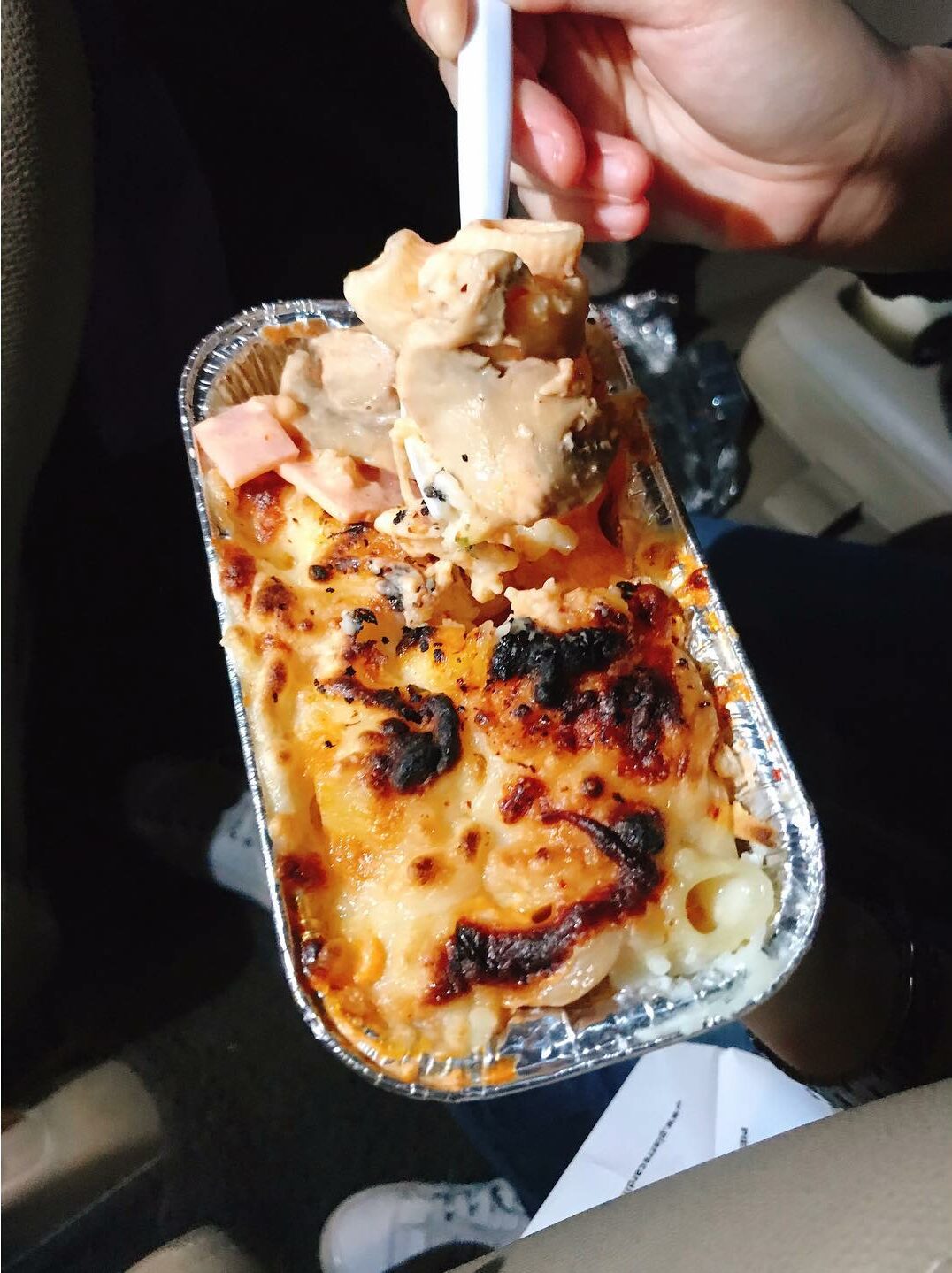 Image credit: @food.comz
Another bazaar favourite that's back again is Naughtyboyz, dishing up their signature mac & cheese and pasta dishes once again. An Original or Spicy Mac & Cheese will set you back $10 a pop, but you can also look forward to Salted Egg Mac & Cheese ($13) too.
Then on the pasta front, you can look forward to Cream Bacon ($13), Truffle Cream ($16), and Smoked Duck Furikake ($16). The Truffle Cream, in particular, is said to be punchy with spice so as to cut through any jelakness from the cream, while the smoked duck is their take on aglio olio.
This Halal Vietnamese Stall Has $6 Spicy Beef Pho, Banh Mi And More In Old Airport Road Food Centre
---
6. BOGEH SG
---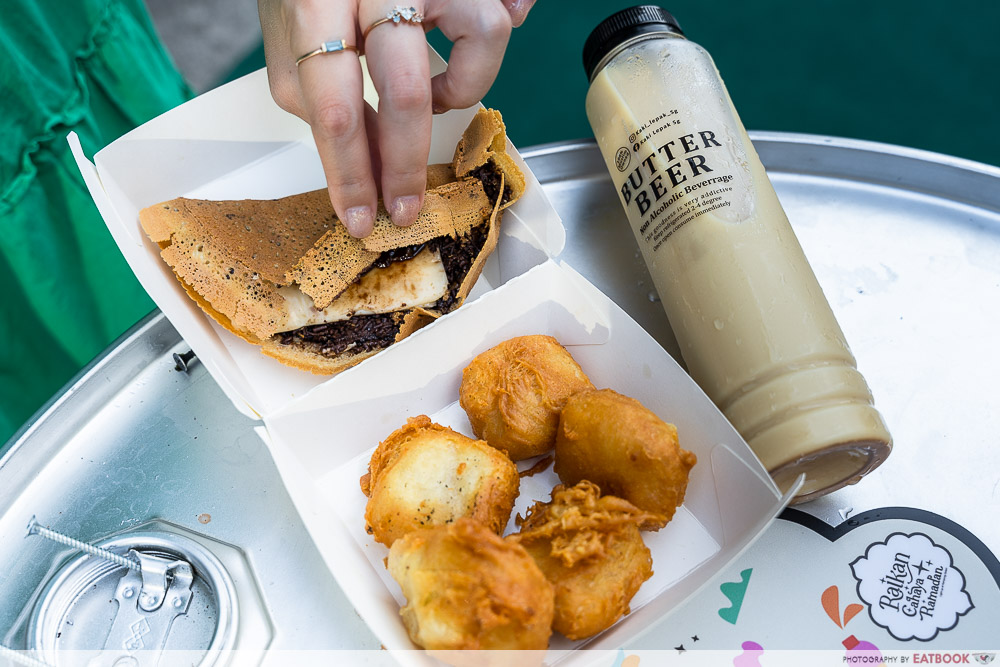 Spot friendly Mr Bogeh himself at the BOGEH SG stall: you'll recognise him from the caricature in their logo. They've got all the fixings of Lekor Gemok ($4), Pisang Goreng ($4), and even Apam Balik (from $3), paired with their very own Butter Beer ($3.50).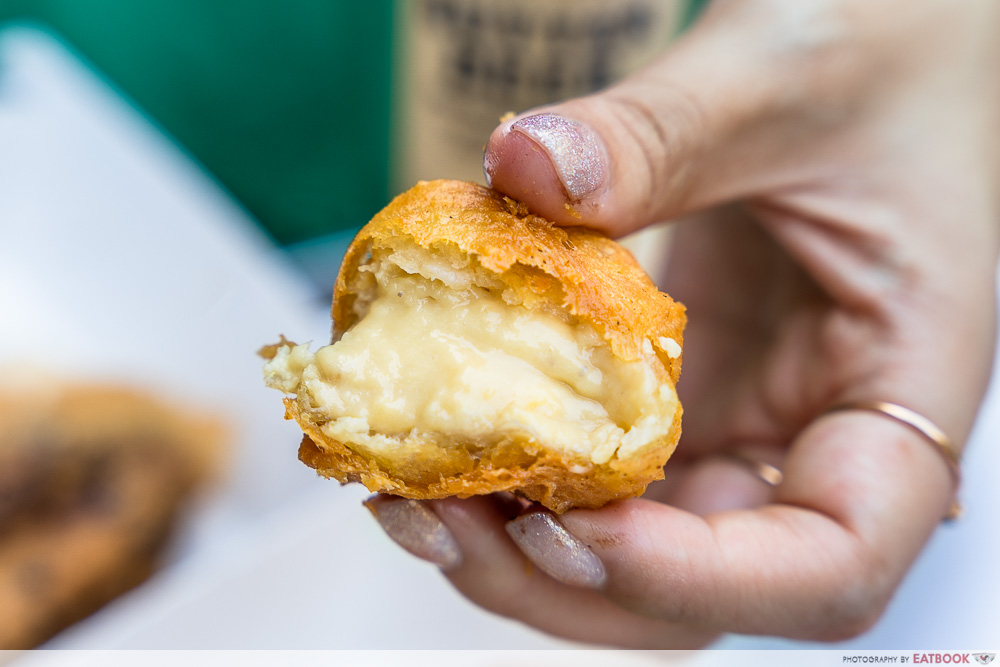 If you can get your hands on the Durian Goreng ($10) while it's hot, you'll be treated to a lush, creamy snack, crumbed in a light-as-air batter that is most sedap.
---
7. Yodaebak
---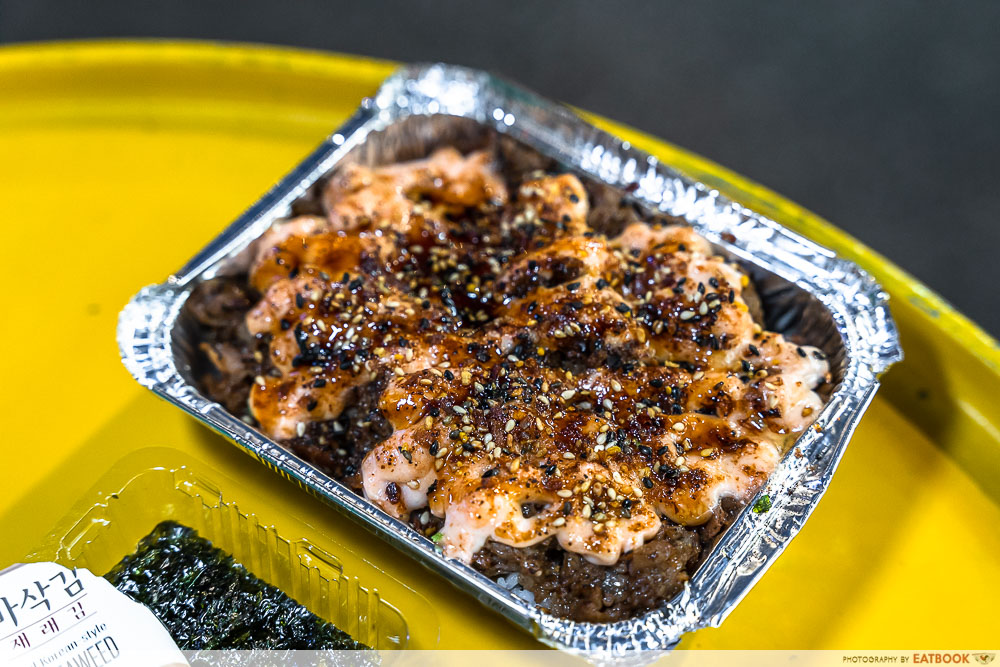 Our other top favourite find was Yodaebak, where trendy sushi bake reigns supreme. There are seven options to choose from, priced at $12 or $15 a tray, inclusive of a pack of Korean seaweed to have with your sushi bake.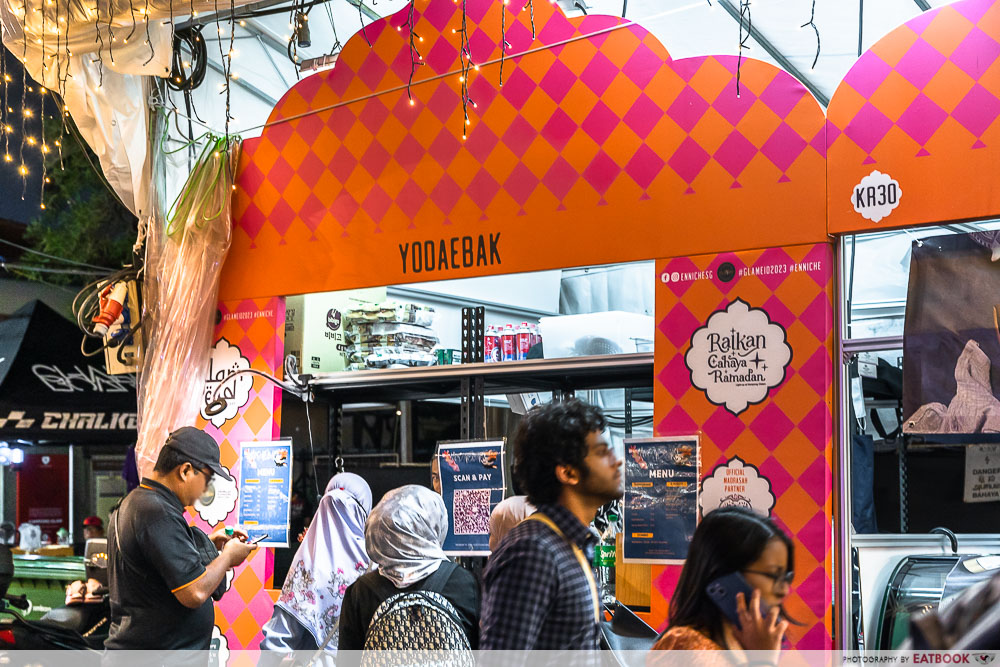 Options here include Salmon Mentai, Spicy Tuna, Beef Suki, Beef Mentai, Unagi, Kani Mentai, and Spicy Basil Chix. We had the Beef Mentai, which was oh-so-shiok, but were told Salmon Mentai and Unagi are two of the bestselling flavours.
This Halal Italian Restaurant Has Truffle Gnocchi And Beef Wellington In Bugis
---
8. Picanhas
---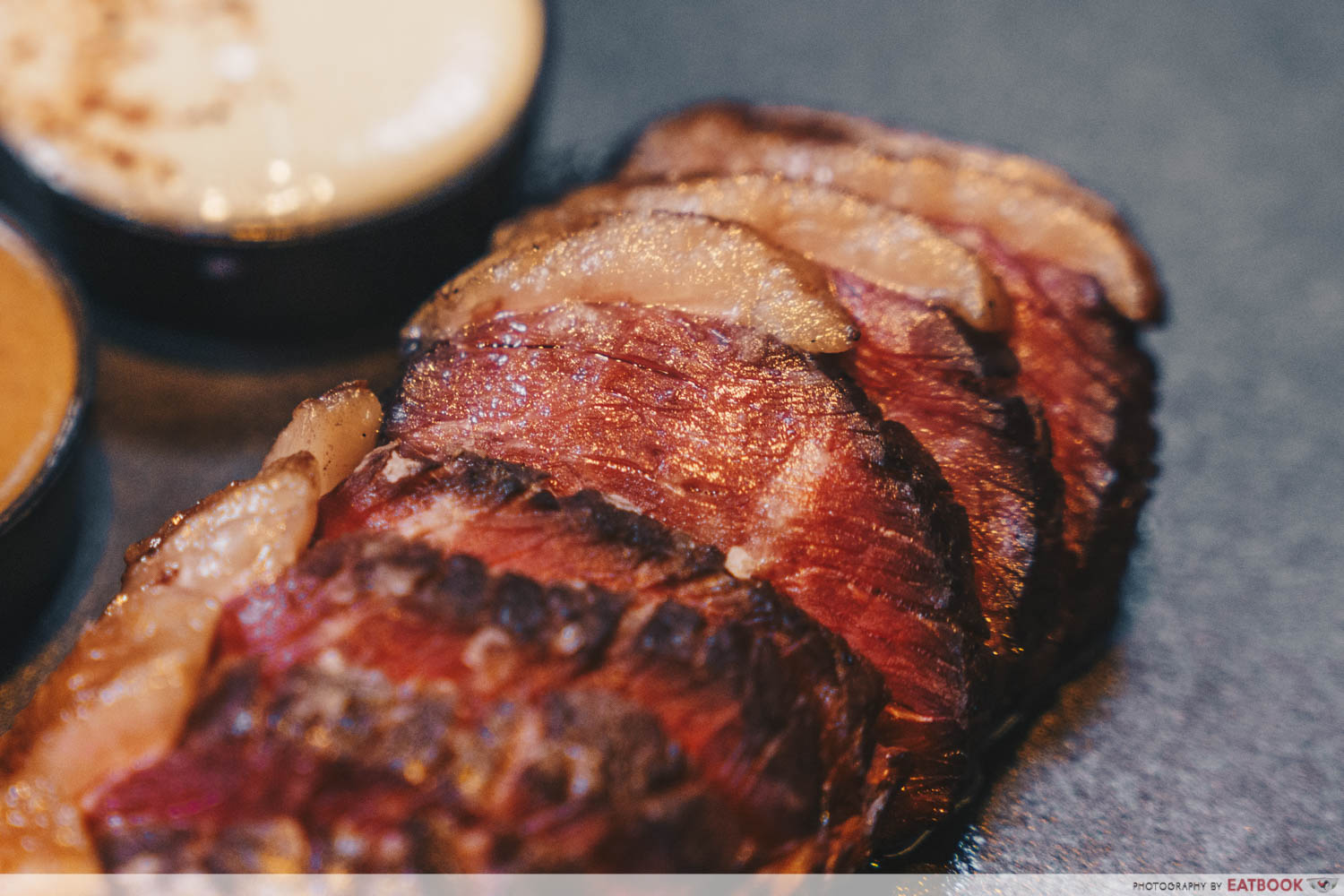 We've reviewed Picanhas and loved their value-for-money steaks; now get the same off their food truck! The Peoples' Steak & Mash ($18) is a set comprising 100g of Picanhas steak, garlic mash, and a savoury meringue. Alternatively, the Picanhas' Philly Steak ($14) sees pulled Picanhas' with chilli con carne, sauteed onions, and nacho cheese sauce for a scrumptious sandwich option.
Picanhas' Review: New Restaurant Serving Value-for-money Steak And Mocktails In The CBD
---
9. The Halal Corner
---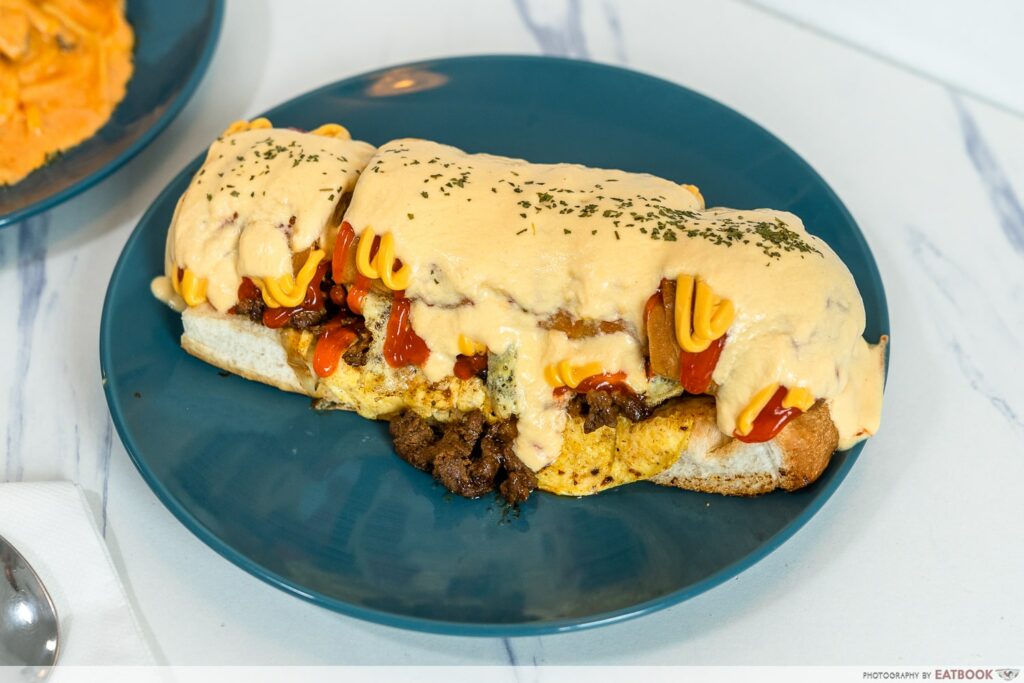 Check out The Halal Corner for their bestselling Carbonara Beef Mr John ($10), which is their zhnged-up take on roti john, slathered in house-made carbonara sauce. If you're looking for something less jelak, there's Ayam Geprek Mr John ($9) too.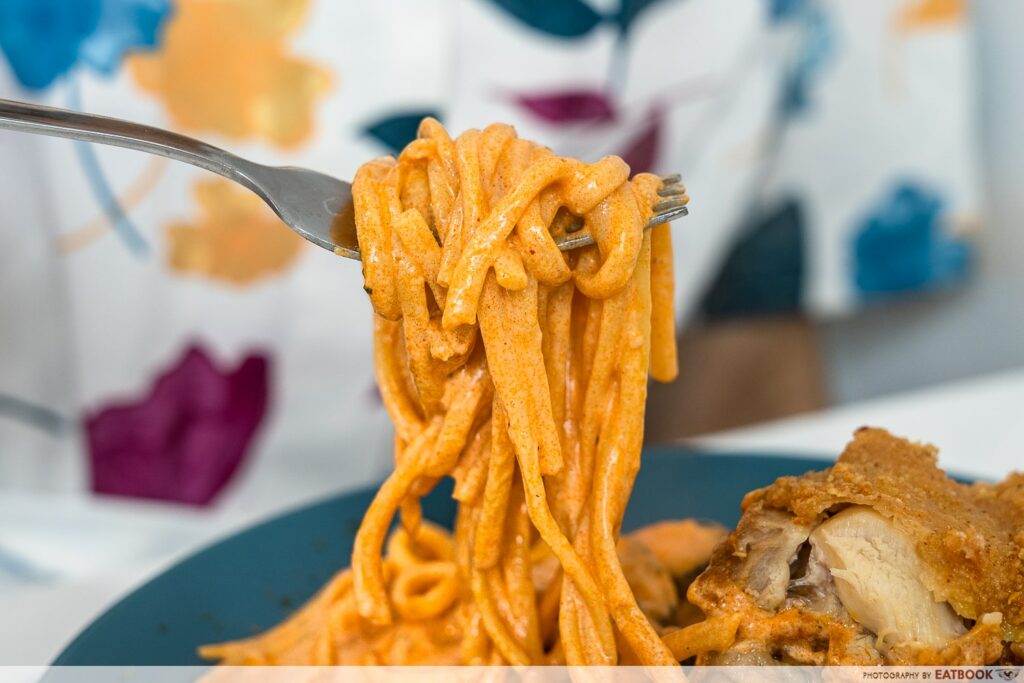 For some spicy noods, go for Samyang Carbonara in Chicken ($9) and Beef ($10) options, where you'll get noodles in a spicy-creamy, super satisfying sauce.
The Halal Corner Has Samyang Carbonara, XXL Roti John And More In Bugis
---
10. The Original Wings Golek
---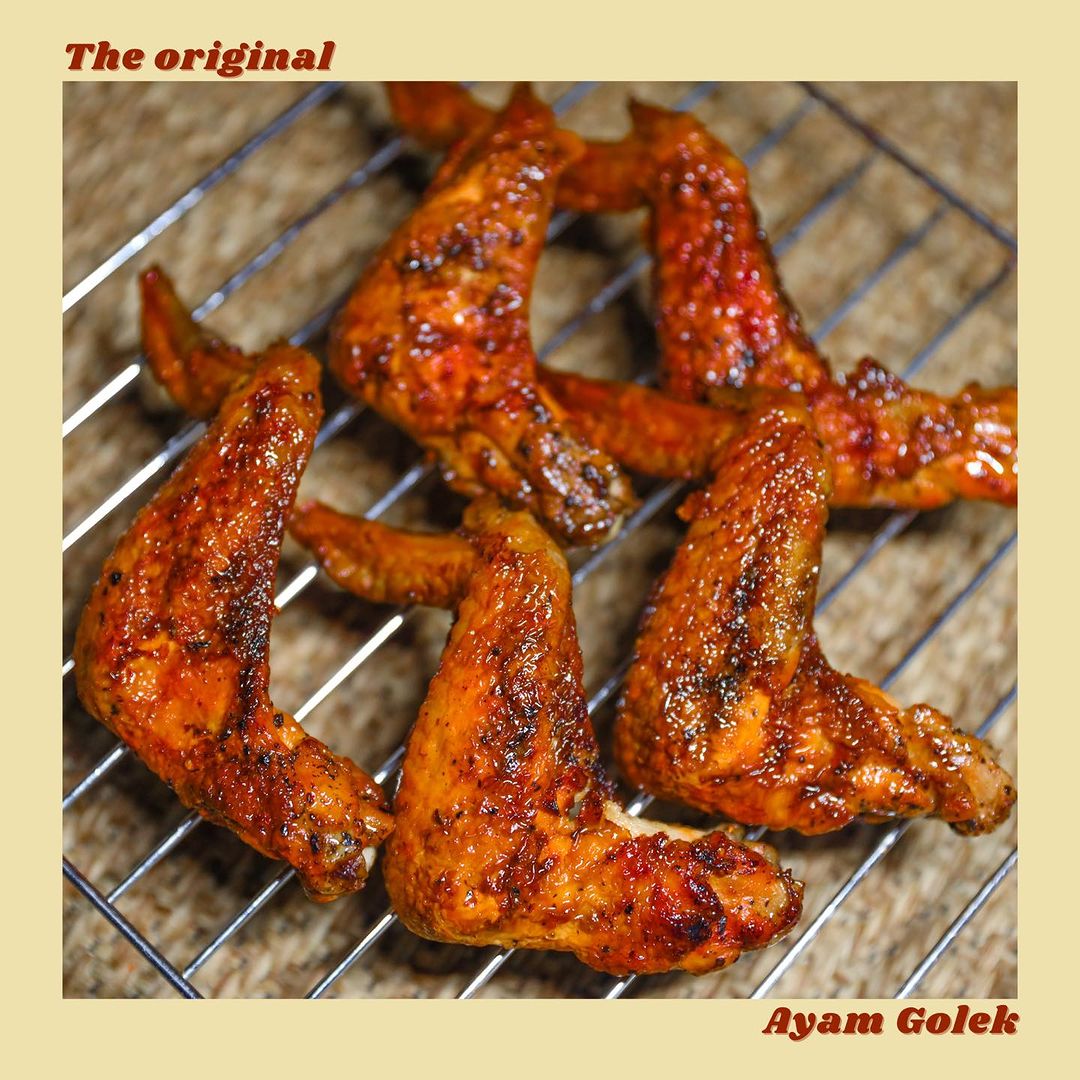 Image credit: @theoriginal.wingsgolek
I walked past The Original Wings Golek five times in a bid to catch them making some of these intriguing-sounding Wings Golek. There are meant to be two flavours: Black Pepper, and Chilli Nasi Ayam, and they're sold as individual wings at $3.50 each, five for $15, or 10 for $29.
I did not succeed in getting any, but you can when you head to the Kampong Glam bazaar this weekend. They're already getting a headstart on marinating those chicken wings, so you can be sure they'll be so tasty by the time Saturday rolls around.
---
11. Big Paw Paws
---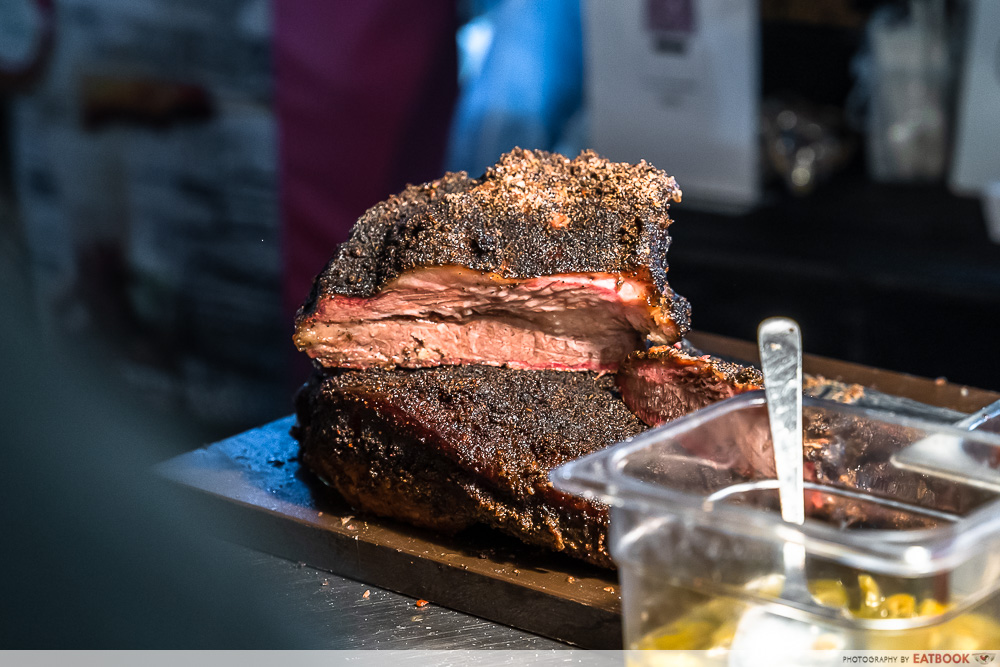 We visited Big Paw Paws wanting to order Cheese Skirt Slider & Wedges ($10/$16), but a power trip meant none of their electrical cooktops were working. The burger is meant to star an Angus beef patty with red cheddar and caramelised onion in a brioche bun, but we settled for Smoked Beef Brisket w Mac N Cheese ($10) instead.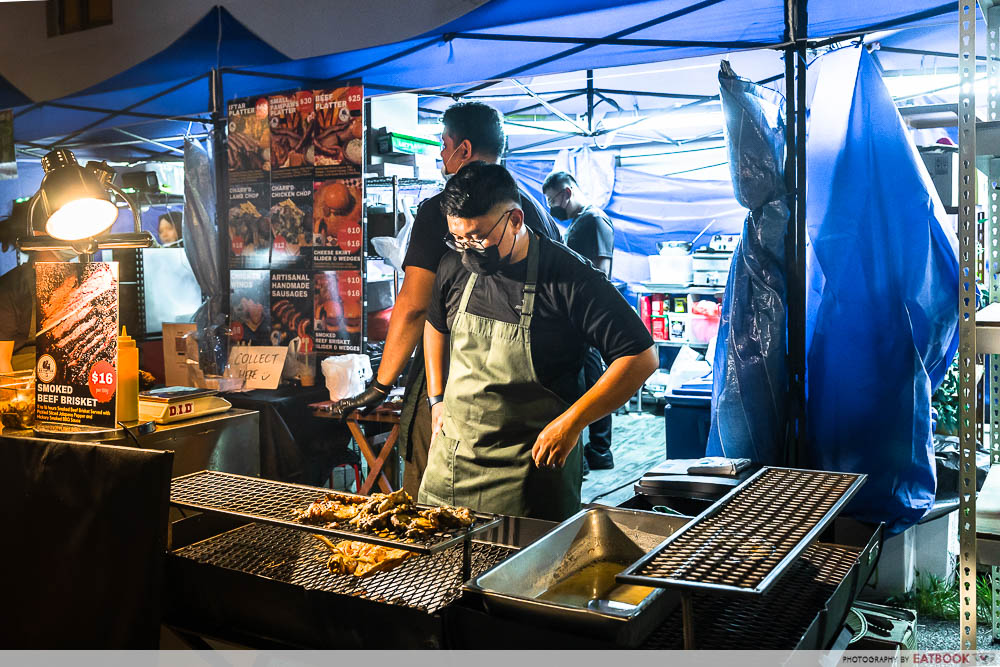 Their juicy brisket is house-smoked for 11 to 16 hours, and is served with a hickory-smoked BBQ sauce. If you're getting it a la carte, it's priced at $16 for 100g, which you can accompany with Garlic Butter Rice ($5), Coleslaw ($5), or a Fried Bun ($1). They've got platters too, including an Iftar Platter ($68) that's good for up to four, or a Small Pawpaws Platter ($30) for one to two.
---
12. Kream SG
---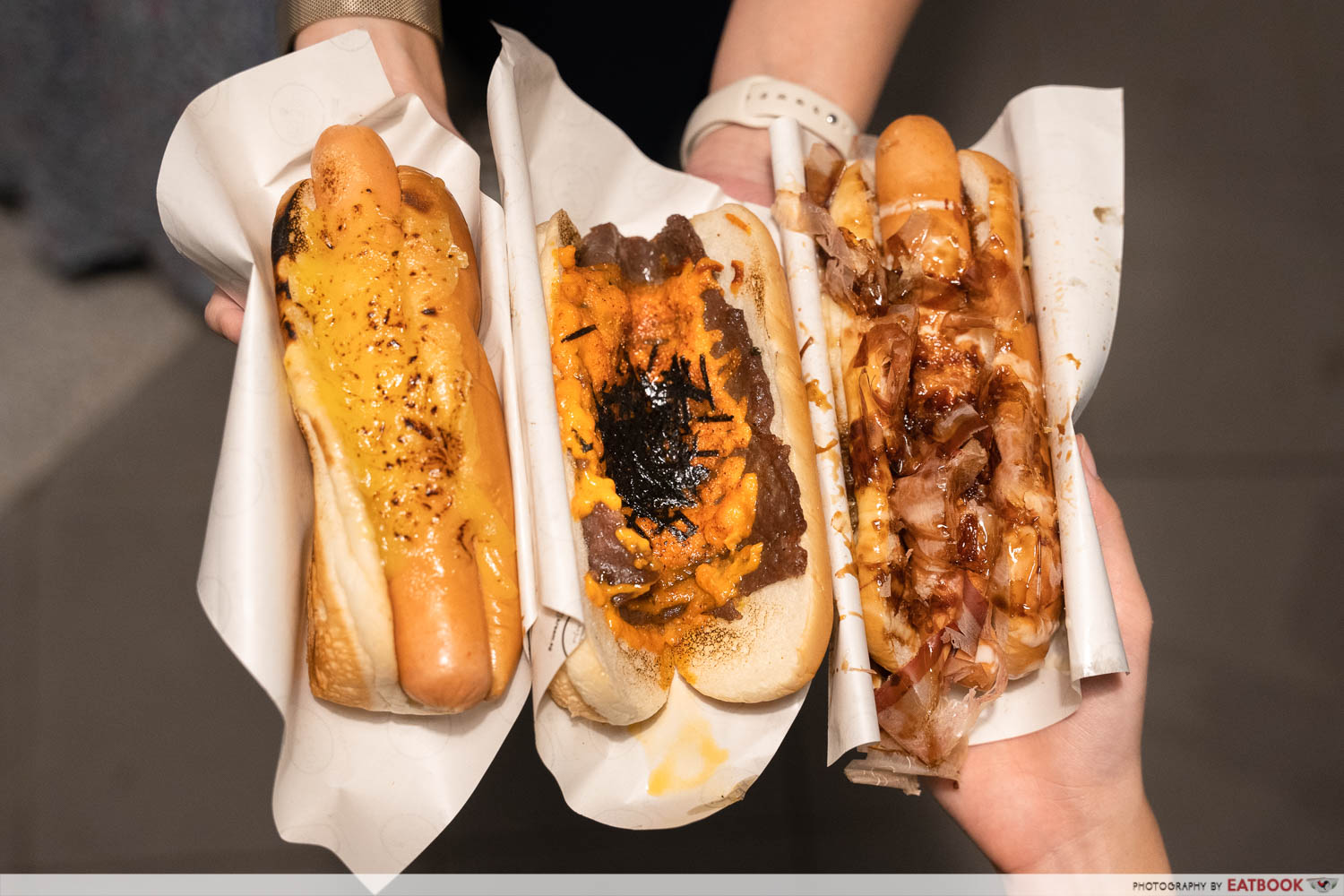 Bazaar stalwart Kream SG is back at the Kampong Glam bazaar. Run by actress Ikah Jamil, the coney dog specialist presents four hotdogs and a Swedish Meatball ($10) option on their menu. The Nachos Dog ($7) is loaded with nacho cheese toppings, while the Mentaiko Dog ($7) is topped with mentaiko mayonnaise, then torched. Don't miss the Flaming Cheese Rendang ($8), where meaty, spiced rendang is layered on a hotdog and finished with melting, slightly charred cheese.
---
What to eat at the Kampong Gelam Ramadan Bazaar 2023
---
With so many stalls to visit, there's no reason not to come to the Kampong Gelam Bazaar multiple times this Ramadan! If you're looking for somewhere to escape the crowds, yet still bask in the atmosphere, Eminami Halal Vietnam has got a restaurant right on Kandahar Street! Otherwise, Squisito is a halal Italian restaurant in the area too.
This Halal Vietnamese Stall Has $6 Spicy Beef Pho, Banh Mi And More In Old Airport Road Food Centre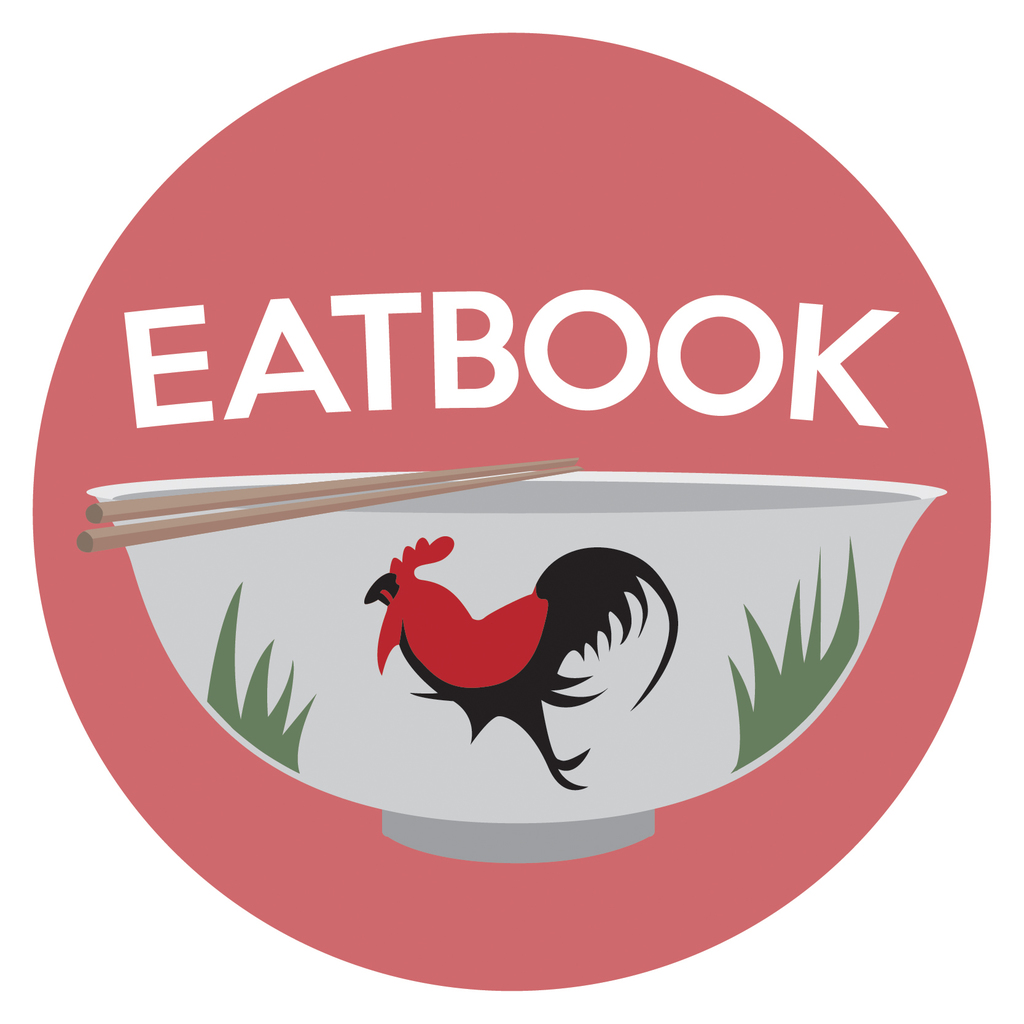 Drop us your email so you won't miss the latest news.

link