The results are in: Your favourite curry spots in Cape Town
Last updated: Tuesday, 20 June 2023
Nobody knows Cape Town better than you, our readers. We took to social media to ask you where to find the best curry and the results are in. Here's a guide to Cape Town's best curries, according to Capetonians. 
GO FOR BUDGET-FRIENDLY STREET FOOD 
This canteen-style eatery with its string of bustling stalls is a vibe. The portions are huge, affordable, Halaal and vegetarian-friendly – making it one of our team's must-try spots. Rich, fragrant spices consume the bazaar, and there is gorgeous Indian decor, like the carved wooden doors imported from India. Try creamy Indian butter chicken and lamb curry, served with rice, salad, and dhal, or get Turkish, local and other dishes at Eastern Food Bazaar.
Hours: Sunday to Thursday, 10am – 9pm; Friday + Saturday, 10am – 9.30pm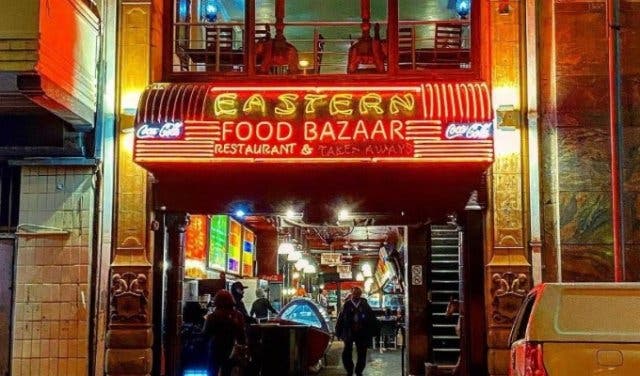 96 Longmarket Street | Cape Town City Centre | @easternfoodbazaarct | Image: Francois Rousseau (@anotherafricansoul) 
TRY A CURRY BOMB SHOOTER 
"Vadivelu without a doubt," says reader Sarah Monro Murchison. Vadivelu is a newcomer to the Indian cuisine scene in Cape Town, and it's adding a bit of "Indian. With Attitude". The eatery is colourfully decorated with a pink jungle wallpaper and has curious treats on the menu, like the curry bomb shooters, as well as classics like seafood curries, Durban curries and Breyani. 
Hours: Monday to Saturday, 12pm – 1pm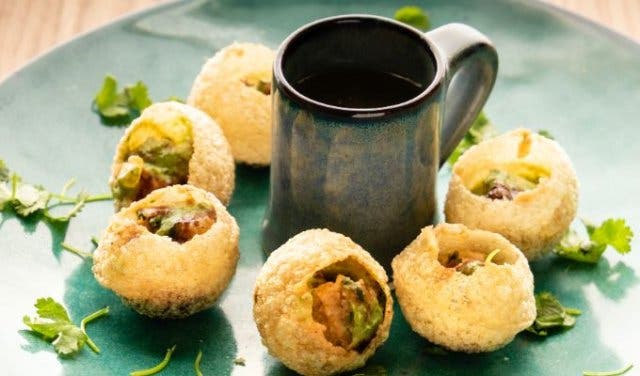 151 Kloof Street | Gardens | @vadiveluonkloof | Image: Vadivelu
GET A MINI BUNNY CHOW TRIO
Whether you're looking to pick up a hot curry and enjoy it at home or dine at the restaurant, The Burner is always a good choice (so says Junita Bitterbos). This Century City and Bellville gem serves Durban-style curries, bunny chows, roti rolls and more. The striking winner is the Trio Bunny – a trio of mini bunny chows. 
Hours: Tues to Thur, 11am – 9pm; Fri + Sat, 11am – 10pm; Sun, 11am – 4pm

1502 Manhattan | 3 Esplanade Road | Century City | @theburnercapetown | Image: The Burner
MEET UP AT THE CURRY CLUB
Flavour over fire-power – that's how Curry Club describes their dishes. All curries are crafted individually, and you can't beat the fresh Naan from the Tandoor oven. Luke McGillewie agrees. Curry Club delivers to all over, from Atlantic Seaboard to Gardens and Camps Bay. You can also dine at the eccentric restaurant filled with plants, knick knacks and carpets hanging from the ceiling. Booking is essential. 
Hours: Tuesday to Saturday, 1pm – 9.30pm; Mondays, 5pm – 9.30pm


COSY UP WITH INDIAN TAPAS
With roots deeply founded in Kerala, India – better known as "The Land of Spices" – owner Seelan Sundoo has created a menu for diners to taste authentic South Indian dishes. There's briyanis, traditional Tandooris, clay oven curries and more. The meals are designed as tapas to be savoured and shared, making it a favourite among our team. You can try at the branches in Newlands or Sea Point.
Hours: Monday to Saturday 12pm – 9.30pm; Sunday 12pm – 4.30pm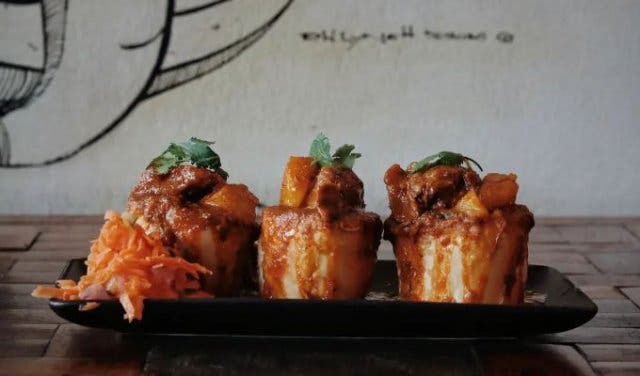 Shop number 3 | Double Three Hotel | Woodstock | @sundooindiantapas | Image: Sundoo
GRAB A TAKEAWAY WITH DESSERT
Although this multicuisine eatery may seem unassuming from the outside, Avril du Preez swears by it. "Tadka is definitely one of the best places for Indian dishes." The menu is jam-packed with curries, with popular dishes like lamb rogan josh, chicken makhani, Kadhai Prawns and even some traditional Indian puddings like Phirni. You can also order as a takeaway.  
Hours: Daily, 11.30am – 9.30pm


—
DISCOVER MORE SPECIALS IN CAPE TOWN
Check out these 7 halaal spots for every taste.
Locals love these fish and chips spots.
Must-try wine tastings according to locals.
Discover these special things to do in winter.
—
Loved discovering this? Make sure you get our popular weekly newsletter. Follow and like us on Twitter ❤ Facebook ❤ LinkedIn ❤ Instagram ❤ Pinterest for updates. 

link