(25 Mar 2022, 11:46 +07)
 Melia will celebrate the grand opening if its
260-room hotel in Chiang Mai, Thailand, on 10 April.
Owned by one of Thailand's leading integrated
lifestyle real estate group, Asset World Corp (AWC), the Melia
Chiang Mai is located on Charoen Prathet Road, close to the River
Ping and bustling Night Bazaar, and just six kilometers from
Chiang Mai International Airport (CNX).
Housed in a 22-floor tower fronted by an adjoining
seven-floor podium building, Melia Chiang Mai's
facilities include two restaurants, two bars, an executive lounge
on the 21st floor, a spa with seven treatment rooms, a
fitness center, swimming pool, a kids and teens club, as well as a
ballroom and a variety of meetings and event spaces.
"Melia Chiang Mai will open with about 160
employees and will eventually employ a total of 240 people," said
Melia Chiang Mai's General Manager, Mr
Edward E. Snoeks. "In
addition to being hugely beneficial for local employees and their
families, the launch of the first five-star hotel to open in the
city since the start of the global pandemic is a much-needed
morale boost for the local tourism industry."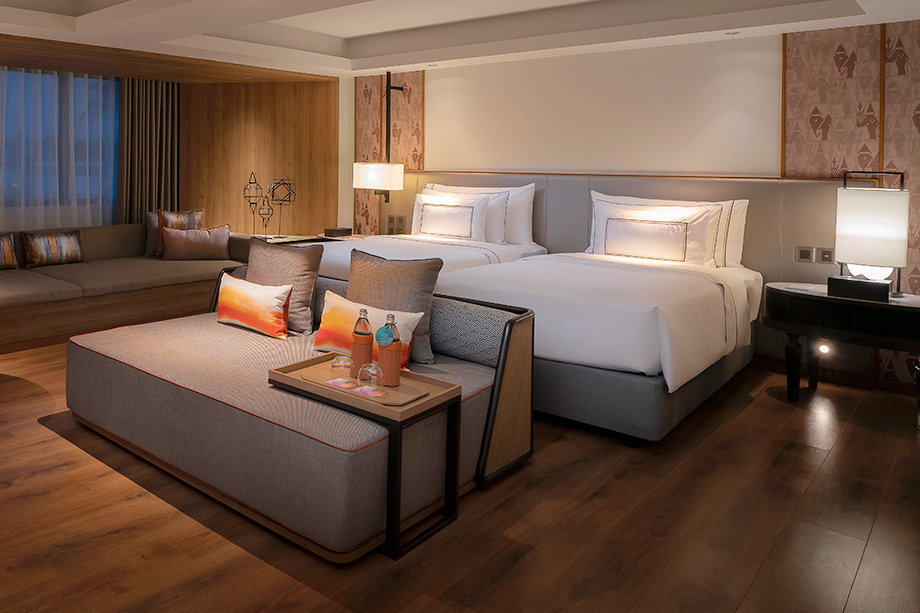 Premium Room at the Melia Chiang Mai
Of the property's extensive room portfolio, 38
rooms and six suites belong to 'The Level' which provides exclusive access to
the
executive lounge with its upgraded
breakfast, complimentary all-day snacks, afternoon tea and evening
cocktails.
Guests of The Level also receive private check-in and check-out at
the lounge, late check-out
until 2pm (subject to availability), complimentary ironing of
garments and a 10% discount at the spa.
The hotel's pièce de résistance, however, is a 360-degree
rooftop bar on the 22nd floor named Mai The Sky Bar.
Comprising
two bars connected by a glass bridge, the bar offers views of the
River Ping to the city's east and the famed Doi Suthep Temple on
the mountaintop to the west.
The bar serves an array of authentic
Spanish tapas and pinchos (skewers) as well as a vast selection of beverages
including imaginative cocktails crafted by skilled bartenders.
"As one of the most popular places to visit on any
travel itinerary to Thailand, we can't help but be optimistic
about the future of Chiang Mai's tourism industry," said Mrs
Wallapa Traisorat, Melia Chiang Mai's owner and AWC's CEO and
President. "Trading on the mystic splendor of Northern Thailand,
this flagship hotel is part of AWC's efforts to build a better
future for Thailand's tourism landscape and economy amid the new
normal."
In partnership with 'Ori9in, The Gourmet Farm',
Melia Chiang Mai is embracing the 'farm to table' social movement
by establishing its own sustainable farm in San Sai District to
harvest organic fruit, vegetables and herbs for its restaurants.
Under its '360° Cuisine' program, the hotel works closely with
local farmers to improve sustainability, encourage ethical
production, and help the farming community, give guests peace of
mind about where their food comes from and make communities and
the overall food system more resilient.
See also:
Exclusive Travel Industry Interview with Kurt Ekert, President of
Sabre.
link