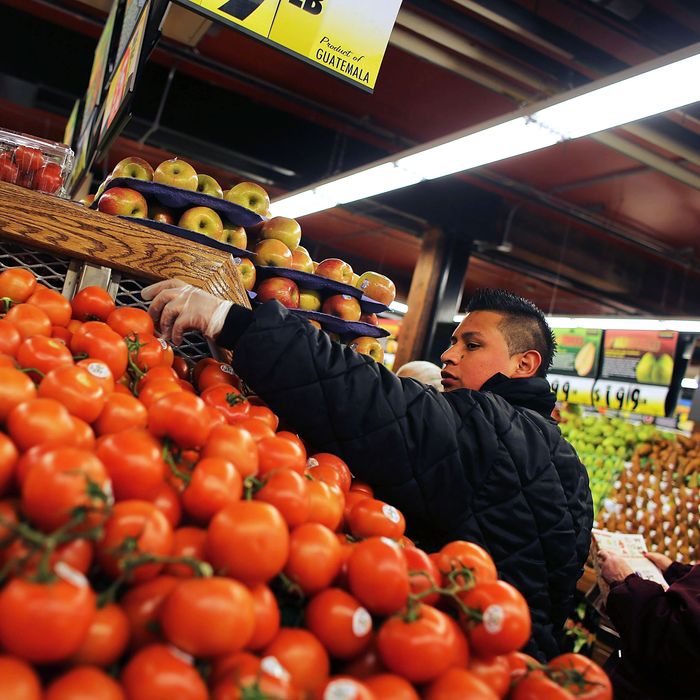 Tomatoes inside the Red Hook Fairway.
Photo: Spencer Platt/Getty Images
After months of uncertainty, the future of the Red Hook Fairway has been sealed: The market like no other market will become a Food Bazaar.
The megagrocery — once a "nerve center of the foodie revolution" — filed for bankruptcy (again) in January, and this time it seemed to be the end. Five Manhattan locations, including the Upper West Side flagship, were sold to Village Supermarket, a company that runs 30 ShopRite supermarkets and three Gourmet Garages. It was not clear what would become of the other nine Fairway outposts.
The uncertainty was especially acute for the Red Hook branch, which opened in 2006 and became both the neighborhood's largest grocery store and its most fraught. When it opened, it promised groceries at "the lowest prices" and committed to hiring locals for 700 entry-level union jobs. But the store also became a symbol of gentrification, catering less to the neighborhood than to destination shoppers. "They racked up the prices after [Hurricane] Sandy," one Red Hook resident told The City. "People can't shop there anymore." According to Bklyner, the store was slated to close on July 17 without a buyer, although the real-estate-development corporation that owns the space promised it would be replaced with another grocery store.
And so it will be. Last week, Food Bazaar operator Bogopa Enterprises signed the papers on the Red Hook Fairway as well as the Fairway in Douglaston, Queens, Gothamist reports. Once the deal goes through, which is expected to happen this week, both Fairways will become Food Bazaars.
Based on initial reports, it seems like a pretty good outcome, all things considered. Court filings say Bogopa promises to "engage in good-faith negotiations" with the Fairway union and will be "obligated to offer employment to substantially all, but in any event, no less than ninety percent (90%) of union employees at the Acquired Stores."
And while it's not at all clear that Food Bazaar will maintain Fairway's commitment to free gourmet-olive-oil samples — an obvious loss — the company's philosophy doesn't sound all that different from its predecessor's original mission. "We pride ourselves on going to great lengths in order to provide each of the communities that we serve with the flavors that they love and recall from 'back home.' In fact, it is our passion!" its website explains. "Our stores are located in many different neighborhoods, each vibrant with numerous ethnicities and nationalities and their corresponding cultures and flavors … we take a great deal of joy in tracking down hard-to-find items from all over the world."
link