Welcome to Take the Edge Off, a series that breaks down the beauty and self-care routines of influencers, CEOs, experts, and celebrities. Find out how they unwind and decompress, while taking a closer look at the holy grail essentials they're currently raving about.
---
While she's known as the Queen of Hoops, thanks to her eponymous accessories brand that's coveted among top celebrities and the fashion set, designer Jennifer Fisher's creativity doesn't fit neatly into a box. In addition to crafting jewelry for the likes of Beyoncé, Jennifer Lopez, and Sarah Jessica Parker, Fisher also counts herself as part gourmand and interior designer, having collaborated with companies like CB2 on a range of exclusive decor pieces and even releasing her own collection of seasoning salts.
"I began my career as a stylist after graduating from USC and started making jewelry for everybody on set," the designer tells BAZAAR.com of her company's beginnings. "We ultimately decided to go direct-to-consumer years ago before anyone else was doing it, and that's how Jennifer Fisher Jewelry started. And now, it's evolved into a business that features costume and customizable fine jewelry, salts (due to my love of cooking and food), and, most recently, we're going into fragrance with the release of My Scent. We needed a scent for the brand—it was time."
More From Harper's BAZAAR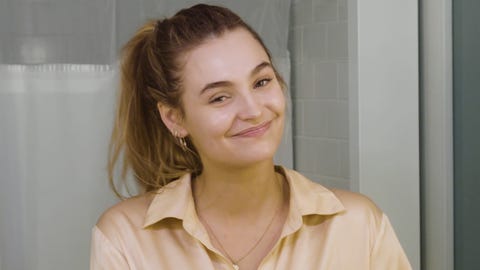 My Scent is Fisher's first foray into beauty, with the rollerball perfume aiming to channel the signature "casual sensuality" her culty brand has become known for. The popular scent launched last spring and completely sold out in just two hours. Thankfully for fragrance lovers, it's recently been restocked on the company's site, as well as at retailers like Net-a-Porter. Its unique blend features delicate yet musky notes of vanilla, Australian sandalwood, pear, coconut, and tonka bean. "For years, I could never find a perfume that smelled the way I wanted it to smell," she says of the essential oil fragrance. "I was always mixing my favorite scents to make my own signature blend. My Scent is my memories and mood in a bottle. It is comforting and sexy."
Here, BAZAAR.com catches up with the multi-hyphenate for a closer look at her list of holy grail beauty and wellness favorites, from weekly Pilates training to her regular use of a certain gilded vibrating sculpting bar. Read on to learn more about just about everything Fisher uses to Take the Edge Off.
---
What are you reading these days?
I recently finished reading Ketotarian by Dr. Will Cole, and it's completely changed my life. I've always cooked and been healthy, since I have thyroid disease, but there's something about his book that really hit home for me to begin a more anti-inflammatory form of eating. I don't have a lot of time to read, so when I do, I try to focus on things that can assist me with health or wellness.
What are some of your go-to bath and/or shower products?
I use Indie Lee's De-Stress Body Wash—love that one—it smells really good. Also, R+Co BLEU's De Luxe Reparative Shampoo and Conditioner set, along with the OSEA Salts of the Earth Body Scrub. The scrub is kind of emollient, so when you get out of the shower you're sort of moisturized already. And then, when I get out of the shower, I finish up with OSEA's Anti-Aging Body Balm—it is insane—if you've not used it, you need to use it.
What beauty or self-care products do you use on a regular basis to help combat Zoom fatigue?
I swear by Leefy's Prana turmeric and ginger supplement. I take it every day, and it's totally changed my life—it's one of those amazing products I can't live without. Then, there's this company called BodyBio that makes these supplements called Calm that I love. If you're stressed out with work, you can take them during the day and they won't make you sleepy; they just kind of take the edge off. And what I use on my lips, because I'm talking so much, is the U Beauty Plasma Lip Compound.
Do you have a favorite hand sanitizer, soap, and/or cream right now?
My favorite cream in the world is Cream Extraordinary by MDR. I get it from my friend Cayli Cavaco Reck at Knockout Beauty. The products that she's recommended to me have completely changed my skin, and this moisturizer is one of them. I use it every night before bed, and if I need to when I'm on calls and my hands are dry, I use it for that as well. So therefore, it's sort of my favorite hand cream.
Do you ever light a candle or stick of incense to decompress? If so, what are some of your favorites?
I'm kind of not that girl to be totally honest, but I do use Byredo's Cotton Poplin. I wouldn't say I'm a devoted candle burner or incense user—to decompress, I'll take, like, four deep breaths and get it together.
What was the last beauty product you put on today?
Oh! This is another good one: Clinique Pep Start Eye Cream—I swear by it. It de-puffs better than any other eye cream, and I've used it for years. And when I wear it, I always use the Jillian Dempsey Gold Bar—that thing is amazing. I don't gua sha—my daughter gua shas and does all that stuff—but since this tool vibrates, it kind of does the hard work for you. It's like the lazy woman's gua sha.
Are you into bold makeup, no makeup, or no-makeup makeup right now, and why?
My no-makeup makeup routine usually starts with Hourglass Vanish Airbrush Primer, which is amazing. I also love using Yves Saint Laurent's Nu Skin Tint Foundation, and I'm not gonna lie, I totally contour using Charlotte Tilbury's Hollywood Contour Wand in Medium to Deep. Another product I always use is Monika Blunder's Blunder Cover, which can be used as concealer or foundation. And then, I'll do blush with the Chanel Joues Contraste Powder Blush in the shade Rose Écrin.
There's also this eye shadow collection from Lune+Aster I use called Celestial Nudes that's the best neutral palette out there, hands down. Then I set everything with the NARS Light Reflecting Pressed Setting Powder in Crystal. I'm not very good at doing my makeup—I've gotten a lot better at it over the last six months, because I've recently learned how to put on individual eyelashes. I've mastered the art of putting them on in, like, 10 minutes. Also, the best lip liner in the world is Charlotte Tilbury's Lip Cheat in Iconic Nude.
What's the last fitness class you streamed or attended in person?
I stream Flatiron Pilates three times a week—we do it all virtually via FaceTime. Even now that I can go back to their studio, I just don't because I'm so busy, but it's completely changed my body. I was really into SoulCycle and Peloton during COVID, but I found that I was really bulking up from doing so much cardio on bike. So I transitioned to Pilates randomly, and it's really changed my life. It's taught me how to work out smarter not harder—it's elongated and changed the way that I look by doing less.
What's one piece of self-care advice you'd recommend to our readers?
Don't worry about other people's opinions and perceptions of you—it completely changes everything. I think it's really hard not to care, and I think a lot of it, to be honest, comes with age and experience. And I think there's some empowerment with being a little bit older that comes with the territory of just sort of not really caring as much anymore. I think you just have to be yourself. It's so freeing to just be yourself and not care.
Associate Beauty Commerce Editor
Tiffany Dodson is currently the associate beauty commerce editor at Harper's Bazaar, where she specializes in trend forecasting, building relationships with major and emerging brands, and crafting shopping stories—from holiday gift guides to product road tests. Tiffany's work has previously been featured in outlets like SELF, Bustle, and Teen Vogue, and she's been quoted as a commerce and beauty expert in publications and platforms like The Business of Fashion and NPR's Life Kit podcast.
link