Over 15 small and local Instagram-based businesses came together to display their products at the Boho Bazaar, organised by Utopia, at Fellas, Sector 26, Chandigarh on Sunday.
From hair accessories to stick-on nails, from acrylic painting to handmade home décor items, from baked goodies to blue pea flower lemonade, from apparel to quirky jewellery — the participants had on display a wide range of products. Another interesting feature was a tarot card reading stall.
Krishma Khurana, founder of @infiinitevision, said, "I make resin jewellery, candles and glow-in-dark accessories and the response was good."
Khushi Sharma, of @thealluringstore, that had on display hair accessories including scrunchies, charms, quirky hair clips, etc, said, "The response is low as multiple stalls have products similar to ours. But it was a learning experience as we got to know how to market your products and how to reach a greater customer base."
Rubeena Singh, who had started @craftcrame around a year back, says the response is great. "I got a chance to study the market and see what clicks. Being a small business owner I'm still trying to get the hang of it and this was a good chance to learn."
@handicraft_isha's Isha Bhatia had handpainted clocks, fridge magnets, wall hangings, pen stands among other items. She said it takes a lot of time to make the items and customers do acknowledge that but they also seek big discounts which is tough for small businesses like ours.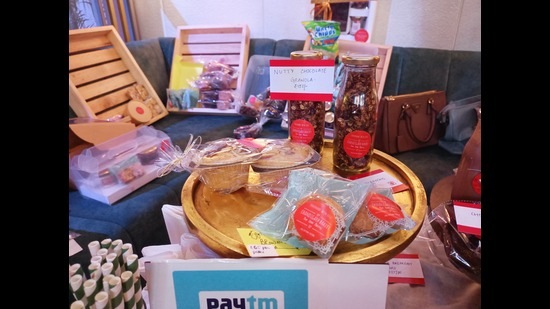 Jasreen Kaur and Mansi Bansal, of @chandigarh_bakery said they are happy with the response. Their homemade hummus was a huge hit not just among the customers but also their peers. "Our products are a mix of sweet and savoury. We make design and food preference-based customised cakes, pastries, cookies, brownies, granola bars, tea cakes, chocolate milk, lemonades, wraps, lasagne, pasta, etc," they said.
@rangkathaa's Reena, who had acrylic paintings on display said she started pursuing art as a profession just two months back and the response is great. Her paintings had bare minimum use of brushes as she loves to paint with her fingers. "That way is more calming and therapeutic for me," she explains.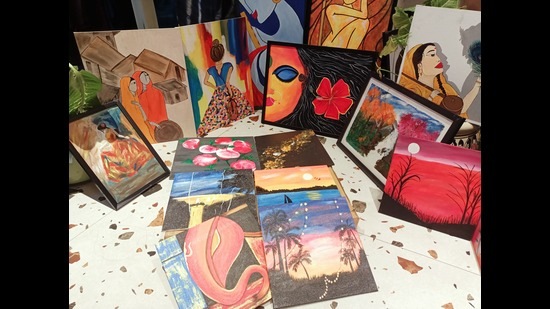 link