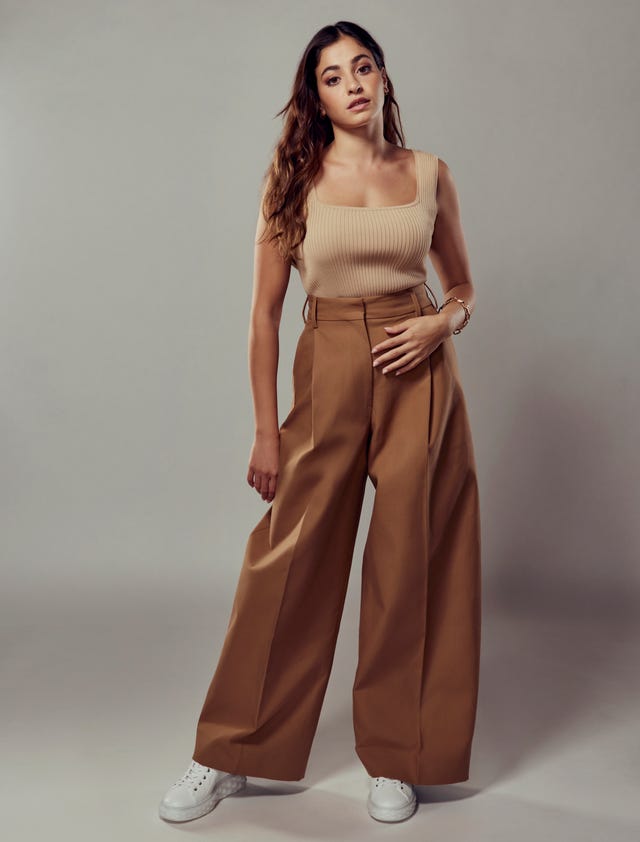 Timotheus Theisen/Netflix
"Sometimes your purpose in life is way bigger than you can ever imagine," says Yusra Mardini, the Syrian refugee and Olympic swimming champion whose life story forms the basis for the new Netflix film, The Swimmers.
Growing up in Damascus in Syria, Yusra dreamed of competing at the Olympics. She remembers watching the games with her father, who was a professional swimmer, and began training when she was nine years old. But after civil war broke out when she was just 13, her life changed dramatically. "Our house was destroyed, so we had to live with my grandma, and sometimes with my aunt," she says. "We went to school, but it was dangerous; it was the same with swimming."
After four years of living in fear of shelling and sniper attacks, she and her older sister Sara made the difficult decision to flee in search of safety in Europe. "We had to risk everything for our basic human rights and start a new life. It was really hard for me, because I was abandoning everything: our belongings, my family, my friends, my home, everything." They had heard stories about friends who had made the sea crossing and found information on smugglers and the routes they took from a Facebook group, so in August 2015, they embarked on the treacherous 25-day journey.
They travelled to Turkey, where they boarded a small dinghy with 18 other people, but mid-crossing the engine on the boat faltered and it became waterlogged. Helpless and drifting, Yusra and Sara jumped into the water and swam for hours with two others, guiding the dinghy to eventually reach safe shores. "Honestly, I wasn't thinking about anything, I was just trying to survive and to save myself and everyone on the boat," she says. "In the moment, you're just thinking about the simple stuff."
When they arrived in Lesbos, Greece, they had been deprived of food and water for three days. A young woman helped them after a restaurant turned them away, and they then continued on to Germany, which became Yusra and Sara's second home – although it took some time for it to feel like it. "I didn't really accept living in Germany at first because I thought I would be there only for a while, and then we could go back home when the war ended," says Yusra. "But that wasn't what happened, unfortunately. The one thing that made me feel like home again was swimming."
She began training at the Wasserfreunde Spandau club, applying her determination and resilience to the sport she loved – and the next year, she was selected to compete at the Rio Olympics as part of the first ever Refugee Olympic Team.
For a long time, Yusra didn't identify with being labelled a refugee – it came with assumptions that weren't reflective of her experience. "You don't choose to become a refugee, you leave your country because of war and violence," she says. "Now, the word 'refugee' means so many things to me. In the beginning, I was in denial of it. But then I realised that it's just a word, and it doesn't matter what the word means. I am who I am."
Competing on the world stage alongside athletes from all other countries ("Michael Phelps was swimming in the same lane as me"), she realised that she was representing others like her – those who were forced to live beyond borders. "It made me proud, and it made me realise I have a voice that I can use to help people understand that refugees are normal people, who have hopes and dreams."
From that moment, she has worked tirelessly to share her story, and those of so many other refugees, to bring greater visibility to the dangers they have faced. As an ambassador for UNHCR, she has spoken at the World Economic Forum, Google Zeitgeist, WE Day and the Global Women's Forum, and has also visited refugee camps.
When she was approached by Netflix to make a film about her life, it felt like a natural extension of this work – but reliving the events surrounding her escape has not been easy. "It's surreal. You don't wake up every day and think about what happened in your life. But then when we saw it on the screen for two hours, it was a very emotional thing to watch," she explains. "But this movie tells the story of millions of refugees all around the world, it's not just my story."
In the next year, Yusra will launch a foundation to provide refugees around the globe with access to education and sport; she is also currently studying film and TV production in Los Angeles. "Sometimes life takes you to places that you would not imagine ever being in," she says. "When I was young, I would have never imagined doing everything that I'm doing right now."
Swimming remains her cornerstone, the true constant in her life. "Swimming has taught me a lot: it has taught me patience; it has taught me to know when to ask for help; it saved my life," Yusra says. "Most of all, it taught me to try again. If you're going through something tough, it doesn't mean that it is over."
'The Swimmers' is available to stream on Netflix now.
link