Heading to FDR Park for the show? Here's everything to see, do, eat and know before you go.
Last year, the Flower Show got a COVID update, moving outdoors to FDR Park and from March to June. Though not without its challenges, the result was much more spread out, family-friendly and eclectic. PHS is doing it all again this year, with the show spread over 15 acres in South Philly from June 11th through June 19th.
Whether you're there to pick up some gardening tips, spend the day with family, or just take in the colorful artistry, here's what you'll want to know for your visit.
The Basics
Now in its 194th year, the Flower Show showcases designers, gardens and floral displays across its large outdoor footprint, along with plenty of food and merchandise vendors. The show's theme this year is "In Full Bloom," and it focuses on the uplifting and restorative power of nature. Expect dozens of gorgeous larger-than-life floral installations plus some hands-on activities for kids and adults alike.
Last year, the new outdoor setting led to some … hardships, shall we say? Complaints included transportation, lines, weather (it was hot and rainy, depending on when your tickets happened to be), too much walking, too many vendors, and not enough food or water. Which isn't to say it wasn't a success. COVID made cramming into the indoor Convention Center of past shows an impossibility, and this reimagining was a brilliant way to keep the tradition going while making the event more accessible to different people. Families had more space in which to run around without running afoul of the gardening purists, and Gritty even showed up — and if something is good enough for Gritty, it's good enough for me.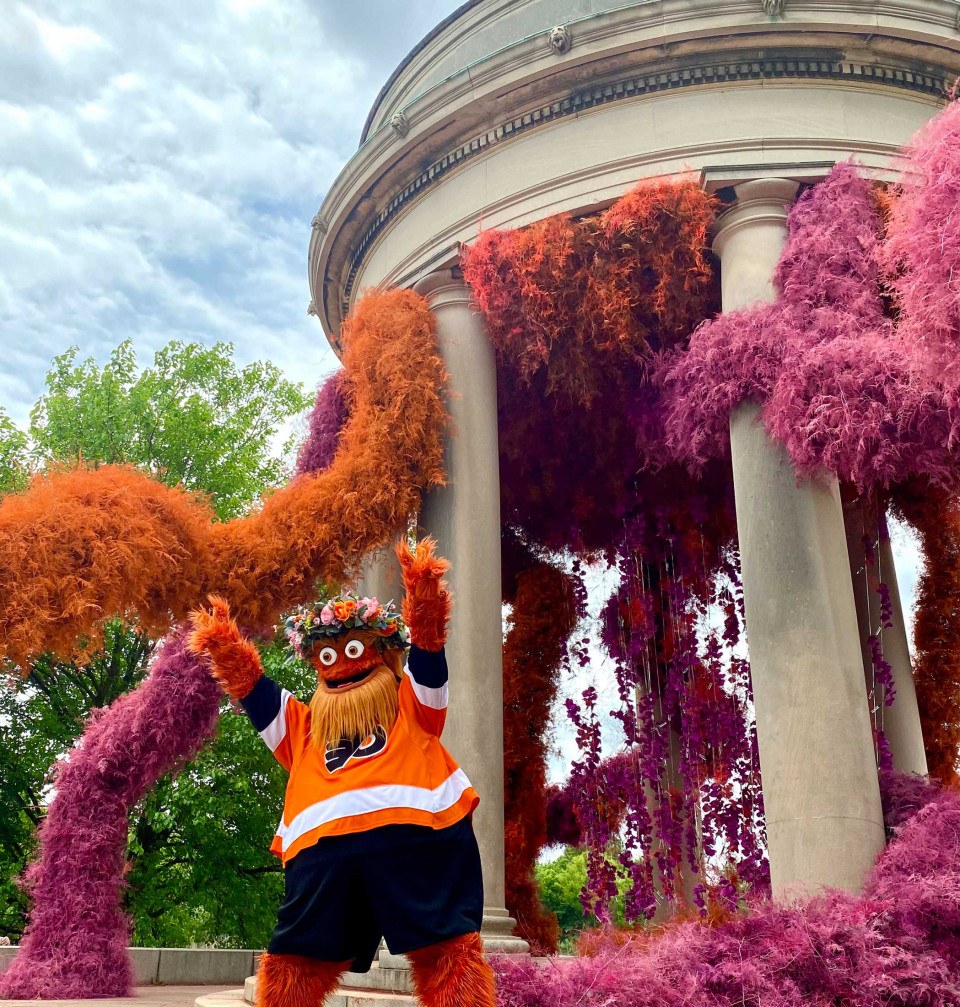 Many of this year's adjustments seem to be in direct response to last year's complaints. This year, in addition to regular show tickets, there's an option to buy "Any Day" tickets for an extra $5, so while the show remains rain-or-shine, if the forecast on the day you were planning to go looks bad, you have some flexibility.
To make the lines go quicker, PHS added two more paved pathways and additional staff and volunteers. You can rent scooters and wheelchairs at the entrance if you have mobility issues, to help with accessibility.
Now for the heat. PHS has added water misters and more shaded seating areas to the show grounds, along with water-bottle refill stations. If you get weary of being outside, the on-site American Swedish Historical Museum will be open, with free admission during the show, so head inside (and check out the Pippi Longstocking play area if you're coming with little ones!) for an air-conditioned break. The museum will also have some displays (artistic class) inside, so you're not totally missing out if you head in for a bit.
Eat and Shop
Also in response to some spirited feedback, the vendors are more concentrated on the north side of the show, with more space devoted to floral displays and gardening demonstrations. But don't miss visiting them, because in addition to all the various gardening vendors you'd expect, you'll find everything from jewelry to personal-care products (we especially love Elizabeth Peyton Creations and Vellum Street Soap) to kids' clothes (Buddha Babe and Sew Much Cooler are a couple favorites) to home goods.
Likewise, you'll find expanded food options this year with the addition of a new "elevated tableside" pop-up restaurant called The Lakes, featuring bistro fare from Brûlée Catering chef Jean-Marie Lacroix that includes salads, sandwiches, and a four-course prix-fixe meal.
This is in addition to last year's returning offerings: The Boathouse, which has a full-service bar, casual seating, fast-casual fare, and beautiful views of Edgewood Lake; and the Food Bazaar, which has a mix of cuisines including small plates from Sang Kee, vegan eats from Algorithm, and the Flower Show's Botanical Lemonade signature cocktail (made with Ketel One Botanical Grapefruit, rosé, lemonade and fresh lemons). The Food Bazaar is also worth visiting for its daily live music performances, including Philly favorite Snacktime. (They probably won't play "F the PPA," but who knows?) If you're coming in the evening Monday through Friday, you can stop by a free happy hour with Fine Wine & Good Spirits, also in the Food Bazaar.
In addition to those food areas, you'll find another 12 vendors spread throughout the show so you don't have to drop what you're doing to find a restaurant on the map — think Philly Pretzel Factory, ice-cream stands and more snack-y bites.
Things to Do
If you're not content to marvel at flowers and shop for various flower-adjacent (and completely unrelated) items, there are some special activities to look out for. Every day, you can visit Artisan Row to make crafts alongside horticultural artisans. Flower crowns, candles and jewelry are among the crafts, and you can learn dried-flower arranging. Each craft is an add-on, with prices ranging from $20 to $25. This space will include a bar and lounge as well.
Inspired to grow your own garden? Attend a $10 Potting Party to learn container gardening (so even if you don't have a yard, you can exercise your green thumb), and take home your creation. These parties are offered daily from 9 a.m. to 6 p.m.
Also available as an add-on every day of the show: the return of Butterflies Live! Enter a paradise pollinator garden full of exotic butterflies, learn how to attract butterflies to your beds, and snap the perfect selfie with some fluttery friends. This exhibit requires an additional $5 ticket, available online.
If you're coming with kids, they'll probably love visiting the butterflies, but don't miss out on the new (and free) Cocoon play area, where you'll find open play, educational programs and more.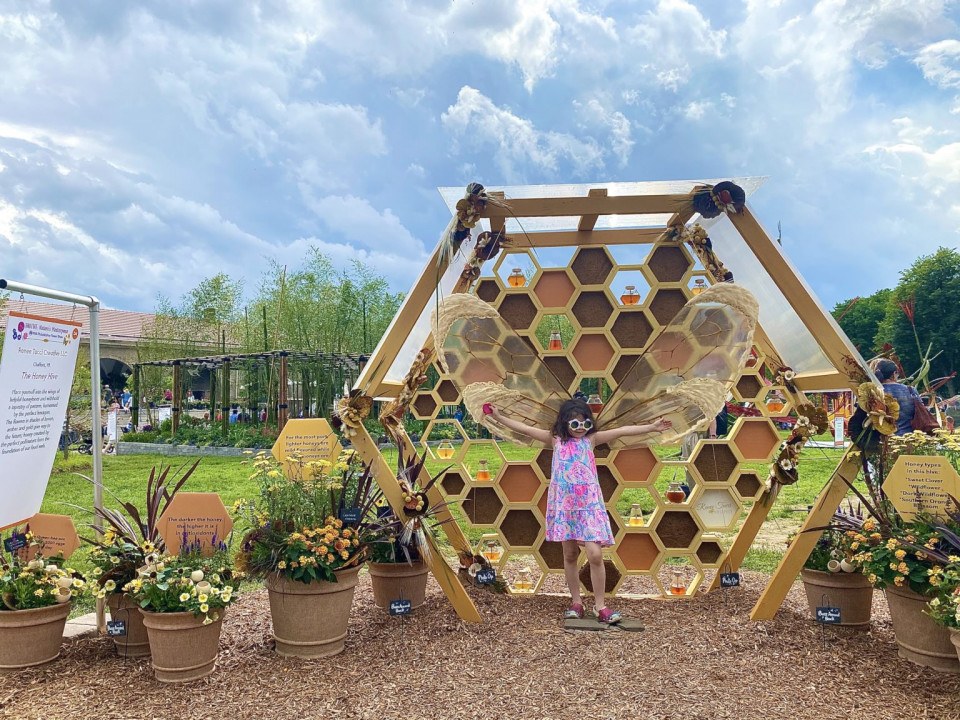 Special Events
If you're looking to experience your flowers with a more adult-oriented crew, grab a ticket for Flowers After Hours, the show's annual after-hours 21-and-up event that includes music by Snacktime, food and drinks, drag performances, and fun hands-on activities. That party will be held on June 18th from 8:30 to 11:30 p.m., and tickets are $75.
If you are looking to come with kids, though, take note of June 19th, the final day of the show. That date features Family Frolic, with arts and crafts, entertainment, and lots more things to do with kids all included with the regular show ticket.
Plan Your Trip
The Philadelphia Flower Show takes place at FDR Park, located at 1500 Pattison Avenue in South Philly. The show is outdoors, and it's rain-or-shine.
Tickets
Tickets are available online and cost $45 for adults, $30 for Young Friends ages 18 to 29, $20 for kids ages five through 17, and free for children four and under. Add $5 to all those prices if you want "Any Day" tickets. Otherwise, you'll have to designate a specific date when you buy. (Unlike last year, though, there aren't also designated time slots.) Family bundles are available at online ticketing to save you a little money in advance; there are also discounts for AAA members and at SEPTA ticket offices.
Getting there
If you're taking the subway, ride the Broad Street Line to the end (NRG Station at Broad and Pattison), then walk five blocks to the show entrance. If you're coming from the suburbs, transfer to BSL from Suburban Station.
If you're driving, park at the stadiums (lots T and U at Citizens Bank Park and lots A and B at Wells Fargo Center) or in the Naval Hospital lot at 1561-1999 Pattison Avenue. Look for courtesy shuttles that serve all official Flower Show parking lots and drop off at the main entrance for the Flower Show. Shuttles will run daily, providing complimentary transportation. (You can also walk from the lots.) Parking is $22 per car and $44 for oversize vehicles, and ticket vouchers must be purchased in advance online.
More info
No outside food or drink is permitted aside from refillable water bottles. Guests are only allowed to bring purses, medical bags and diaper bags into FDR Park. Coolers, other large bags and wheeled bags aren't permitted. Approved bags can be no larger than 16 by 16 by eight inches and will be subject to inspection upon entry.
---

link