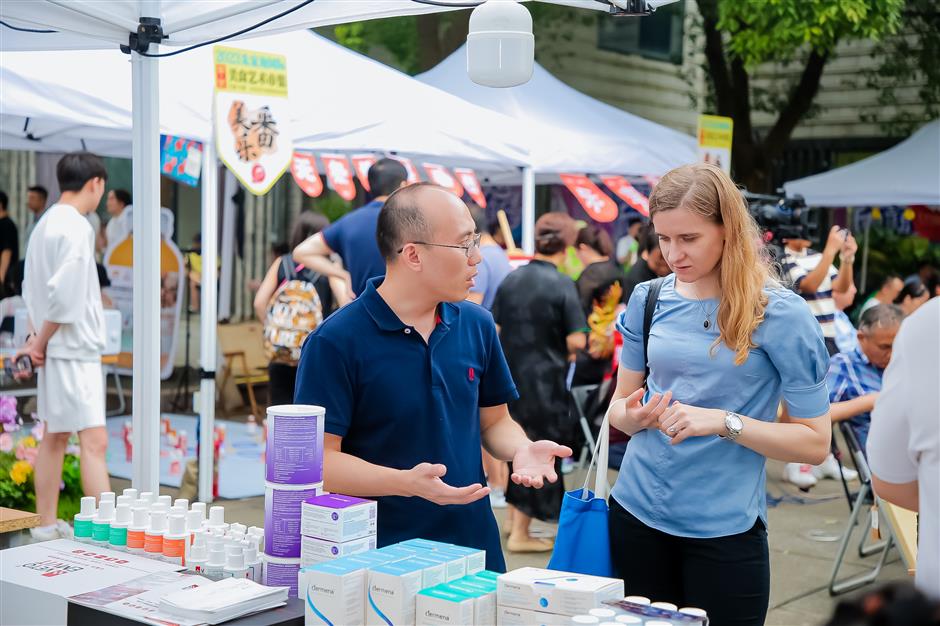 Ti Gong
An international food and art market is ongoing in Zhujiajiao Water Town, Qingpu District, over the weekend as part of the 2023 Zhujiajiao International Art Season.
Visitors are invited to savor not only the town's picturesque scenery but also its mouth-watering delicacies and intangible cultural heritage gems.
Ti Gong
The bazaar features artworks by children, the display of intangible cultural heritage crafts, and about 40 booths with delicacies from home and abroad.
Paintings, tuanshan, or silk round-shaped fans, hand-painted ceramics, as well as exotic delicacies such as chocolate, ice cream, wine and biscuits are featured.
Ti Gong
"From Jiangnan Water Town to The Thames," the Yangtze River Delta Youth and Children's Art Exhibition, raised its curtain on Friday night at Zhujige (Zhuji Pavilion).
The pavilion is an enclosed courtyard dating back to the Qing Dynasty (1644-1911) which now serves as a public art space in the core of Zhujiajiao scenic area.
It features 30 works topping out in the Moyun Teenagers Ink Art Competition, which features 2,991 works from children aged between 4 and 16 from seven countries.
Ti Gong
A total of 121 works by 89 participants were honored on Friday.
These 30 works will be exhibited in London in mid-August, showing the boundless imagination and creativity of children in the Yangtze River Delta region.
Guo Ruixi, 6, has been practising painting for three years. She drew a cat in her work which will be exhibited in London.
"I like drawing and it only took me one day finishing the work," she said. "I am very excited about the trip to London."
Ti Gong
The highlight of the exhibition is a long scroll of ink-wash paintings featuring 12 iconic scenes of the Yangtze River Delta Ecology and Greenery Integration Demonstration Zone.
These include the National Exhibition and Convention Center (Shanghai), Shanghai Daguanyuan (Grandview Garden), Qingxi Country Park, and Shanghai Oriental Land in Qingpu, Tongli Ancient Town in Wujiang District in Suzhou, Jiangsu Province, and Xitang Ancient Town in Jiashan County in Zhejiang Province.
Ti Gong
If you go:
Date: through July 30, 1pm-9pm
Venue: Zhujige (Zhuji Pavilion) in Zhujiajiao scenic area 朱家角珠玑阁
Address: Lane 288, Xinfeng Road, Qingpu District 上海市青浦区新风路288弄
Ti Gong
link